Several years ago I was at a dinner party with some friends from my gym. When the conversation turned to the local opera season, I started to describe what it used to be like to wait in line for standing-room tickets to the Metropolitan Opera shortly after it moved from the old opera house on Broadway and West 39th Street to Lincoln Center. At the time, many opera lovers would camp out in the tunnels under Lincoln Center all weekend, waiting for the box office to open on Sunday morning.
The line for tickets was highly disciplined, with regular check-ins for those who were attending matinee and evening performances during the weekend. In the wee hours of the night, you could hear someone playing a tape of Maria Callas singing Aida in Mexico City or listen to heated discussions between the Tebaldi and Callas claques. No one ever got drunk, no one started fights, no one misbehaved.
The people I met ranged from music students to 88-year-old Mrs. McKnight (who would scalp her opera tickets in order to help pay for her rent and food). They all shared a passion for classical music and opera.
When I asked some of my friends what they did during their college years, one of the jocks at the table (who had attended the University of Illinois at Urbana-Champaign) replied: "I have no idea. We were drunk every weekend. Can't remember a thing!"
Ironically, the folks who are quick to cut funding for school arts programs are often in favor of increased funding for sports facilities and athletic teams at the schools their children attend. These are the same people whose extremely unsportsmanlike behavior can be seen in the following news clip:
When one compares the results of many sports and arts programs in our schools, one quickly realizes that:
Sports programs are often an entry point to institutionalized drinking. (Wikipedia even has a page devoted to "football hooliganism").
Arts programs tend to be a lot calmer (have you ever heard of an audience member being trampled to death during a performance of Fiddler on the Roof, Phantom of the Opera, or Wicked?).
Sports programs often teach kids the importance of winning at all costs.
Arts programs like theater, dance, band, and chorus teach students to sharpen their skills while working toward a shared goal.
Sports programs often involve rough physical contact that can lead to bodily injury.
Arts programs tend to be more expressive than combative.
Sports programs often foster an atmosphere of dominance and hostility in which athletes are encouraged to humiliate their opposition as "losers" (this includes institutionalized bullying by coaches, parents, opponents, and fans).
Arts programs are designed to help talented children blossom and thrive.
Sports programs have occasionally suffered unnecessary deaths on the playing field.
Arts programs have yet to report anyone dying while playing a musical instrument or reading a poem.
Sports teams often ask for God's blessing to help them beat the competition.
Arts programs teach students how to reach within themselves for inspiration.
Sports programs often produce extremely competitive students whose careers may peak early in life.
Arts programs often produce extremely creative students whose critical thinking skills and ability to adapt to new situations deepen as they mature.
Despite the machinations of Jane Lynch's evil Coach Sue Sylvester, the musical-theater program in Glee continues to thrive. In the long run, it's not just a question of funding. Exposure to the arts helps to build a much stronger foundation for a young person's future than merely being taught to conquer and destroy any opposition or "blow up shit."
Two new documentaries (which are currently receiving their world premieres at the Mill Valley Film Festival) focus on the huge impact theater programs have on the lives of teenagers.
Trust: Second Acts In Young Lives is the third installment in a thematic trilogy about the transformative power of art by independent filmmakers Nancy Kelly and Kenji Yamamoto. This documentary is tightly focused on Chicago's Albany Park Theatre Project, a multi-ethnic neighborhood teen theater company that creates original plays from members' stories while encouraging teenagers to use the dramatic process as a form of therapy. As their website explains:
Our theater comes from the real-life stories we gather from immigrant and working-class Americans. APTP brings to the stage an array of voices often not heard on other stages: our plays have shared the life experiences of Mexican indocumentados, Bosnian refugees, Bolivian revolutionaries, persecuted Ukrainian Jews, Palestinian-American Muslims, Persian Sufis, Polish domestics, Vietnamese refugees, and more. Telling the stories of our community means that we examine issues that are important to people in neighborhoods like Albany Park. APTP's plays have told the stories of people whose lives are impacted by immigration policy, globalization, war, inequalities in public education, poverty, child abuse and neglect, addiction, domestic violence, gang violence, the criminal justice system, prejudice and intolerance, gentrification, and more."
The subject of the APTP production around which this documentary is built is a young girl who, when she was just 12 years old, was raped by two men in the bathroom of her grandmother's church in Honduras. At the time, Marlin told no one what had happened.
Two years later, Marlin and her older brother Carlos left Honduras to live with their mother in Chicago, where Carlos repeatedly raped her. Marlin, who felt she'd already lost everything in her life, didn't resist. However, she eventually shared her secret with a counselor who recommended that she visit the Albany Park Theater Project.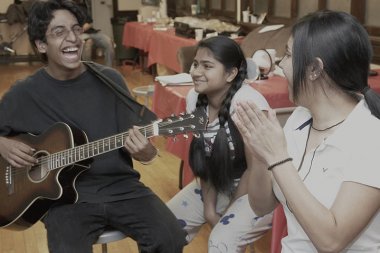 Chicago teenagers participating in APTP's transformative theater program.

While Trust: Second Acts In Young Lives follows Marlin's work with APTP, there are times when the documentary begins to feel like an infomercial for APTP (which has been creating transformative theater since 1997 under the guidance of co-founder and artistic director David Feiner). The film follows Marlin and APTP as her story is transformed from one young woman's personal tale to a carefully-crafted piece of theater entitled Remember Me Like This that ran for seven weekends.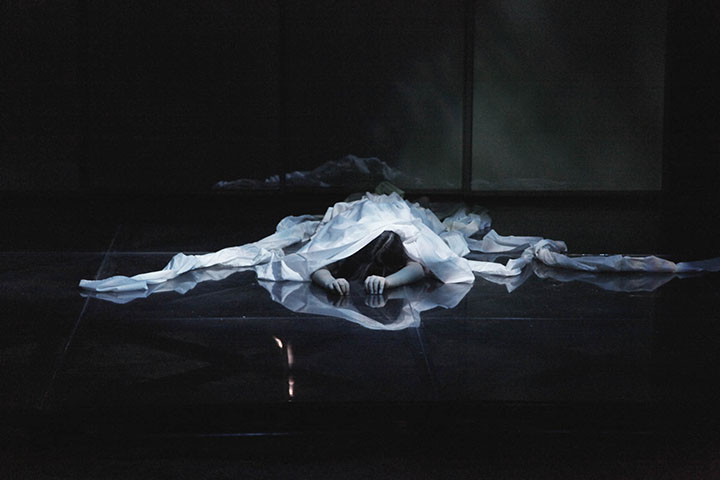 A scene from APTP's production of Remember Me Like This

No one auditions to be in an APTP production. The ensemble is drawn from members of APTP's program who, in the process of working on Remember Me Like This, overcame their shame about the subjects of rape and incest and invited their family, friends, teachers, and classmates to see them perform in the play about Marlin's experiences. APTP's co-founder, the late Laura Wiley, described APTP's impact on youth as follows:
It takes them inside worlds they're curious about but have no real access to. It bears witness to truths that many folks (both government leaders and lay people) try aggressively to distort or to ignore. It makes beauty and meaning out of sometimes ugly, sometimes confusing strands of human experience. It is a creative act that, while often standing in for a memory, can actually become a new memory, can become a new truth that, while telling one story, can actually become a new story and inspire the creation of yet other stories.
Written by Christopher Lockhart and directed by Matthew D. Kallis, Most Valuable Players is my kind of documentary. The film is devoted to showing how theater departments from regional Pennsylvania schools compete for the annual Freddy Awards (a live television event broadcast from Lehigh Valley, Pennsylvania) that recognize excellence in high school musical theater productions.
Whereas the general public understands the parameters of football, baseball, volleyball, basketball, and spelling competitions, the impact of having students participate in a theatrical production rarely gets a lot of attention. In describing his experiences in high school, Tom Hanks recalls "I was a geek, a spaz. I was horribly, painfully, terribly shy. At the same time, I was the guy who'd yell out funny captions during filmstrips." In 1993, when Hanks won the Academy Award for Best Actor in a Leading Role for his performance in Philadelphia, he made the following acceptance speech:
I would not be standing here if it weren't for two very important men in my life. Two that I haven't spoken with in a while, but I had the pleasure of just the other evening. Mr. Rawley Farnsworth was my high school drama teacher who taught me that "act well the part, there all the glory lies," and one of my classmates under Mr. Farnsworth, Mr. John Gilkerson. I mention their names because they are two of the finest gay Americans, two wonderful men that I had the good fortune to be associated with, to fall under their inspiration at such a young age, and I wish my babies could have the same sort of teachers, the same sort of friends, and there lies my dilemma here tonight. I know that my work, in this case, is magnified by the fact that the streets of heaven are too crowded with angels. We know their names. They number a thousand for each one of the red ribbons that we wear here tonight. They finally rest in the warm embrace of the gracious creator of us all, a healing embrace that cools their fevers, that clears their skin, and allows their eyes to see the simple, self-evident, common-sense truth that is made manifest by the benevolent creator of us all and was written down on paper by wise men, tolerant men, in this city of Philadelphia 200 years ago. God bless you all. God have mercy on us all and God bless America."
Equally moving, was Rawley Farnsworth's speech when his former student received a Lifetime Achievement Award from the American Film Institute:
Most Valuable Players follows the progress of three high school drama departments as they stage productions of Les Miserables and Bye, Bye, Birdie. The film highlights the critical involvement of the area's arts and business communities (including the local news team) in showcasing the Freddy Awards with a live telecast of an elaborate ceremony some have referred to as "the Super Bowl of high school musical theater." In their artistic statement, the filmmakers write:
As a society, we cherish our music, movies, TV shows, stand-up comedians, books and Broadway too. Yet when school budgets shrink, the first thing that gets cut is the arts -- as if it's merely a disposable afterthought to education.

The arts in schools are the perfect way to help apply the more basic skills of reading, writing and arithmetic. Interpreting scripts, building sets, making costumes, learning to dance or read music utilize all sorts of classroom skills put to use in a more active and fun application. The arts help keep kids off the streets, create expectations and set goals, offer opportunities of unique expression, build self-esteem, encourage friendships and camaraderie, create extended families and teach valuable life skills and lessons.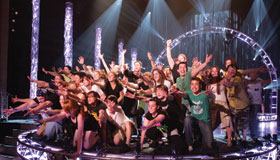 Pennsylvania students rehearsing Les Miserables

In California, Assembly Bill 2446, awaiting signature by the Governor, will do away with arts education as a graduation requirement for high school vocational students (the theory behind the bill is that making the arts an elective will reduce drop-out rates). Other states, cities, and communities continue to limit or eliminate the arts in school systems. This could create a generation of students without an appreciation of the arts.

Most Valuable Players demonstrates the importance of the arts and how schools and the arts community can band together -- in spite of their individual struggles -- to create a worthwhile program that enriches the lives of all, while contributing to self-preservation.

The arts can survive and even thrive in spite of narrow-minded legislators and budget cuts. Communities can make a difference. After a huge public outcry, the Los Angeles Unified School District recently relented and now intends to cut the arts budget by 33% instead of 50%, as previously planned. The district has also backed away from an idea to entirely eliminate all elementary arts programs next year.

There are currently 32 other high school musical theater awards programs around the USA like the one featured in Most Valuable Players. They feed into a new national program that provides four-year college scholarships to two winning students. Other great efforts like the International Thespian Festival and Camp Broadway strive to keep the performing arts essential in the lives of young people. But it won't be enough until all students have access to these opportunities. The key to the success of such efforts is the partnership between the communities, local arts organizations, and the schools.

Providing access to arts opportunities insures the encouragement and nurturing of the musicians, filmmakers, performers, writers, and creators of tomorrow. Furthermore, our future doctors, lawyers, civil servants, engineers, and business people will benefit too, as they become more dimensional individuals with an understanding and appreciation of the arts -- which can lead to their support of the artistic community and the overall survival of the arts for future generations.

We hope Most Valuable Players inspires communities to rethink their commitment to arts education by supporting these vital programs or creating their own. Ultimately, arts education is about engendering the skills necessary to become intelligent, empathic, and whole human beings. As Beverly Sills once noted: "Art is the signature of civilization."
Most Valuable Players is a thrilling documentary that captures the raw energy, potential talent, explosive vitality, and budding maturity of high school students who are given the opportunity to blossom through their school's theater arts program. Viewers will be especially impressed with the technology that is now available to them. Here's the trailer:
During his 2008 presidential campaign, Barack Obama warned that "change is hard." So far the nation has watched him put his signature to legislation that focused on healthcare reform and financial reform. First Lady Michelle Obama has led a campaign against childhood obesity by encouraging greater awareness of nutrition at home as well as at school.
While Obama's Secretary of Education, Arne Duncan, is working to address the overwhelming problems facing America's schools, I've got one suggestion that is long overdue: Let's reverse the priorities previously given to sports activities and arts education in our schools. Let's make the arts a top priority in every school's extracurricular activities. Doing so might help develop more motivated, more sophisticated, more adaptable, more tolerant, and better educated students in future generations. It will also prepare them to be better citizens of the world.
Popular in the Community