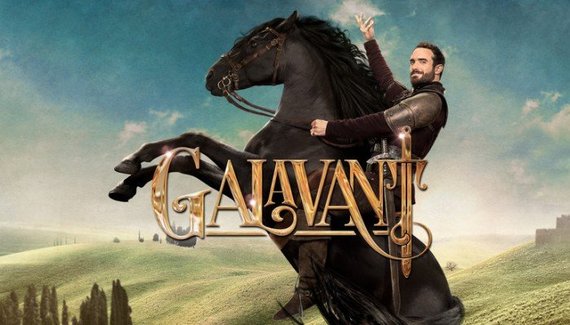 When it comes to TV, it's tough to be different. I learned long ago that my taste in TV shows didn't necessarily align with the masses. As a result, most of my favorites are gone in the blink of an eye. It began a couple of decades ago with The Adventures of Brisco County, Jr. (1 glorious season then gone). That fabulously fun show was the first TV series in my adult life that would prompt me to cancel other plans just to see it the moment it aired. Clearly, others didn't feel the same.
The slaughter of my favorite shows continued over the years with shows like Missing (1 season and gone), Worst Week (1 season and gone), Rubicon (1 season and gone), and so many more that I was disappointed to lose. It began to dawn on me that I was definitely a square peg in the round hole of television viewing.
Then I discovered USA Network with its hold-your-attention, perfect-blend, action/drama/humor combinations like Burn Notice, Royal Pains, Common Law, Suits, Covert Affairs, Psych, and my favorite of all, White Collar. I thought I'd finally found a TV haven, one that was tailor-made for me. But, alas, it was not to last either. In too short order, USA went off the rails and cancelled Burn Notice, Psych, Common Law, Covert Affairs, and my beloved White Collar. In their place are shows that are either too unappealing to me (Chrisley Knows Best), well performed but too unrelentingly dark (Graceland) or too flawed and disturbing in the first place (Rush). One new show, Benched, was quirky and amusing and a must-DVR in my house, but even this harmless sitcom didn't make it past its first and only season. USA's focus has somehow changed, and the level of engaging, gotta-see-it fun has slithered off into the sunset, without even a spin-off to sustain us (the waste of Bruce Campbell's Sam Axe character from Burn Notice is just plain criminal).
Perhaps I doom the shows I like just by liking them so much. If so, I should apologize in advance to Jane the Virgin, Devious Maids, Reign, Rizzoli and Isles, and Grimm. Because I'm a diehard fan of those shows, they may find themselves on the chopping block sooner rather than later. I feel like the black widow of television. Just liking something seems to seal that poor show's demise. And shows I wouldn't bother to turn the TV on to see seem to sail on for years. So good news, Brooklyn Nine-Nine, you should be golden for a very long time.
I was in a funk at USA's betrayal, and then came Galavant on ABC. Oh what a treat! My husband and I laughed our socks off, and we've already watched the whole thing twice, laughing just as hard, and enjoying it even more, the second time around. As a true testament to its powers, the second watching was with a visiting relative who hates musicals. But she laughed. She enjoyed herself. She said, "I'm not hating this." It may not sound like much, but for someone deeply mourning the loss of Sons of Anarchy, "not hating" Galavant was huge.
Galavant was the most grinning, giggling pleasure delivered by any TV show in...well...just about forever. Spirited musical performances with lyrics that pushed the story forward, clever comic writing that brilliantly mashed up the old with the new, perfect casting, and a gorgeous setting came together to create something wonderful and watch-worthy. It may not have kept a perfect pace (the few interspersed ballads and retrospective moments tended to cause a hiccup in the momentum), but it was pretty darn close to perfect. In short, it was probably too good to be true. I loved it. It's doomed.
Of course not everyone likes musicals or gets a kick out of campy, over-the-top entertainment, but I would be lying if I didn't say that I would pay to see a Season 2...a Season 3...a Season 4...and...more. I would even take a big beautiful sequence of Galavant movies.
So here's my plea. To the powers-that-be behind Galavant: if ABC bails on you, find a niche for it elsewhere. If you make it, I will come, even if I have to crack open the piggy bank to do so.
More Galavant...please! Dang, I miss it already.
Photo credit: ABC / Galavant
Calling all HuffPost superfans!
Sign up for membership to become a founding member and help shape HuffPost's next chapter