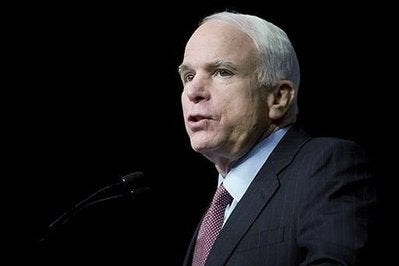 While this morning's Gallup national tracking poll is already showing a clear convention bounce for Obama (even though he hasn't yet spoken), from McCain 46-44 to Obama 48-42, there are a number of very clear obstacles that Republicans are going to have to navigate next week to avoid the specter of a convention drop.
Hurricane Gustav is shaping-up to be a "gulf coast monster" which is expected to hit landfall just as the GOP convention starts on Monday night. Presently, its current trajectory is near New Orleans. There is chatter that Republicans are considering pulling President Bush from the list of speakers in anticipation of the storm, but the political storm might be an even bigger problem.
Karl Rove appears to be demanding that McCain select Mitt Romney as his running mate. If McCain listens to him, this will only reinforce the notion that McCain has surrendered his entire campaign to the Rove machine. If he goes against Rove and selects Joe Lieberman, the GOP base seems ready to revolt.
And in a little-known development, Jack Abramoff is scheduled to testify and be sentenced in federal court on September 4th, the afternoon of John McCain's convention speech.
These are some serious potential problems for the GOP and each one could cause a great deal of damage in the eyes of the public (or the Republican base).
Meanwhile, things are going better than expected here in Denver and Democrats seem to be one big happy family, once again...
Popular in the Community