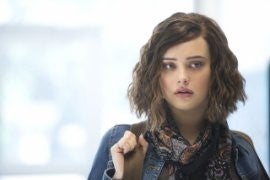 Every day more and more adults and experts grow concerned.
Seven students in Colorado recently took their lives, so naturally everyone is worried about students reading "13 Reasons Why" and even seeing the Netflix series.
While we don't know the reasons why these students took their lives, we can't take the chance that others will read the book or see the series on Netflix and find suicide glamorous.
To that end, the curriculum director at Mesa County Valley School District in Grand Junction, CO has stopped circulating the book "13 Reasons Why" in its school libraries.
The Jay Asher novel follows a high school girl who kills herself after creating a series of tapes for her classmates to play after her death. The tapes were sent to those she blamed for her choice to take her life.
While some librarians are upset about this move calling it censorship, it is incumbent upon us to think first and foremost about our teen's safety, mental health and staying alive.
We don't now that the book or the series is the cause of these suicides, but just this week, an 8 year-old Cincinnati boy took his life. How many more messages do we need to put in front of our kids and teens to give them ideas for death?
Schools from upstate New York, the Midwest and California have sent warnings to parents about the series and the book. A school district in Minnesota temporarily pulled the book after a parent complained that the book contained sexual content.
In addition to the suicide, the series shows two rape scenes, a teenage boy plotting what looks to be a Columbine event, and a teenage boy who has shot himself in the head. The series has been renewed for a second season so it remains to be seen if this boy lives or dies.
Sadly, I fear we will see some teen suicides in the very near future who will make tapes putting blame on the reasons why they are taking their lives.
Netflix says kids 17 and over should be watching the show. Yet, parents have reported that kids as young as 9 years-old are watching the series.
As the founder and CEO of STOMP Out Bullying, the most influential anti-bullying organization for kids and teens in the country, our HelpChat Line has saved the lives of over 2,000. Other ways we have saved lives is through email and phone calls for younger students. The total number of lives we have saved to date are over 5300. These numbers increase daily.
The thought of more Hannah's (the teen in the book and series who commits suicide) taking their lives and making tapes before they get to the point of no return is beyond heartbreaking.
"13 Reasons Why" is not entertainment and all parents and teens and especially those teens with mental health issues should seek help from a professional.
Related
Popular in the Community