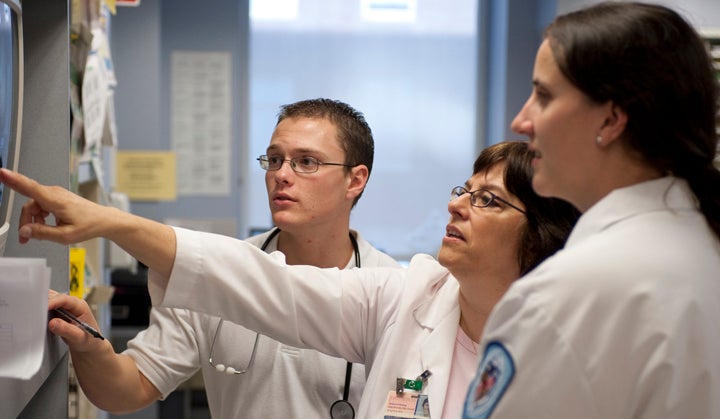 So, men are the solution to an ever-more-worrisome nurse shortage worldwide. Currently, the workforce is along the lines of 90 percent female. Recruit more males into nursing, then.
That's the argument of a blogger (and female nurse) on a website called The Conversation. And we agree—to the extent that men are more than welcome in our profession, and have been for some time. The male perspective can be an important part of diverse health care teams that anticipate, process, and respond to any patient and situation. We need more men just as we need more nurses from underrepresented minority groups, from the LGBTQ community, from the talented pool of returned Peace Corps volunteers, and from other walks of life.
There is the room, and there is the need—come one, come all.
Male populations are a resource that we must keep looking toward and cultivating. Sex should matter little in nursing. And at Johns Hopkins, we make sure it doesn't. Our reward is researchers like Jason Farley, whose work on preventing HIV/AIDS and tuberculosis has saved lives and gained worldwide notice. Likewise newer faculty members like Michael Sanchez, who focuses on men's health issues, and Bryan Hansen, working to ease the suffering of both dementia patients and caregivers. Our student body (yes, a little over 10 percent male) features many more men being prepared to serve and lead as nurses. The brand-new president of the Johns Hopkins Health System, Kevin Sowers, is a terrific leader who happens to be a nurse. That is a very big deal, and we applaud our hospital colleagues for their foresight.
But saying "hire more men" isn't enough. We need to change minds, including perhaps our own.
Take the deep-rooted, silly perceptions about nursing (from patients and families to administrators to fellow nurses) that have real implications in the workplace. Among them:
· Nurses, especially men, are those who weren't medical school material. Ask a doctorally trained nurse (or nurse practitioner) about that.
· Nurses answer to physicians vs. sharing decision-making as respected, respectful teammates.
· Nursing is "women's work."
· Male nurses should be paid more because they can lift heavier patients and are more athletic and hence are more valuable in emergency situations (from The Conversation):
Nursing is a good choice for men – once they enter the profession they are likely to be promoted faster than their female peers and earn higher salaries – benefiting from what Forbes magazine calls the "glass escalator."
We aren't blind to the dynamics of male vs. female in any workplace environment. Challenges exist. But we can't just try to change perceptions; we must succeed. And we can't turn to men to save us as a profession; we must make this profession a magnet for men, women, for people from every sexual orientation, upbringing, and walk of life and then help them succeed … equally.
The good news is we've got our best people on it: women, men, LBGTQ colleagues, and returned Peace Corps volunteers, all great ambassadors for the profession and great examples of what and who we are. Want to solve the crisis? Join the chorus: #WeGotThis.
Related
Popular in the Community