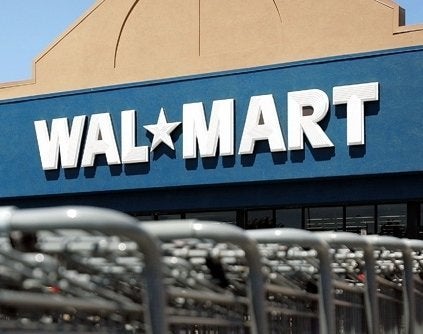 Florida resident Patrick Donovan, 53, died over $393 in Wal-Mart merchandise, lying face down in the giant retailer's parking lot last week. The media reported the exact amount of Wal-Mart goods Donovan had allegedly shop-lifted---so we can quantify the value of this man's life.

In a reversal of the death of a 34 year old Wal-Mart worker last week under the feet of aggressive Wal-Mart shoppers, Donovan's death in South Carolina---three days after the Long Island incident---was at the hands of three Wal-Mart workers, who wrestled the alleged shoplifter to the ground, where the man died.
The Wal-Mart workers and one bystander held Donovan down, while one leaned on his back and another held down his arms and head. The police report says they told Donovan to stop fighting, and asked witnesses to call 911. By the time Donovan had stopped struggling, he had died.
"There will be no charges pressed," a spokeswoman for the city of North Myrtle Beach told the Sun News. Authorities said results from an autopsy in the case could take "a few months." In the meantime, officials simply concluded, "There is no criminal act." In the words of the County Coroner's office, "As far as I am concerned there is no case here." The family of Patrick Donovan is likely to conclude otherwise, and their lawyer might like to review the court records of one Stacy Driver.
On August 7, 2005, Stacy Driver, 30, of Cleveland, Ohio, a master carpenter and the father of a two year old son, died from a heart attack, while lying face down in a Wal-Mart parking lot in Atascocita, Texas. Driver was pinned down on the burning hot pavement by several Wal-Mart workers who accused him of shoplifting a package of diapers, a pair of sunglasses, a BB gun, and a package of BBs. The Harris County, Texas Medical Examiner's Office ruled Driver's death was a homicide. An autopsy showed that the death was caused by asphyxia due to neck and chest compression, with a secondary cause of hyperthermia. The Houston Chronicle reported that Wal-Mart paid nearly $750,000 to Driver's family as part of a settlement.
There is a legal case already underway in the Long Island trampling. The family of Jdimytai Damour, the Wal-Mart temp who was crushed by Black Friday shoppers, has filed a lawsuit against Wal-Mart, the shopping center owners, and a security company, charging them all with "carelessness and reckless negligence." The lawsuit adds: "The defendants...engaged in specific marketing and advertising techniques to specifically attract a large crowd and create an environment of frenzy and mayhem and was otherwise careless, reckless and negligent." An autopsy on Damour revealed he died of asphyxiation. While South Carolina officials need months to figure out what killed Patrick Donovan, the Damour family is well on its way toward a huge financial settlement.
Less than a week after Donovan's parking lot death in South Carolina, a 67-year-old man was kidnapped and stabbed in a Wal-Mart parking lot in Poway, California. The victim, who police would not identify, had just purchased some milk at a Wal-Mart, and was walking home when a man stuck a gun in his back and threatened to kill him. The attacker forced the man behind some large shipping containers in the Wal-Mart parking lot. "He thought the guy was going to kill him," the police report said. The elderly victim fought off his attacker, and knocked the gun under a container. The attacker pursued him through the parking lot, where a Wal-Mart security guard saw the fight, and called the police. The victim was stabbed in the hand and thigh, was treated at a hospital and released.
For Wal-Mart, such cases can be very costly financially. In March of 2001, Katoria Lee stopped off at a Wal-Mart store in Riverdale, Georgia to buy some party supplies for her 9 year-old son, who was asleep inside her Ford Explorer. She parked under a light pole close to the front entrance of the store. When she emerged from the Wal-Mart, an assailant told Lee to give him her keys. Lee dropped the keys and ran---but the assailant shot her in the back with a .380-caliber handgun. Five years of court battles later, a jury in Clayton County, Georgia ordered Wal-Mart to pay Lee $4,200,000 in damages from her civil suit against the retailer. "This is exactly what Wal-Mart should have expected," Lee's lawyer said. "Wal-Mart should have had security in the parking lot, and should have known that violent crimes had occurred in the past in this parking lot, and would continue to occur on their property." Lee's attorney provided a list of 398 visits by police to that store for various crimes in the 20 months leading up to her shooting.
Reading reports of suicide, rape, and larceny every week, one gets the impression that shopping at Wal-Mart is like taking a stroll through Fallujah. In May of 2006, the group Wake Up Wal-Mart released a national study on Wal-Mart and crime. The study, entitled "Is Wal-Mart Safe?" analyzed 2004 police incident reports at 551 Wal-Mart store locations. Among the key findings: In 2004, police received 148,331 calls for service for the 551 Wal-Mart stores analyzed, averaging 269 reported police incidents per store; for just the 551 stores sampled, there were 2,909 reported police calls for "violent or serious crimes," including 4 homicides, 9 rapes or attempts, 23 kidnappings or attempts, 154 sex crimes, 550 robberies or attempts and 1,024 auto thefts. Based on the number of reported police incidents for the sample, Wake Up Wal-Mart estimated police responded to nearly 1 million police incidents at Wal-Mart in 2004 costing taxpayers $77 million annually in legal and court costs.
Who will be the next Stacy Driver, or Patrick Donovan? Wal-Mart has been very tight-lipped about store security, crowd control, parking lot monitoring, or any of the other responses needed to put a lid on this very visible problem. Instead, Wal-Mart finds itself issuing press releases "extending its sympathy to the family of the deceased."
"We consider Mr. Damour part of the Wal-Mart family," the retailer says, "and are saddened by his death." But the rest of America is saddened by Wal-Mart's inability to spend more of its nearly $13 billion in profits to protect its shoppers, its workers, and the American taxpayers from this chronic litany of tragedies on their premises. If Wal-Mart can spend $2 billion on advertising, it can invest more in store safety and security for the public.
These incidents at Wal-Mart do not help us "Live Better," as the corporation's motto says. They may persuade more shoppers to skip the Wal-Mart experience entirely. You can be sure that the mayhem, headlines and lawsuits are being noticed by Wal-Mart shareholders.
Al Norman is the founder of sprawl-busters.com, and author of the books "Slam-Dunking Wal-Mart" and "The Case Against Wal-Mart." He has been helping local citizen's groups fight big box stores nationally for 15 years.
Popular in the Community