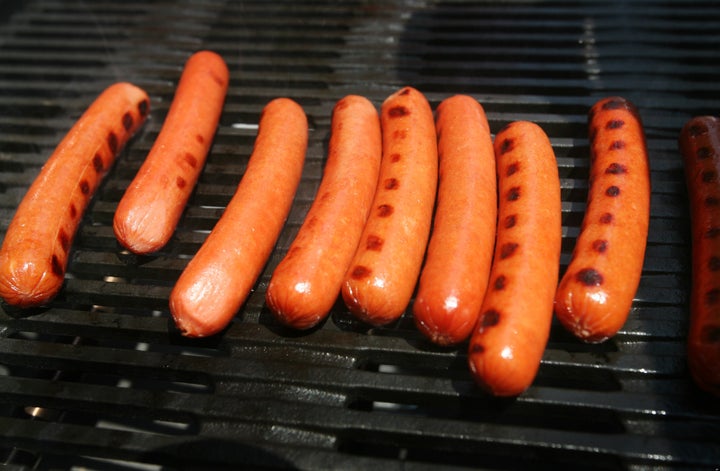 So you've conquered Meatless Monday? Awesome! What's next? Well, why not add a few more animal-free days to your week?

I'm participating in the Huffington Post's Week of Eating In. This makes me happy because I'm vegan, and as such I'm very familiar with the pleasures of eating in. More and more restaurants are offering vegan options every day, but still, for variety and accessibility, nothing is quite as fabulous as eating at my house. My restaurant (read: couch) has a zero tolerance policy for meat, dairy and jerkwads. However, we provide every diner with an adorable puppy to hang out with during the meal. Seriously, it's the best place in town/possibly on Earth.

For me, being vegan is a celebration of all life. Like most Americans, I grew up eating hamburgers and scrambled eggs. I loved them, too, because hamburgers and scrambled eggs are delicious. It wasn't the taste of meat that drove me to avoid it; it was learning about the atrocities of factory farms. I just couldn't give a single dime to anyone who caused that kind of suffering. It's especially unjustifiable now, looking at all the amazing vegan food that's available. Man, vegans today have it so good, it's almost criminal. I've never eaten so well in my life, and because of my veganism I've tried countless cuisines that may have gone unexplored. Who knew that Ethiopians have the corner on the tastiest bread around (injera), or that Lebanese lentils can make a grown woman cry with joy? I do, folks. To put it plainly, veganism is the shit. Also, I'm more regular than I've ever been in my life, but I'll stop right here because I don't want to repulse you.
Instead, I'm going to give you an easy, delicious recipe made with one of my favorite vegan products: Field Roast Sausages. These animal-free sausages are low in fat, high in protein, and last about ten minutes in my house. They're widely available at Whole Foods and natural grocery stores across the country, and praise the lord, these things taste like meat. I hear a lot of complaints about how unnatural and processed a lot of veggie meats are, so I asked Field Roast founder and Head Chef David Lee how it's made.

It turns out the process is surprisingly similar to the production of meat sausage, just without the billions of dead animals. In fact, Lee says that they see themselves as a meat company, using the same Butcher Boy Grinder and a sausage linker that are industry standards. The difference is that their meat is created from vital wheat flour. Using the flour, they mix in other natural ingredients, including fresh fruits and vegetables. After that, it's linked in casing and steamed in an oven.

The whole process is very open; they even give tours to kids and teach them how to make it! Lee believes that people are sometimes turned off fake meats because they don't understand where it comes from, so it's important to show them. When you bite into a hamburger, you picture a happy cow in a field, even though that's far from the reality. Cows that are raised for meat live in overcrowded, dirty environments and are pumped full of hormones and antibiotics. After being slaughtered and divided into standard cuts, the scraps (fat, guts, and blood) that are turned into sausage go through a process that often includes washing in ammonia to attempt to kill bacteria like E. coli and salmonella. Seriously, washed in ammonia. I found just educating myself in the process made the decision to move from meat sausage to vegan sausage a simple one -- especially when you consider that Field Roast Sausages deliver so highly in the taste department; there's no reason for the other stuff.

This recipe is one of my favorite ways to enjoy vegan sausages.The chard and sausage combine to make the perfect accompaniment to pasta, and the wonderful flavor of Field Roast really shines here.
· 1/2 tablespoon salt
· 2 tablespoons olive oil
· 1 lb Field Roast Smoked Apple Sage Sausage, crumbled
· 1/2 lb chard, tough stems and center ribs discarded and leaves coarsely chopped
· 1/2 lb spaghetti (or your favorite pasta)
· 2/3 cup vegetable broth
· 1/4 cup water
1. Heat salt in skillet over high heat for 2 minutes. Turn to low and add oil and sausage, cooking until browned.
2. Meanwhile, steam chard for 5 minutes, or until bright green. In a large pot, bring water to a boil and add pasta. Cook pasta until al dente and drain. While pasta cooks, add chard to sausage in skillet and sauté, stirring frequently, until greens are tender. Add broth, stirring and scraping up any brown bits from bottom of skillet, and then add pasta and water, tossing until combined. Serve immediately. This is best enjoyed with a glass of red wine and perhaps a little dance around the kitchen.

Support HuffPost
The Stakes Have Never Been Higher
Related
Popular in the Community