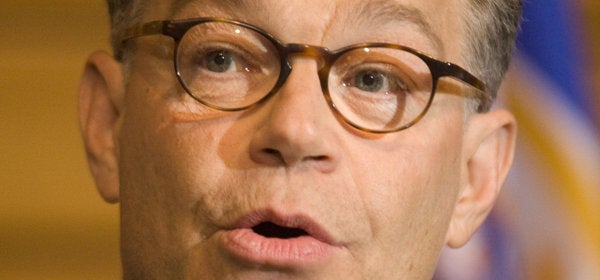 The Minnesota Senate recount campaign has firmly entered its legal stages, with Al Franken's chief counsel sending a lengthy and sharply argued memorandum to the Secretary of State's office on Thursday making the case for counting a group of contested absentee ballots.
The newsworthy thrust of David Lillehaug's 39-page brief for Secretary of State Mark Ritchie was the direct highlighting of 62 individual cases where voters were either "erroneously rejected by election officials for not being registered," or their absentee ballots were wrongfully rejected.
Around the same time that this memo was made public, local reports emerged that put the number of potentially wrongfully rejected absentee ballots at approximately 2,000 -- far greater than the 500 to 1,000 range that has been previously cited.
"Ballots that were not rejected by local or county officials for one of the four statutory reasons are not 'rejected' ballots under Minnesota law, but rather are 'uncounted' ballots," wrote Lillehaug. Later he added, "State procedure and past practice plainly require that all uncounted ballots that have not been rejected be counted, even if they were previously left uncounted at an earlier stage of the process. Counties are responsible for locating such ballots and counting them."

Whether or not the state decides to count the group of absentee ballots that didn't meet any of the four established criteria for rejection will likely determine the election's outcome. All other ballots are known as belonging to "Pile 5."
Franken's campaign contends that, following the hand recount and assuming that no challenges will be upheld, they will end the process up by a mere four votes. The campaign is still, nevertheless, pushing for Ritchie to count the contested group of absentee ballots, noting that many came from Democratic strongholds.
"In recent days, Minneapolis has conceded 171 ballots belong in so-called 'Pile 5,' and the Ramsey County elections official has stated publicly that 100 ballots were erroneously rejected in that county," wrote Lillehaug.
"Once a state has created the right to vote by absentee ballot and established certain governing rules for the process, it cannot retroactively deprive those voters who have substantially complied with the process of their right to have their ballots counted," Lillehaug concludes.
To get a sense of just how hotly contested the legal arguments surrounding this issue have become, Lillehaug referenced, in his memo, court rules and legislative actions that stemmed from the mid-19th Century.
A state decision in 1887, he writes, "recodified the election laws and imposed a duty on the state canvassing board to certify a 'correct' report." Earlier he dismissed court decisions from 1858 (O'Ferrall v Colby) and another from 1865 (Taylor v. Taylor), which have been used to argue against counting the rejected absentee ballots.
On Friday, Minnesota's state canvassing boards will ultimately decided on whether this group of ballots will be counted in the final recount tally.

REAL LIFE. REAL NEWS. REAL VOICES.
Help us tell more of the stories that matter from voices that too often remain unheard.