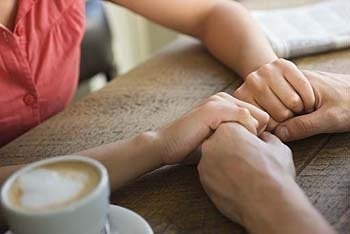 A few weeks ago, I wrote a piece on the reasons that love may turn to fear. They are: (1) Attachment and ownership: that creates fear of loss; (2) Trust: that creates fear of disappointment; and (3) The flow state of being in love: that creates fear of loss of control. These are just some of the many reasons that love can turn to fear, but if we look at these more deeply, how can we think about them? And what can we do about them?
The subject of attachment has long been written about and if we merely go with "what we are", we usually default to one of three types of attachment based on our brain chemistry and genetics, psychology and social experiences: secure, anxious or avoidant. My experience is that everybody has different degrees of all three, but as you can see, anxious and avoidant attachment styles are fear-based styles. To the extent that loss of ownership is one of the reasons we become afraid, we need to deeply examine the dynamics of ownership. For example, we tend to like things more after we own them than before we own them and the reward system of the brain activates more when this happens. This has been called the "endowment effect". Thus, in ownership, some distortion of value is occurring that makes the fear of loss even greater. This is not the only problem with ownership-it violates a fundamental principle of life: that we subjectively attribute an immortality to a very mortal relationship. We act as though we are going to take things and people with us when we die. In the recommendations section below, we will examine how we can address this challenge.
In terms of trust, this stems in part from attachment, but also, because "trust' creates good feelings and releases the same hormone (in men and women) that facilitates birth and breastfeeding. But trust is also based on an assumption: that we always know, and we don't. Furthermore, it is also based on the assumption that there are no secrets between people who love each other-which is a noble but unrealistic expectation of any human psychology. Research shows that secrets, after all, perpetuate the same phenomenon as ownership. They make you love what you are keeping secret even more. Yet, they also perpetuate a sense of non-sharing in the person you are keeping the secret from and a drum-roll that something bad may happen. Trust and fear are always competing for the attention of the emotion processor in the brain-the amygdala. But what is the solution here? We will look at this a little later.
And then there is the "flow state"- that "in the zone" feeling that you feel when your life seems so much in place. At last-even the sun seems brighter and the worst day of your life seems okay because you are in the flow state of love. Until-of course-you suddenly start to get disoriented as though you are gliding on endless cross-country skies wondering when exactly you are going to fall. And surprise, surprise - you do. So you see there are some basic themes here that lead us into our recommendations.
Recommendations: 1. In all three bridges, love turns to fear when the attention switches from the other person to you: "I may lose", "I may be disappointed", 'I may fall out of flow". Is this the invitation to fear-the switch from concern about other to concern about self? Do we care more or less about ourselves when we care for others? Conventional wisdom has it that we must care for ourselves-and I agree with that. But outside of the morality of right and wrong, it simply feels better to care for others than ourselves. 2. In all three bridges, attention switches from what we have loved (and is still there) to what we hate. Why is it so much easier to remember the bad things than the good things? Evolutionary protective mechanism? Perhaps. But in any case, it would behoove us to train our brains to remember the good things more often. Yes, it will feel "false" but it is not more "false" than the bad things that you remember. It just takes effort. 3. In all three bridges, it would be helpful if we could simply not be victims of time. It is as though time breeds insecurity, in part, because it reveals the complexity of people we might have polarized when we were in love. But does time really reveal the complexity or distort the simple vulnerable beauty of those who disappoint us? At the core, are not most human brings simply unable to integrate what it is about being human in as consistent a way as we would like? And if we know this about ourselves-truly know this-why would we expect something different from others?
This is just an introduction to the thinking about when fear turns to love, but in essence, I am suggesting that we don't have to "seek out" a spirituality of being human. It is already there-suffocating and begging beneath our fears to be released to ourselves. A connection to our dreamy, timeless selves, biologically, also connects us to the most intuitive parts of our brains. And if we look a little closer, we may see that we are not "in love' or "afraid" but really, we are the bridges that facilitate this to and fro on a daily basis. What if we ceased to become these bridges and moved to a perspective that would allow us to "observe" or "experience" these emotions. What would that do?
Related