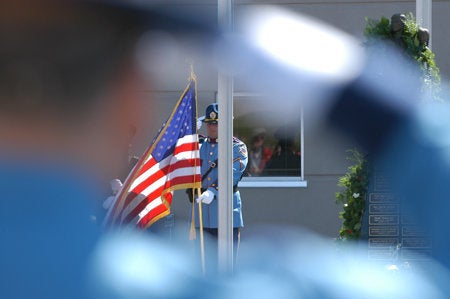 The Alaska State Trooper at the center of Sarah Palin's so-called "Troopergate Scandal"--which impeded her run for the vice-presidency and stained her record as Alaska governor--has broken his more than year-long silence since his embattled divorce with Palin's sister, Molly, became a cause celebre during last year's presidential campaign.
After reading passages from Palin's memoirs Going Rogue that deal with his marriage and subsequent divorce, a "fed up" Mike Wooten, 37, who still serves as an Alaska State Trooper in Anchorage, called the book "a pack of lies."
According to Wooten, Palin and her father, Chuck Heath Sr., have "interfered with my life--and my children's lives--for at least the last five years. And it is still going on. I'm done with it."
Characterizing his adversaries as "snakes," Wooten said he has kept quiet long enough. "From this point on I'm speaking my mind," he declared. "I'm speaking the truth. Let the chips fall where they may." He acknowledged that he is considering taking legal action against Palin on multiple fronts.
Although Palin would try to claim otherwise during the presidential campaign, an independent investigation ordered by the bipartisan Alaska Legislative Council (composed of ten Republicans and four Democrats) and conducted by former Republican prosecutor Steve Branchflower, resulted in the finding "that Governor Palin abused her power by violating Alaska Statute 39.52.110(a) of the Alaska Executive Branch Ethics Act."

The report issued by Branchflower documented more than thirty occasions in which then Governor Palin, her husband Todd or members of her staff tried to influence Alaska's highly regarded Commissioner of Public Safety, Walt Monegan, to fire Wooten. When Monegan refused, Palin fired the popular Monegan instead.
In addition to the finding that Palin "abused" her office, the Alaska Senate cited Todd Palin and nine other state employees for "contempt" for ignoring legislative subpoenas to testify in the Troopergate investigation.

A native of California whose father immigrated to the United States from Honduras, Wooten served 10 years in the Air Force and three more in the Air National Guard Reserves. He participated in a trio of U.S. military operations in the Persian Gulf War--Desert Storm, Desert Shield and Restore Hope--before returning stateside to Alaska at Elmendorf Air Force Base, about 45 minutes from Wasilla.
Partially disabled from his military service, Wooten pointed out that neither Todd nor Sarah Palin, or Chuck Heath for that metter, served in the armed forces. Wooten said he was particularly "disgusted and incensed" by Palin's "insincere" dedication in Going Rogue to "our men and women in uniform."
Wooten further noted with irony that many of those who have been victimized by Palin during her political career--including former Wasilla police chief Irl Stambaugh; Monegan and himself--were all veterans. "Sarah is only about Sarah," Wooten said. "She doesn't care about the 'men and women in uniform.' It's all about advancing Sarah's career."
Public records from Alaska--some of which have been revealed for the first time--chronicle a half-decade long obsession with Wooten by Palin, her father and, later, by Palin's husband Todd.
"They're like poisonous snakes in the grass who spew nothing but venom," Wooten said. "They just lay in wait and they attack you until you're dead."
In Going Rogue, Palin mentions none of Wooten's military record, but cites many charges that were brought against Wooten that were subsequently dismissed. She contends that there were "ten different" citizen complaints field against Wooten--without acknowledging that all of them were filed by members of her family or close friends. "They filed every stinking one of the charges," Wooten contends. "But it's been more like two dozen."
In an interview conducted in Alaska this past summer, John Cyr, the former Alaska Public Safety Employees Association Executive Director, confirmed Wooten's charges:
Not one complaint has ever been made about Mike Wooten's professional performance from any member of the public other than the Palin/Heath family and their closest friends. The troopers that I've talked to that have worked with Mike tell me Mike is the kind of guy they'd go through a door with. That he does his work. He's a professional. You know, just no complaints out there about Mike's work.

"It's the product of an ugly divorce and custody battle," Cyr [pictured below, at left, with Wooten] said of the complaints against the State Trooper. "It's nothing more than that."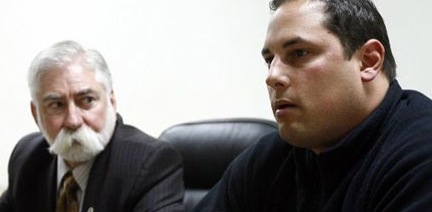 Wooten has acknowledged several mistakes he made while "I was younger" and admitted there were several things he "would have done differently," but he chose to remain silent as the McCain-Palin campaign portrayed him as a "rogue" Trooper (note the irony here) who Tased his step-son and went off on violent, drunken binges, to the point of threatening to kill Palin's father.
Wooten calls the version of events rendered in Going Rogue an "outright lie." Either it "didn't happen [the way she alleges]," he says, "or she exaggerated it all beyond recognition. I look forward to telling my side of this story."
Wooten now joins an ever-growing array of figures from John McCain on down who have challenged the veracity of Palin's memoirs. The list also includes McCain senior advisers Steve Schmidt and Nicolle Wallace, Palin's former legislative director John Bitney, her former political ally Andree McLeod, and former Alaska gubernatorial candidate Andrew Halcro. All Republicans. Wooten identifies himself as a "conservative" as well.
Palin contends "the chapter for our family was closed" with the divorce but fails to acknowledge any of the sustained harassment of Wooten, which, he says, continues to this day.
The father of three (two of whom are with Palin's sister), Wooten, still living in Wasilla, is described by his friends as a "very involved father," active as a coach in all of his three children's extracurricular sports activities--hockey, football and soccer. "I've committed my life to these children and being a good dad," he says. "I'm simply not going to allow the Palins or Chuck Heath to interfere in our lives any longer."
Palin recounts a story in Going Rogue that Wooten "asked me to write him a recommendation for the Alaska State Trooper Academy." What she doesn't acknowledge is that she wrote more than one on his behalf. In a letter dated January 1, 2000, written on official City of Wasilla stationery, Palin praises Wooten profusely, though she fails to declare her then-pending familial relationship with him.
It is my pleasure to provide character reference examples for Mr. Mike Wooten. Since I have become acquainted with Mike I continue to be impressed with his integrity, worthwhile community spirit and trustworthiness...

On a personal note, I have witnessed Mike's gift of calm and kindness towards many young kids here in Wasilla. I have never seen him raise his voice, nor lose patience, nor become agitated, in the presence of any child. Instead, Mike consistently remains a fine role model for my own children and other young people in Wasilla.

I wish America had more people with the grace and sincerity that mirrors the character of Mike Wooten. We would have a much kinder calmer trustworthy nation as a result.

I believe the United States Air Force has been fortunate to have the services of Mike the past 10 years. His work ethic, his American patriotism, his obvious dedication to traditional values, and his strong faith in God and truth is witnessed in Mike's everyday living.

--Sarah Palin, Mayor
None of which, of course, is mentioned in Going Rogue.
For his part, Wooten recalls a telling conversation with an associate of Palin's campaign team when she was running for Governor in 2006. "You could probably bring the whole campaign down," the aide said. "You probably know things about her that she doesn't want other people to know."

Award-winning writer and filmmaker Geoffrey Dunn's book The Lies of Sarah Palin: The Untold Story Behind Her Relentless Quest for Power will be released by St. Martin's Press in spring 2010.
Popular in the Community