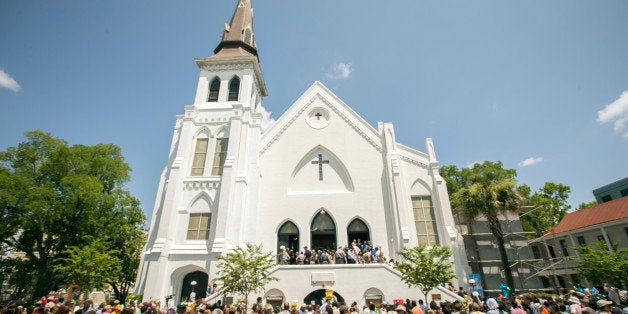 I was already reeling from the video of Dominican citizens cutting the hair of a Haitian man with scissors as a crowd ridiculed him in the street for his dark skin. I prayed that the baseball bats and machetes would not be swung.
I was already struck speechless by the report of an undocumented detainee found with a sock down his throat and 200 others on hunger strike protesting their incarceration at a for-profit prison in Arizona.
I was already burdened by the pain from #transracial, the estimated estimated 500 people who could die in police custody this summer alone, and the truly tragic state of Black and Latino men in the prison system in America.
And then, I was setting my alarm to go to sleep last night and I heard what happened in Charleston. At first no one was reporting the shooting and then the stream of details turned into a river as the rest of world caught of up with the reality of racism in America.
I'm so sad I didn't know what to do when friends reached out. So sad, I didn't know how to respond to Twitter feeds and sympathy. So sad because I'm so tired of shouting that we are being killed and no one seems to notice.
So if this is the first time you're taking a look at the plight of black Americans in this country. Here are some things that would be really helpful.
1. Acknowledge that is not an isolated incident.
Please know that the violence against and within the black community didn't stop with the end slavery, it has been constant since our extraction from Africa. There are systems and structures in our country and the world that perpetuate pain and brokenness worthy of our anger and lament.
Here are two great resources.
2. Please stop talking and listen.
Take a moment to listen to those people in pain and who are immobilized by grief and wrestling with anger and rage because of the unrelenting flow of events against black and brown people in the world. The greatest gift that you can give is your silent, attentive presence.
3. Ask yourself, "why didn't I do this earlier?"
Take a moment to ask yourself, why didn't I care about this earlier? Why didn't I ask these questions when Trayvon was killed? Or Michael Brown? Or Walter Scott? Or Tamir Rice? Or Amadou Diallo? Or Sean Bell? And the list goes on...
And please don't say, "those were different" and minimize our collective suffering. (See point 1.)
Ask yourself the following:
What fears, assumptions, or cultural narratives have kept you from exploring your own ethnic identity and the stories of those different from you?
How have you actively participated in or passively allowed systems of oppression to continue against marginalized people?
4. Lament and Repent
Cry.
Write down what you are angry, sad, and afraid of and weep. Because an Susie Jackson, an 87-year old woman who lived through Jim Crow did not deserve to die at the hands of Dylann Roof.
Ask God for forgiveness. It is a violation of our purposes in this world as people made in the image of God to flourish, work, rule and create when we crush the image of God in other people implicitly or explicitly by actively participating in systems and structures oppress the poor and marginalized or passively allowing them to continue.
We confess that we have sinned against you, opposing your will in our lives.
We have denied your goodness in each other, in ourselves, and in the world you have created.
We repent of the evil that enslaves us, the evil we have done, and the evil done on our behalf. Forgive, restore, and strengthen us through our Savior Jesus Christ, that we may abide in your love and serve only your will.
5. Pursue Racial Reconciliation
Take a moment to explore your own ethnic identity and celebrate the gifts that God has given you. To say you don't have an ethnic identity is a lie. And to say you're just going to pick on is to be disingenuous.
6. Learn to forgive and be forgiven
You will hurt people and say ignorant and hurtful things. And then you should ask for forgiveness.
You will hear hurtful and ignorant words and be hurt. And then you will extend forgiveness.
Extending grace and receiving grace is the right response to the radical grace that God extended towards us. It is a difficult, sacrificial one, but the only one that leads to peace and reconciliation.
I am still sad but I am comforted by these words which I believe wholeheartedly to be to be true. My prayer is that you would believe them as well. Because my only consolation is knowing that this world is not all there is and Jesus has much more in store for those murdered praising His name.
13 But we do not want you to be uninformed, brethren, about those who are asleep, so that you will not grieve as do the rest who have no hope. 14 For if we believe that Jesus died and rose again, even so God will bring with Him those who have fallen asleep [k]in Jesus. 15 For this we say to you by the word of the Lord, that we who are alive [l]and remain until the coming of the Lord, will not precede those who have fallen asleep. 16 For the Lord Himself will descend from heaven with a [m]shout, with the voice of the archangel and with the trumpet of God, and the dead in Christ will rise first. 17 Then we who are alive [n]and remain will be caught up together with them in the clouds to meet the Lord in the air, and so we shall always be with the Lord. 18 Therefore comfort one another with these words.
REAL LIFE. REAL NEWS. REAL VOICES.
Help us tell more of the stories that matter from voices that too often remain unheard.