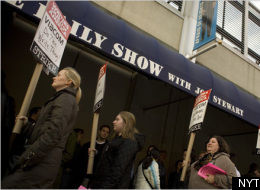 Did you hear there's a writer's strike? Yes, two and a half months in it's no longer the buzziest news in town, but that doesn't mean that writers aren't still looking for ways to fill up their spare time, use their creativity, and raise money for people who have been affected by the strike. Writers and staffers from The Daily Show are finally getting in on that action with a just-announced show on January 22nd at Ars Nova Theater forebodingly called "There Will Be Comedy."
Ars Nova, together with the writers and staff of The Daily Show with Jon Stewart, presents a hilarious night of stand-up, sketch and film to benefit staffers affected by the WGA strike. Featuring The Daily Show's Rory Albanese, The Daily Show's Hallie Haglund, The Daily Show's JR Havlan, The Daily Show's Elliott Kalan, The Daily Show's Rob Kutner, The Daily Show's Adam Lowitt, The Daily Show's Sam Means, The Daily Show's John Oliver, and Daniel Day-Lewis! *


*Daniel Day-Lewis may not appear.

The Daily Show 's Rachel Axler is producing.
A few things: First, Axler stresses that this show is going to benefit non-WGA staffers affected by the strike via the Writer's Guild Industry Support Fund. Second, both striking TDS writers and non-striking, back-at-work staffers are participating in the show (including featured correspondent Oliver and co-EP Albanese). I guess crossing a picket line the other way is okay! Third, this show can't really be considered part of the"On Strike!" series because, unlike similar shows from SNL, 30 Rock and The Colbert Report, it's not happening at the UCB. (This also is a mixture of standup, sketch and filmed pieces, not a staged version of the show). This, according to Axler, is because Ars Nova asked. Sometimes, it's just that easy!
Tickets are $20, but $5 cheaper with a WGA card. You're employed, you'll pay full price and like it.
Calling all HuffPost superfans!
Sign up for membership to become a founding member and help shape HuffPost's next chapter