Three men were arrested on charges that they helped Boston Marathon bombing suspect Dzhokhar Tsarnaev after the deadly attacks last month.
Federal prosecutors allege that Dias Kadyrbayev, 19, and Azamat Tazhayakov, 19, tried to conceal and destroy a laptop computer and backpack full of fireworks belonging to Tsarnaev, a friend from the University of Massachusetts Dartmouth, where all three were students at one time. They were charged with conspiracy to obstruct justice by the U.S. Attorney's office in Massachusetts.
A third man, Robel Phillipos, 19, was accused of lying to law enforcement officials, who questioned him about the bombing.
Kadyrbayev and Tazhayakov live in New Bedford, but are originally from Kazakhstan. They were already accused of violating the terms of their student visas.
Phillipos is from Cambridge, Mass., where Tsarnaev grew up and attended UMass-Dartmouth with the others.
READ THE OFFICIAL CRIMINAL COMPLAINTS
The Boston Police Department had announced earlier on Wednesday via Twitter that new suspects were in custody.
"Please be advised that there is not a threat to public safety," the police announced in a statement. "There is no additional info to release at this time. Additional details will be provided when they become available."
Tsarnaev, 19, was a student at the University of Massachusetts Dartmouth at the time of the bombing.
An FBI agent's affidavit explained how Tsarnaev's three friends discovered his alleged role in the bombing and the steps authorities said they took to conceal it.
Phillipos called Kadyrbayev to say that Tsarnaev resembled one of the suspects in the photos released by the FBI on April 18, the affidavit said. Kadyrbayev sent text messages to Tsarnaev joking about the physical similarities. Tsarnaev wrote back saying "lol" and "you better not text me," which Kadyrbayev didn't take seriously, the affidavit said.
The three friends met in Tsarnaev's dorm room that night, even though Tsarnaev wasn't there, according to the FBI account of Kadyrbayev's statements. While watching a movie, they noticed a backpack containing fireworks that had been emptied of the explosive powder.
"Kadyrbayev knew when he saw the empty fireworks that Tsarnaev was involved in the Marathon bombing," Agent Scott Cieplik swore in the affidavit. Kadyrbayev then "decided to remove the backpack from the room in order to help his friend Tsarnaev avoid trouble."
Kadyrbayev also took Tsarnaev's laptop, because he thought it would appear less suspicious to Tsarnaev's roommate, who was in the dorm room, according to the affidavit. Tzahayakov told authorities that they also took a jar of Vaseline, which they believed may have been used to produce bombs, the affidavit said.
Kadyrbayev told investigators that he threw the computer and backpack into the garbage after the men agreed to try to protect Tsarnaev, according to the affidavit.
Tazhayakov told authorities that Tsarnaev gave him a ride home from class on April 17, two days after the bombing. Authorities claim Tazhayakov said that Kadyrbayev showed him a text message the next day that indicated Tsarnaev would try to flee.
"I'm about to leave if you need something in my room take it," the text said, according to the affidavit.
"When Tazhayakov learned of this message, he believed he would never see Tsarnaev alive again," the affidavit said.
Cieplik's affidavit said that Phillipos gave inconsistent statements over four interviews with law enforcement. During the first three sessions, he at times denied taking the backpack and laptop from Tsarnaev's dorm, and at other points claimed not to remember what transpired.
During the fourth interview, Phillipos admitted that he had lied and then gave a revised statement similar to what Kadyrbayev and Tazhayakov told authorities, the affidavit said. He claimed that they met at Tsarnaev's room, searched his belongings and took his backpack before heading to the apartment that Kadyrbayev and Tazhayakov share.
Kadyrbayev and Tazhayakov "started to freak out, because it became clear from a CNN report that we were watching that Jahar [Tsarnaev's nickname] was one of the Boston Marathon bombers," Philipos recalled to authorities.
Phillipos said he was left out of the "majority" of the conversation, because Kadyrbayev and Tazhayakov spoke to each other in Russian. He told authorities that Kadyrbayev asked what should be done with the backpack and fireworks they took.
"Do what you have to do," Phillipos told him before taking a two-hour nap, according to the affidavit.
When he woke up, the bag was gone and he "did not know for sure who took it from the apartment," the affidavit said.
The backpack was found on April 26 in a New Bedford landfill, the affidavit said.
If convicted, Kadyrbayev and Tahayakov face five years in prison, while Phillipos could be locked up for eight.
"Inside the backpack, the agents recovered fireworks, a jar of Vaseline, and a UMass-Dartmouth homework assignment sheet," which came from a class Tsarnaev was taking this semester, the affidavit said.
Kadyrbayev and Tazhayakov garnered separate unwanted attention for a BMW they drove sporting a vanity license plate that read, "Terrorista #1." CNN reports that they claim the plate was given to them as a joke from friends in Spain. A picture circling the Internet shows a "UMASS DARTMOUTH" tag on the plate as well.
Dzhokhar is in a Massachusetts prison hospital charged with conspiring to use a weapon of mass destruction. His brother, Tamerlan Tsarnaev, 26, was killed during a shootout and attempted getaway from police in Watertown, Mass., four days after the Marathon bombing.
The attack at the Marathon killed three people and wounded more than 260.
A transit police officer who was gravely wounded in a subsequent shootout in Watertown while pursuing the Tsarnaev brothers updated the public today on his recovery.
"I cannot begin to properly thank everyone involved in my recovery, as many fearless individuals stepped up and acted heroically that night," said Massachusetts Bay Transportation Authority officer Richard Donohue in a message Wednesday on his department's blog. The update features a picture of Donohue smiling with his wife in his hospital room
"To start I must thank my brothers from the Transit, Boston, Harvard, Watertown, Cambridge and State Police, as well as fire department personnel and the various other first responders, all of whom put their own lives on the line to save mine," Donohue said. "In the midst of a firefight they dropped to the ground and assisted me when I was shot. My family got through those first few days through the community's outpouring of prayers and endless support."
THE COMPLAINTS AGAINST THE THREE NEW SUSPECTS
CORRECTION: A previous version of this article referred to one of the suspects as "Azamat Tazbayakov." His name is Azamat Tazhayakov.
Related
Before You Go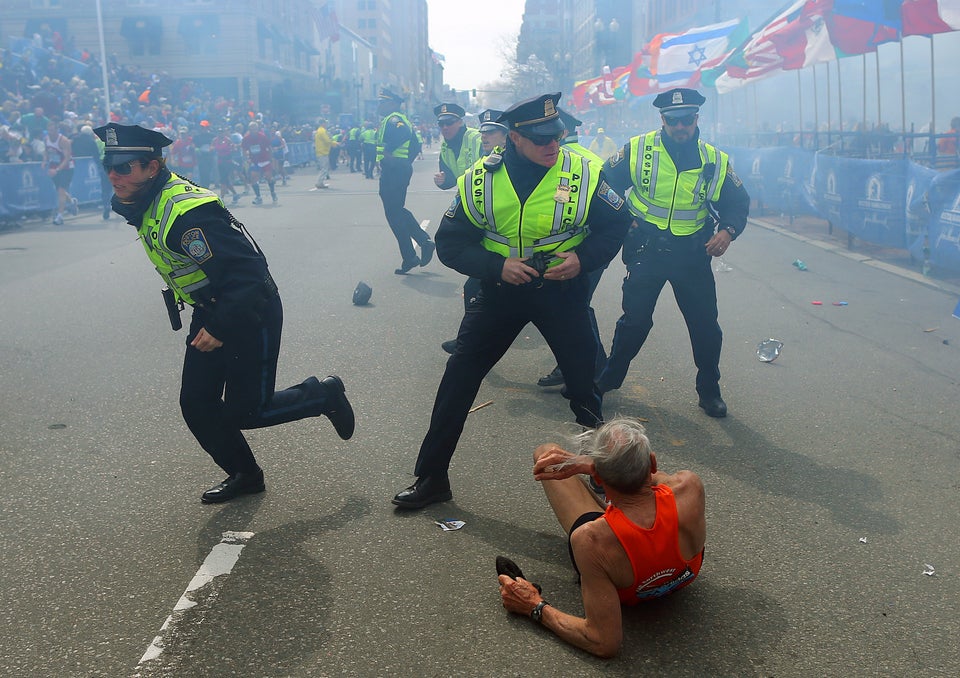 Boston Marathon Bombings
Popular in the Community