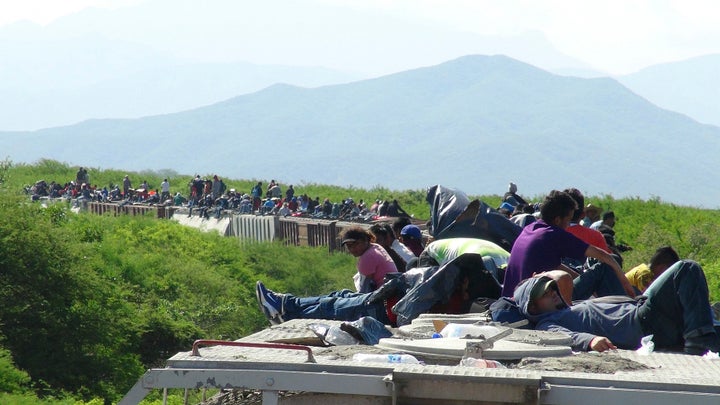 U.S. officials created the Central American Minors Refugee/Parole Program to discourage children from taking the dangerous trip through Mexico to the U.S. In this July 12, 2014, photo, Central American migrants climb on a north-bound train during their journey toward the U.S.-Mexico border.
WASHINGTON -- There's less focus this year on the conditions in Central America that led tens of thousands of children and teenagers to flee to the U.S. last fiscal year, but many in the region are still trying to get out.
Some of them will be able to do so under a new program that lets them apply in their countries to join their lawfully present parents in the U.S. and have refugee or parole status. So far, only about 2,300 people have applied, according to the State Department, and proponents of the program say more needs to be done to get the word out.
"Frankly, not enough people have taken advantage of the program -- it's in the low thousands," Homeland Security Secretary Jeh Johnson said on Tuesday. "I'd like to see more use that method versus trying to make the journey through Mexico, which is very dangerous, and crossing our border illegally."
Nearly 70,000 children traveling without their parents were apprehended last fiscal year, most of them originally from the Central American countries of El Salvador, Honduras and Guatemala, all of which have suffered a rash of violence in recent years.
Numbers are down significantly this year, but minors are still coming to the U.S. illegally. From Oct. 1 to June 30, there were about 26,700 apprehensions of unaccompanied minors, compared to about 57,500 during the same period the year before.
The U.S. accepts up to 70,000 refugees each year, all of whom must show they have a well-founded fear of persecution in their native country for their religion, race, nationality or membership in a particular social group, and that they are unable to receive protection from their country. Under the CAM program, lawfully present immigrants from Central American countries can file a request for an unmarried child under the age of 21 to be resettled in the U.S. as a refugee, if they meet the requirements. Under some circumstances, the child's parent can also be granted refugee status under the program.
If someone is rejected for refugee status under the CAM program, they might still be approved for parole in the U.S. on a case-by-case basis for humanitarian reasons, which does not allow them to get transportation to the U.S. or resettlement help and benefits once they arrive, as refugees do.
As of Monday, 2,311 people had applied for the CAM program: 1,957 from El Salvador, 43 from Guatemala and 311 from Honduras. The government is still in the process of reviewing applications.
U.S. officials say the goal was to allow minors who are in unsafe conditions to reunite with their parents in the U.S. legally, while also working to improve those conditions so fewer people feel they need to flee.
"This program was to take care of a part of the phenomenon that we saw last year, which was so many children coming without their parents and showing up after taking such a serious trip," Anne Richard, assistant secretary of state for population, refugees, and migration, said in an interview. "There's a lot of other things that also need to be done, that are being done, to address this problem."
The U.S. government has tried to get the word out about the program, aided by refugee-oriented non-governmental organizations tasked with helping people submit applications. Martin Zogg, executive director of the International Rescue Committee in Los Angeles, said his organization even hired a staffer specifically dedicated to outreach about the CAM program, but that there's still "an enormous concern" that some of the people eligible for the program aren't aware of it.
Another problem is the many people who are ineligible. Since only parents lawfully present in the U.S. can apply for their children, not every child facing danger in Central America has a chance at relief through the CAM program.
"This is a really wonderful opportunity, but ... it's not the solution," Zogg said. "This is not a program that addresses the breadth of the humanitarian emergency that exists in Guatemala, Honduras and El Salvador for these kids."
Children and teenagers who are still trying to come to the U.S. through Mexico face the risk of being deported without a proper screening that could find they are eligible for some type of relief. The U.S. has worked with Mexico to increase detentions and deportations on Mexico's southern border with Guatemala, stopping children before they can make it to the U.S. In a reverse from last year, Mexico detained more Central Americans than the U.S. did from October 2014 to April 2015.
Although Mexico has protections for asylum in place, critics say they aren't being followed and that children are at risk of being deported even if they have valid asylum claims.
The CAM program "is an acknowledgment that many of these kids are refugees, in other words they have valid asylum claims," said Kevin Appleby, director of migration policy and public affairs at the U.S. Conference of Catholic Bishops. But he added that the government is still working with other countries to keep many minors out.
"It's a bit of hope to provide them some safe haven when at the same time ... we're cooperating with Mexico and Central American countries to interdict them and to send them back, where they don't get any screening," he said.
Popular in the Community