UPDATE: Nov. 14 ― The letter from Alabama pastors that Kayla Moore, the wife of Republican Senate candidate Roy Moore, posted Sunday to her Facebook page appears to be re-release of an endorsement originally written in August before the GOP primaries, AL.com reports.
"For decades, Roy Moore has been an immovable rock in the culture wars ― a bold defender of the 'little guy,' a just judge to those who came before his court, a warrior for the unborn child, defender of the sanctity of marriage, and a champion for religious liberty," the pastors wrote. Their letter was posted to the Facebook page of Kayla Moore, the candidate's wife, on Sunday and published Monday on Alabama news site AL.com.
The letter detailed the two times Moore was suspended from court during his tenures as chief justice of Alabama ― first for refusing to take down a Ten Commandments monument he had erected in the Alabama Judicial Building and later for defying federal orders on same-sex marriage.
The pastors described these incidents as evidence of Moore's "unwavering faith in God and his immovable convictions for Biblical principles."
The letter did not address that multiple women have accused Moore of sexual misconduct when he was in his 30s and they were teenagers. 
"We are ready to join the fight and send a bold message to Washington: dishonesty, fear of man, and immorality are an affront to our convictions and our Savior and we won't put up with it any longer," the pastors wrote. "We urge you to join us at the polls to cast your vote for Roy Moore." 
"The Washington establishment has declared all-out war on his campaign," they added.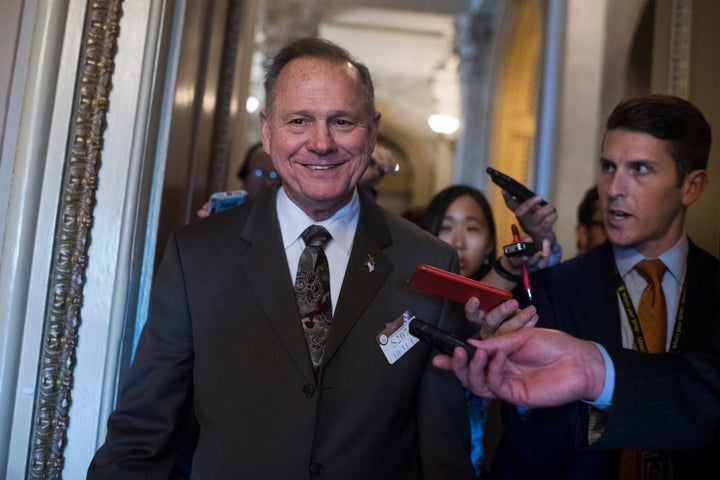 The National Republican Senatorial Committee, the Senate's campaign arm, severed its ties with Moore on Friday. The committee's decision came one day after The Washington Post reported that four women had said Moore pursued them when they were teenagers and he was in his 30s. One woman, Leigh Corfman, said she was 14 years old when Moore sexually assaulted her in 1979.
Another woman, Beverly Young Nelson, came forward with allegations on Monday. She said in a press conference that she met Moore while working as a waitress roughly four decades ago. Nelson said Moore offered to give her a ride home one night in 1977. But instead of taking her home, she said, he drove around the restaurant and assaulted her. 
"I thought that he was going to rape me," she said.
"He looked at me, and he told me, 'You're just a child.' And he said, 'I am the district attorney of Etowah County, and if you tell anyone about this, no one will ever believe you,'" she added. 
Carol Kuruvilla contributed to this report. 
CORRECTION: A previous version of this story misstated the circumstances of Roy Moore's first removal from the Alabama supreme court.

Calling all HuffPost superfans!
Sign up for membership to become a founding member and help shape HuffPost's next chapter