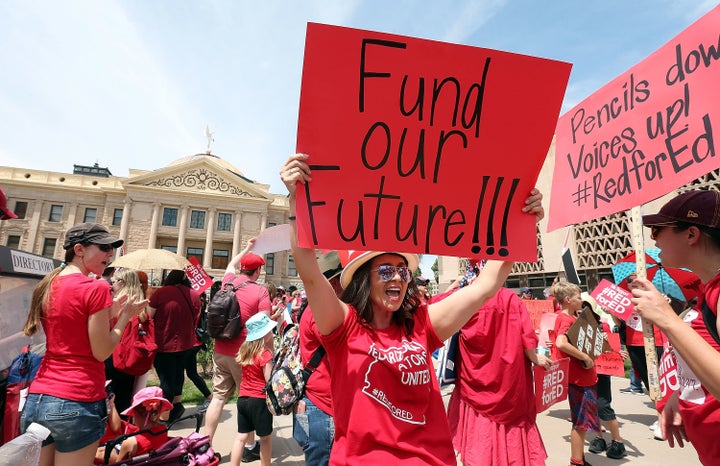 As massive teacher strikes swept red states around the country earlier this year, many of those walking out of their classrooms in protest said they needed to change government from the inside. Anecdotally, at least, it seemed an unusual number of teachers might soon run for state office.
One of the country's top teacher unions now says it has a comprehensive tally of 2018 educators-turned-candidates for state house and senate seats: 554. That includes 512 running as Democrats and 42 as Republicans, the majority of them women.
The analysis from the National Education Association includes members of both its own affiliates and those of the other main teachers union, the American Federation of Teachers. It also takes an expansive view of educator-candidates: The 554 figure includes current and retired teachers, as well as administrators and support staff in K-12 schools across the country.
A spokesman for NEA said this year was the first time the union tracked the number of teachers running to be state representatives, making the sum hard to compare to years past. But he said the union believes the 554 figure is "unprecedented."
"What we are witnessing is not a moment but a movement by educators running for office to fight for the public schools our students deserve," NEA's president, Lily Eskelsen García, said in a statement.
The AFT has been tracking the number of its own members running for office this year, which is now just shy of 300. Most of those educators are running for state seats, though that figure also includes people running for boards of education and other local positions.
"Teachers want a political voice to secure a safe and welcoming environment for their kids," AFT's president, Randi Weingarten, said in statement. "[T]hey also want to reverse the logic of economic austerity that has made crumbling classrooms and torn textbooks the norm."
The teacher walkouts began in February in West Virginia. Teachers and support staff there closed schools in all 55 counties for nine school days to protest stagnant pay and rising health care costs, as well as dwindling funds for classrooms. The shutdown forced legislators to pass a five percent pay raise for school employees and other state workers.
One of the educators to run for office in Kentucky is Paula Setser-Kissick, a technology resource teacher for Fayette County Public Schools in Lexington. The daughter of a teacher and a principal, Setser-Kissick is running as a Democrat for senate district 12, which is occupied by a Republican.
Setser-Kissick told HuffPost her campaign is powered by teachers like herself who want to change education policy from inside the statehouse.
"The people who are going out canvassing are mostly teachers and education professionals," she said. "The bulk of it right now is teachers. So if I look at that, I believe we're going to be a force in November."
"It sent a message not just to the Republican Party, but across the entire state," Setser-Kissick said. "Not only did a teacher win and defeat somebody in leadership, he did it with almost no money."