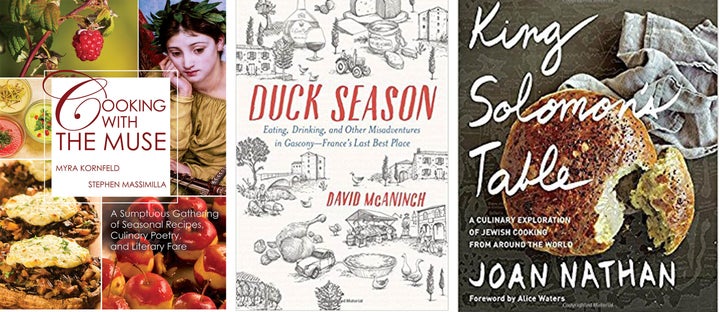 Three unique cookbooks reflect far more than food or merely recipes. "Cooking with the Muse" by Myra Kornfeld and Stephen Massimilla probes the historic compatibility of poetry and the culinary arts; Joan Nathan's "King Solomon's Table" takes us on a fascinating gastronomic journey crossing continents and centuries; while author David McAninch in "Duck Season: Eating, Drinking, and Other Misadventures in Gascony" stimulates our most lustful pleasures, namely, the discovery of a new place through its cuisine. Each in this ripe crop of recent arrivals, sports its own brand of culinary travel – through literature, through historical events, through cultural affiliation. And there are some wonderful recipes, too.
One recent night at the wonderfully eccentric Bowery Poetry Club in New York City, Cooking with the Muse: A Sumptuous Gathering of Seasonal Recipes, Culinary Poetry, and Literary Fare (Tupelo Press, North Adams, MA 2016) made its poetry debut. On stage, the authors of a voluminous cookbook, acted as each other's muse – one incanting historical references to poetry and lore while the other (Myra, a well-known chef in the city) tried her hand at reciting poetry and making connections between the two art forms. They had me at "self-reflection begins in the kitchen."
As a professional chef (and home cook) for forty years, I understood the power of this simple declaration. I sat up straight (with a glass of cab and some very tasty morsels from the book's recipes), and listened as other bon mots emerged -- "Food, and words, can nourish all aspects of our inner and outer lives;" "today, there is a cross-fertilization of culinary cultures;" "poetry and food are for everyone… they possess a seat at the common table." Cooking with the Muse shows how poetry and food are connected by the cycles of nature, the seasons, the landscape; the stuff poets write about. There are scads of poems by iconic writers like Pablo Neruda, William Carlos Williams, Seamus Heaney, Galway Kinnell, Jane Hirschfeld, Emily Dickinson, Mary Oliver, Keats, Whitman and Thoreau: and Stephen Massimilla, a professor and accomplished poet, brings much of his own work to the party. One must read Stephen's "My Dirty Chai," or Coleman Barks' translation of Rumi's "Chickpea to Cook," or Wallace Steven's "Study of Two Pears." Myra's banquet of original and sumptuous recipes speaks to the poet in all of us.
If poetry is to literature what cuisine is to culture, then lusty Duck Season: Eating, Drinking, and Other Misadventures in Gascony – France's Last Best Place (HarperCollins, 2017), offers poetically seductive words. Touting France's southwest region of Gascony as an unspoiled gem, it is a region begging for attention – or as the author says, it is the "other south of France" (distinct from the "tourist-clogged villages of Provence.") Gascony became first known to me through the work of Paula Wolfert who introduced the food world, decades ago, to the robust dishes of this fertile area of southwest France bordering the Pyrenees. Duck confit, cassoulet, and daube de boeuf were the go-to dishes for dinner parties in the '80s, while very upscale foie gras became roundly worshipped. So it is refreshing to read about this beautiful place anew through the eyes of David McAninch, who moved to the area with his wife and young daughter to dig deeper into the food and the personalities integral to the spirit, and customs of the place.
Remote in the heart and minds of many travelers, Gascony is home to residents who live longer here than in any other region of France! This, curiously enough, is the case even though the food is duck-laden, fat-laden, and sounds mighty gut-busting. But the secret may lay in the Gascon lifestyle – where tradition dictates wine at every meal, conviviality, and fresh, local ingredients grace every table. Cooking is an earnest art, "it is a cuisine that insists on slowness," poetically observes the author. Or maybe it is the area's signature digestif, Armagnac, which facilitates digestion and adds to the general bonhomie.
There is no doubt that Gascony is now on my list of go-to places. Perhaps we won't move into an old mill, or spend nine months, befriending interesting local characters – like the book's Madame Lafitte, Marcel, or Alphonse -- but we'll certainly dust off our old copper sautoir and make cassoulet as soon as possible. As for now, I think I'll have a snifter of Armagnac and make a toast to "Duck Season."
On another typical New York evening, a group of estimable foodies – Danny Meyer, Ruth Reichl, Moira Hodgson, Calvin Trillin, Mark Federman (from Russ + Daughters), recently gathered to sample interesting morsels from King Solomon's Table. They also came to honor Joan Nathan, writer, researcher, doyenne of Jewish cooking on the publication of her newest cookbook. "…A generous book," remarked Yotam Ottolenghi), covers five continents and fifteen countries, all visited by Joan, in search of the recipes and stories that embroider the larger history of Jewish food. Joan, who speaks of the "privilege of learning" calls her journey an obsession about the origins and routes of Jewish cooking. (And its roots, may I add.)
There is much to learn amidst its beautiful, satiny 382 pages. There is a comprehensive three-page recipe for making burekas, a dish Joan thinks of as her Proustian madeleine. One bite of the flaky pastry, filled with feta and spinach, is how she began each day when she was a young woman in Israel (as assistant to Tel Aviv Mayor Teddy Kollek). This savory pastry, also found in other cuisines by other names, is traditionally eaten for a Sabbath breakfast, accompanied by hard-boiled eggs. Filled with scholarly research and historical references, this is a book for both the kitchen and night table (not to mention to use as a reference for every Jewish holiday.) The lovely photographs, (by Gabriela Herman), make your mouth water, and so the Macedonian leek and meat patties are at the top of my list of must-make recipes (Kiftes de Prasa, page 284.)
And when I feel ambitious, I will try my hand at King Solomon's Cake (Libyan Saefra, saefra meaning yellow), made with cream of wheat, semolina, perfumed with orange and filled with a spiced date filling. It is the last recipe in the book; end of a fulfilling journey.
Related
Popular in the Community