If Hugh Jackman and Liza Minelli had a love child, he would be Lance Jonathan, the newest incarnation of comic genius Peter Michael Marino. Marino first came to this reviewer's attention in the 2012 Edinburgh Fringe Festival, where he performed a more conventional "true-story" solo show about his life. Only instead of a tedious show about overcoming addiction, bulimia, or obsessive nail biting, Peter wrote about his experience writing an epic flop of a jukebox musical, Desperately Seeking Susan. He turned that lemon into a very long-lasting stream of lemonade in his show Desperately Seeking the Exit, a title gleaned from one of his worst reviews. In his new show, Late with Lance, he won't have any such reviews. Instead, audiences may be "Desperately Seeking a Ticket" to see this funny-sad parody of a talk show.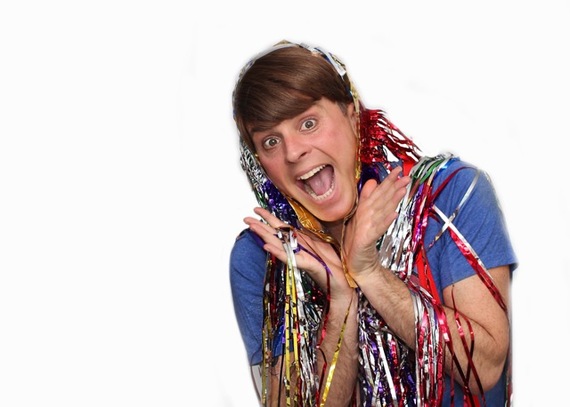 The set up is that Lance, the son of two gay daddies who produce shows on a cruise ship, has never been able to get on stage himself. He's the stage manager, the understudy, the wannabe standing in the wings memorizing every lyric and mouthing words to the music in the wings. But Lance has a dream, and that dream is to host a talk show, so that's what he is doing on his one night in port, while the real performers on board are rehearsing South Pacific On Ice. Lance is hosting a talk show, Late with Lance, and if his promised guests, Liza, Hugh, and the Miami Sound Machine fail to show up, he'll just have to bring a few people from the audience up and interview them instead. These interviews become another way for Lance to tell us about his favorite subject, himself.
Because Marino teaches the art of writing the solo show at the People's Improv Theater in New York (affectionately known as The PIT), he knows everything there is to know to ruthlessly parody this genre. So his alter ego Lance ("Just Lance, like Madonna is just Madonna") comes with the prerequisite unhappy childhood, post-traumatic stress from witnessing the death of his mother on stage in a musical theater ice show, and enough insecurities to keep him manically singing and dancing on a tiny stage while sweating up a storm and smiling through the pain.
There are several tour de force set pieces in Late With Lance that give Marino a chance to show off his comic chops, including a hysterical five-minute version of The Sound of Music that I won't spoil by describing here. Marino's show is full of big comedy waves that takes the audience out to sea, but then brings them home again with a touch of real sadness embodied in the beating heart of this very specific character.
Very few performers can create a sustained comic parody persona who both generates genuine laughs and audience empathy over the length of an hour long show. Parody as a genre can be grating; a little goes a long way. Marino's experience and craft as both a performer and writer are in evidence here. He does much more than perform a fake talk show; he creates a human being you'll laugh with more than you laugh at. At its best, Late with Lance goes beyond parody, in small moments where Lance is trying so hard to be loved it can break your heart a little. By making Lance more than a sketch comedy cipher, Marino takes the audience on an hour's journey that goes by in a flash, and leaves the audience wanting more, not less,of silly, sweet, and sincere Lance Jonathan, a grown fanboy who craves the spotlight the way an alcoholic craves a drink.
Calling all HuffPost superfans!
Sign up for membership to become a founding member and help shape HuffPost's next chapter