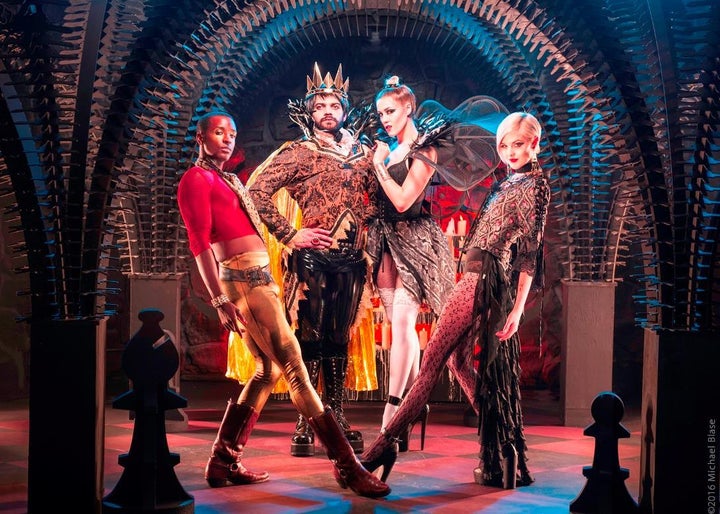 The day after the election was a dark one for most New Yorkers and the mood on the street was reminiscent of the post 9/11 atmosphere. People were sad but everyone had a sympathetic "we're in this together" aura about them. It certainly didn't seem like the time to go to the opening of a new show but I did force myself and I'm glad I did as I was about to experience hope and perseverance. More Than All The World is one of the most creative and ambitious productions I've ever seen in the downtown theatre community from the team of Erik Ranson and Rachel Klein. As writer and composer, Ransom has written an epic rock opera that can only be compared to Hamilton & Jesus Christ Superstar while Klein's directing, choreography & costume design is like a glam-rock supernova exploding right in front of you. I sat with the team a few days after the show and found out how it all came about.
So you two collaborate often. How many times have you worked together?
Rachel: This marks the fifth collaboration we have had the opportunity to work on. We met in 2013, and began working together in 2014, beginning with the Off-Broadway Sci-Fi Musical The Anthem, a concert (followed by an industry reading) of Grindr The Opera, Coming: A Rock Musical of Biblical Proportions at the NYC Fringe Festival, The Severed Hand of Neverland at Musical Theatre Factory as part of their 4x15 development series, followed by a reading of More Than All the World earlier this year presented by The York Theatre Company, which resulted in our current production at Theater for the New City, produced by Ed Miller and Lil' Rascals Theatre Company. Erik is an absolutely brilliant writer and composer, and our styles blend together beautifully; I am very excited to continue creating new and important work together.
Tell me a bit about the background of the show:
Erik: When I was in my late teens, I happened upon Christopher Marlowe's play, The Troublesome Reign and Lamentable Death of Edward II, King of England. As a young man, coming to terms with his sexuality, I was astonished to find a 400-year-old play that portrayed an all-too-familiar struggle. It felt so timeless, and it really stuck with me thereafter. So, about five years ago, I decided to write my first musical adaptation and it seemed like the perfect source material. I'm really drawn to Marlowe and Edward, who were both groundbreakingly bold figures in their respective times. They make me feel connected to something greater than myself, and I'm so excited to be able to share their stories with an audience who may be unfamiliar with them.
Rachel: To piggyback off of Erik's response, stylistically I wanted to approach this piece through a gritty rock and roll glamour lens, celebrating the sense of timelessness presented by the play itself. I think in visuals, and wanted the design to feel epic in scope, and yet stripped down like a 1970s rock club, with a splash of 1980s Berlin Goth for good measure. The design team (including the gorgeous scenic design by Ann Beyersdorfer and ultra sexy lighting design by Jamie Roderick) absolutely supports that vision, as do the luscious and elaborate rock orchestrations from our music director/orchester Andy Peterson.
Why is this 700-hundred year old story relevant today?
Erik: Honestly, it feels even more relevant today than it did during the rehearsal process, due to the results of the recent election. It's a show about love in the face of bigotry. It's truly remarkable that a medieval king was so brazen with his love of another man and he paid very dearly for being true to himself. I don't know what the rise of a Trump administration portends for today's LGBTQ community, but it feels that much more important to tell this story now. Edward II is a little-known and much-maligned monarch. A lot of people only know him from the wildly inaccurate, reductively mincing portrayal in Braveheart. He was a real, complicated man with truly tragic flaws that brought about his undoing. But his greatest fault was the consummate intensity of his love. I've always related to that, and I hope to introduce this fascinating pioneer to a new audience.
Rachel: We opened the show on the day after the election, where NYC felt like a funeral procession. (Frankly, it still does.) It felt triumphant to have this production open on that doleful night, an LGBTQ driven, sex-positive rock musical in the East Village! Our voices as artists cannot and will not be stifled, and performing this production in the wake of the election felt like a protest in and of itself. I am very proud of what this production represents, and the relevance of its message is crucial at this frightening turning point.
Who else is involved on the creative team?
Rachel: It takes a village! The aforementioned design team for this project is extraordinary and have been working tirelessly to make this show sparkle in it's grittiness. Jamie Roderick (Lighting), Zach Pizza (Associate Lighting), Ann Beyersdorfer (Scenic and Props) and Doug Mills (Sound) have Rumplestiltskined this piece beyond my wildest dreams. Andy Peterson, our MD/orchestrator, didn't sleep for a month while he developed our epic orchestrations, and my Stage Manager, Joan Wyatt, has worked around the clock to polish every element of the show. The Fight Director (and a regular collaborator) Rod Kinter, created some out of this world acrobatic swordplay, and Luis Villabon, who plays a fierce Archbishop of Canterbury, serves as Dance Captain and Co-Choreographer, with a precision that is remarkable. The entire cast is outstanding, and several have gone above and beyond the tasks of actor. For instance, Hugh Hysell, who portrays the Earl of Lancaster, also provides marketing support. It is beyond rewarding to have a company and team band together in their belief in this production's message and push so strongly for its success.
Erik: Well, first and foremost, I have to acknowledge my constant collaborator and co-interviewee, Ms. Rachel Klein. Our styles blend beautifully and she heightens and strengthens what I give her in the text by applying stunning visuals and by evoking nuanced performances from our actors. In addition, on this project, she served as costume designer and was able to draw out the themes of the timeless struggles of Edward and Marlowe in their respective eras with suggestions of medieval and Elizabethan garb that complement a base of sexy vinyl and leather. I also have to give a nod to Andy Peterson, whose orchestrations further elevate the piece and add to its emotional impact. Our producer Ed Miller has been an amazing resource, who put a lot of faith in us and this piece after seeing our staged reading at the York Theatre Company. I first met Ed after the reading and that he's devoted so much of himself and his resources to this show means so much to me. And then, of course, there is our incredible cast. Because most of the characters in More Than All the World are based on real people, it's wonderful to have talented, committed actors who give three-dimensional portrayals of these long-deceased figures. In real life there are rarely clear-cut heroes or villains and that certainly true in this story. People are products of their time, and people are opportunists or iconoclasts or any number of things throughout their lives. Actors like Grace Stockdale (Queen Isabella) and John Jeffords (Hugh Despenser) are able to find a beautiful balance between the sympathetic and the truly malevolent aspects of their respective characters.
More Than All the World sounds like heavy material. Should we expect a Shakespearean (Or in this case Marlovian) tragedy set to music?
Rachel: Although the dramatic arc is full of delicious medieval scandal, this piece is a super sexy, rock n'roll mantra, full of leather and lace. As with any Erik Ransom show, there is humor and clever levity in there, and we built this production with an elevated sense of style that speaks with Weimar exuberance and a radical heart.
Erik: Correct me if I'm wrong, but I don't think either Marlowe or Shakespeare opened an act with a royal threesome. But they were recently revealed to be collaborators, so who knows what other hijinx may be unveiled between these two saucy bards in the years to come? That said, I'd like to think More Than All the World runs the emotional gamut. There's certainly humor to it, there are moments of absolute euphoria and, yes, there are some really tragic moments. We span about 30 years of a human life in this epic musical, so of course there are ups and downs. And, let us not forget, this production is helmed by Rachel Klein, so sex and glitter are the order of the day. I hope our audiences will be amused, aroused and otherwise moved by this story. It's a centuries-old story, but it really happened and these are struggles that, unfortunately, continue to persist from the 14th to the 21st century. To quote our opening number, "These are the ghosts of our past."
November 17, 18, 19 @ 8PM
Related
Popular in the Community