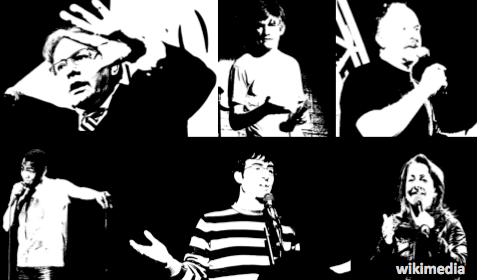 The Internet makes finding comedy a snap. Within a few minutes one can consume for free nearly hundreds of jokes on Buzzfeed or Tumblr. With comedy so readily available and free today, are people still paying to see traditional stand-up comedians?
Absolutely! Across America and the world, clubs, theaters, and even stadiums are full of stand-up comedians. The $32 million plus success of Kevin Hart's summer stand-up movie Let Me Explain drives the point home: stand-up comedians are relevant. So, what do these comedians have to offer that's worth the ticket price? A community.
Modern comedy is about being part of something -- not just laughing. Modern comedians have transformed their fan bases into meaningful communities such that comedy shows have become meeting places and even celebrations for like-minded audiences.
Chris Hardwick (founder of Nerdist Industries) caters to nerds, even directly shouting in his special, "Are there nerds here tonight? Nerds!" Some of Hardwick's attendees even celebrate by dressing up as comic book characters while many others will come to shows in t-shirts covered with nerd references.
His fellow Nerdist employee Pete Holmes, host of the upcoming Conan O'Brien-backed The Pete Holmes Show, calls his fans "Weirdos" and has developed a community around the identity of honesty and silliness. Holmes directly breaks form with traditional sophisticated comedy and does a series of bits (the most famous called "Pierce get beers") that combine alteration, rhyming and shouting, and allows an involved audience member to deliver punch lines. Holmes creates a strong norm about just being happy and weird, providing his weird audience members with affirmation of their weird selves.
Nerds and Weirdos may be niche audiences but large politically leaning groups are not. Lewis Black and The Daily Show's John Oliver directly capitalize on the strong emotions and identities of socially leftist Americans. David Cross takes it potentially one step further as his shows often resemble a humorous political rally rather than a comedy show.
Social science finds again and again that people enjoy consuming their identity and being part of a community that has the same identity and 'shared reality' -- the state of perceiving the world in similar way to others. People especially enjoy and even need such activity when their identities become threatened. Nerds, Weirdos, social liberals, and conservatives all feel a sense of threat and insecurity and long for affirmation of their personality and ideals. When a comedian on stage eloquently and humorously states what audience members already believe, it provides a great feeling - almost the same feeling one gets from a great speech from a favored political candidate.
However, what makes the experience amazing and potentially better than politics is that the tools comedians use to connect with the audience are not tricks, they are genuine. Most of the comedians actually hold the beliefs they express. Social liberals John Oliver, Lewis Black, and David Cross are passionately about the righting the wrongs they joke about. Chris Hardwick is a genuine fan of nerd content. Comedian Aziz Ansari truly captures the viewpoint of being in one's late 20s and into pop culture. Bo Burnham's stage characters, amongst masturbation and lizard jokes, reveal the true feelings that he more directly expresses in interviews when out of character.

A packed audience led by a competent comedian provides people with a sense of community where it's okay to feel a certain way. Louis CK makes people feel okay with looking at their flaws and foibles. Kevin Hart expresses that it is okay to be masculine and insecure at the same time. Bo Burnham tells us it's okay to be a thoughtful liberal but also sometimes selfish and confused.
In many ways, stand-up comedy does on an intimate and personal scale what The Daily Show does nightly. The Daily Show represents the depth of modern comedy. It is not just a show about funny headlines, it's about being part of a community of vaguely like-minded individuals. The show seeks to entertain but comes with a side of so much more than just laughs. When 200,000 plus people showed up for John Stewart's Rally to Restore Sanity, it vividly demonstrated in front of the United States capital just how powerful the experience of watching a comedian standing on alone stage with microphone, can truly be.
Related
Popular in the Community