It's been just over a month since Myanmar's military launched a brutal campaign against minority Muslims living in Rakhine state, sparking what the United Nations has called "a human rights nightmare." More than half a million Rohingya refugees have fled the country to date, U.N. officials say.
Secretary-General Antonio Guterres recounted "bone-chilling accounts from those who fled, mainly women, children and the elderly" in a speech before the U.N. Security Council this week. Their testimonies, he said Thursday, "point to excessive violence and serious violations of human rights." 
The Rohingya have extremely limited rights in Buddhist-majority Myanmar, and are classified as illegal immigrants rather than citizens. They have long suffered from state-sponsored discrimination and possible crimes against humanity.
But their plight rapidly and drastically worsened after Aug. 25, when Rohingya militants attacked government security posts. The military responded with extreme retaliation, prompting refugees to flee to neighboring Bangladesh ― now "the world's fastest developing refugee emergency," according to Guterres.
In the past month, human rights groups have reported rape, arson, killings and other forms of abuse against Rohingyas and their villages by state actors.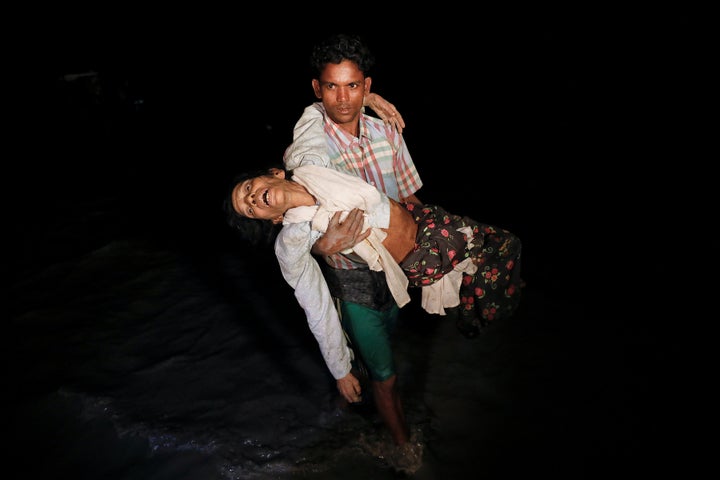 Desperate to escape by any means necessary, Rohingyas have fled Myanmar by land and sea, sometimes walking for several days without food. On late Thursday, a boat carrying more than 60 Rohingyas capsized off the Bangladeshi coast. Twenty-three are confirmed dead, including several babies. The rest are missing, unaccounted for or feared to have drowned.
This tragedy "is a grim reminder of the extraordinary risks that desperate Rohingya are taking in order to escape the violence engulfing their homeland," said UNICEF Bangladesh representative Edouard Beigbeder. "Dozens of others are believed to have perished making similar journeys" since the crisis erupted in late August, he noted. 
"I can assure you that the leaders of Myanmar, who have been struggling so long for freedom and human rights, will never espouse policy of genocide or ethnic cleansing and that the government will do everything to prevent it," he said. "We are concerned by reports that thousands of people have crossed into Bangladesh. We would like to fathom the real reasons for the exodus."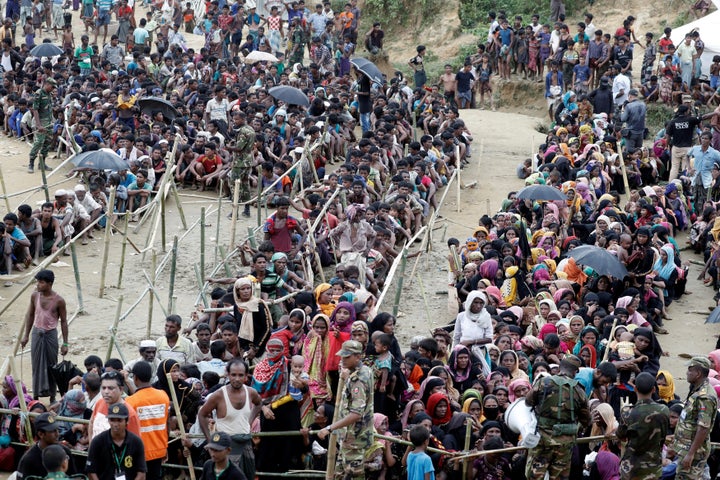 His claims echoed those of Myanmar's U.N. ambassador, Hau Do Suan, who insisted on Monday: "There is no ethnic cleansing. There is no genocide" of Muslims in Myanmar. He rejected all accounts to the contrary as "unsubstantiated allegations."
Myanmar's civil leader, Nobel laureate Aung San Suu Kyi, has so far said little to address the crisis, despite heated international pressure to do so. Suu Kyi, who skipped the U.N. General Assembly this month, has also dismissed mounting allegations of state-sponsored atrocities against Rohingyas as "misinformation."
Calling all HuffPost superfans!
Sign up for membership to become a founding member and help shape HuffPost's next chapter
BEFORE YOU GO
PHOTO GALLERY
Rohingyas Flee Myanmar Violence