"My daughter knows -- don't schedule any appointments for me on Mondays, Wednesdays or Fridays, because those are the days I come here every week. And I don't want to miss a day!" These are the words of Nora, a regular participant at the VNSNY CHOICE Adult Day Center in Queens, New York.
Nora, a 78-year-old resident of Woodside, Queens, had a stroke four years ago, and has had impaired cognitive function and been confined to a wheelchair ever since. Clinical assessments have shown her to be nursing-home eligible, but she has been able to remain at home with her daughter because she's a member of CHOICE, a special health plan for Medicare and Medicare/Medicaid-eligible New Yorkers run by the Visiting Nurse Service of New York. In addition to nursing, social work, home health aides, and other traditional home care services, CHOICE offers adult day services as a benefit for all members.
Stepping in to the adult day center any morning of the week, one can easily see the important social benefits this center, and others like it around the country, provide. Groups of seniors are sitting around tables in a large, sunlit room playing dominoes, drinking coffee, and sharing old photos. "When Nora arrived four years ago, she was very quiet," stated Kaminie Sanichar, Recreation Coordinator at the Center. "Her daughter mentioned that she was resistant to coming, and agreed to come only once a week for a month to try it out. But after participating in our activities-exercise, jewelry-making, sing-a-longs, pet therapy, and board games to name a few -- she wanted to come more. She's one of our most active participants now!"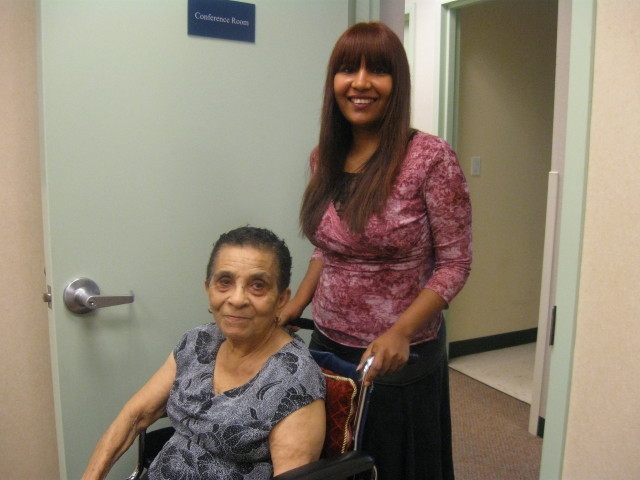 Nora's daughter, Joan, an administrative assistant at a Manhattan hospital, was as surprised as anyone at her mother's turnaround, and firmly believes that the program has improved all aspects of her mother's health. "She used to sit in her wheelchair silently for hours at a time, sometimes crying. I worried about her the entire time I was at work," she stated. "But within just a couple of weeks of coming here, she was more communicative, stopped crying altogether, and seemed once again to have something to look forward to."
Because Nora is in a specialized program for those with mild to moderate memory impairment, Ms. Sanichar checks in frequently with Joan about her progress. "We make sure the family caregiver knows how their family member is doing, in terms of their eating, their attitudes and their overall health. I believe we have prevented a lot of unnecessary hospitalizations, because we're able to catch both physical and emotional problems before they become too big."
Nora and Joan's positive experience with adult day service is not unusual. An outcomes study underwritten by the California Health Foundation showed that over a six-month period, adult day health care users in Alameda County reduced their use of hospital emergency rooms by 7.5%, reduced hospital days by 5.4%, and reduced the percent of persons using nursing facility days from 7.6% to 0.7%.
According to the National Adult Day Services Association (NADSA), there are approximately 4,600 adult day programs nationwide. In general, there are three types of adult day centers:
Social: which provides meals, recreation and some health-related services;
Medical: which provides social activities as well as more intensive health and therapeutic services; and
Specialized: which provide services only to specific care recipients, such as those with diagnosed dementias or developmental disabilities.
The VNSNY CHOICE Adult Day Center is a social model, staffed by a director, recreation coordinators, a transportation supervisor, a social work assistant, and home health aides. There are two different programs: one that serves up to 40 physically frail seniors each day, and the program for the memory-impaired that Nora participates in, which serves up to 15 people per day and has a higher staff-to-member ratio. The center does not provide medical services but the staff stays in contact with family caregivers and VNSNY nurses and social workers.
When Joan first learned about the Adult Day Center from her home care nurse, she, like many family caregivers, was wary of leaving her family member with people she didn't know. Although Joan worried about leaving her mother home during the day, she was afraid that, since her mother was not communicative, she would not be able to tell her about a bad experience. "Boy, was I wrong. Not only did she feel comfortable there right away, she started talking so much more at home, she was able to tell me how happy she was!"
Joan works full days at her job at the hospital on the three days Nora goes to the center, which is made possible because the center provides free transportation to and from the program. On Tuesdays and Thursdays, Joan works only in the mornings, and schedules appointments for her mother in the afternoons. "Being a caregiver is a very hard job, and one that can go on for many years. Having a break several times a week makes the whole job so much more manageable. I find I actually enjoy the two afternoons I spend caring for Mom now."
For more information about VNSNY CHOICE Health Plans, go to www.VNSNYCHOICE.org or call 1-866-VNS-0047. Or for more information contact the National Adult Day Services Association www.nadsa.org or, in New York www.nysadultday.com.
Highlights from NADSA
Adult day services are designed to provide social and some health services to adults who need supervised care in a safe place outside the home during the day. They also afford caregivers respite from the demanding responsibilities of caregiving. Adult day centers generally operate during normal business hours five days a week. Some programs offer services in the evenings and on weekends. Although each facility may differ in terms of features, these general services are offered by most adult day centers:
Social activities -- interaction with other participants in planned activities appropriate for their conditions
Transportation -- door-to-door service
Meals and snacks -- participants are provided with meals and snacks, those with special dietary needs are offered special meals
Personal care -- help with toileting, grooming, eating and other personal activities of daily living
Therapeutic activities-- exercise and mental interaction for all participants.

Calling all HuffPost superfans!
Sign up for membership to become a founding member and help shape HuffPost's next chapter