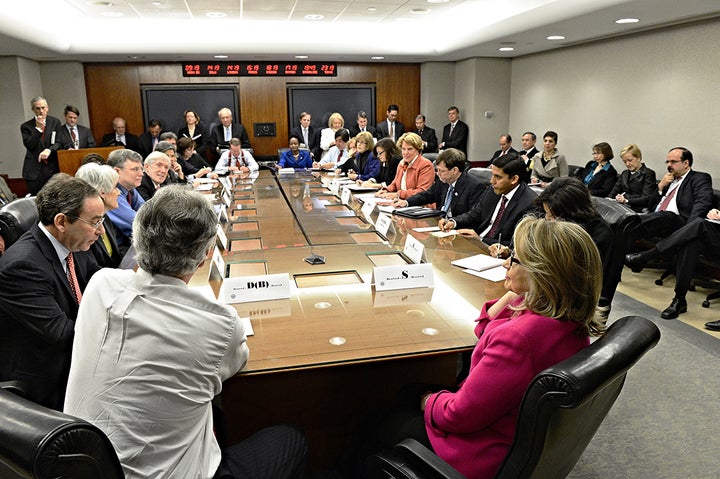 On the campaign trail, Hillary Clinton has promised that as President, she will appoint a cabinet that is 50-50 in its gender representation. While it may be tempting to pass this off as a campaign promise, a look at her past actions and achievements on gender equality testify that this pledge is more than just rhetoric. In particular, at the State Department, Clinton appointed record numbers of women to senior positions in the State Department – more than any Secretary of State before her.
As Secretary of State, Clinton's mission was to protect and promote U.S. interests overseas. Her lifelong advocacy for gender equality found a place in her new portfolio. In Clinton's agendas with numerous countries, we saw her prioritize women's rights alongside other critical foreign policy issues. Her overseas trips always included meetings with activists, non-governmental organizations, and community and elected leaders advocating for gender equality.
When Clinton said "women's rights are human rights" at the UN 4th World Conference on Women in 1995, she also said that "women must enjoy the rights to participate fully in the social and political lives of their countries, if we want freedom and democracy to thrive and endure." She carried this message with her wherever she went – including at home inside the State Department.
Upward Trend for Women Officials at State Department
Barbara Mae Watson was the first woman – and African American – to be appointed as an Assistant Secretary of State for Consular Affairs under the Lyndon B. Johnson administration in 1968. Beginning in the Nixon administration, there was a steady trend upwards from Watson, who remained on for the duration of Nixon's term.
A simple analysis of information retrieved from the Department's Office of the Historian takes into consideration the total number of women appointed to 48 different positions at the State Department at the Assistant Secretary, Assistant Secretary-equivalent, Under Secretary, and Deputy Secretary levels since 1969.
Of 632 appointments in this timeframe, 113 were women. This means that only 18 percent of all senior-level appointments at the State Department since 1969 have been women. That's not a great statistic.
Clinton Appointed More Women Than Any Other Secretary of State Before Her
Here's the most powerful part of this analysis:
40 of the 113 appointments – that's 35 percent of all the female appointees ever – happened during the Obama administration. Half of those women arrived during the tenure of Secretary Clinton; furthermore, this group of women occupied roughly 42 percent of the leadership positions in the Clinton State Department.
Clinton's successor John Kerry followed her lead by appointing just as many women into these senior positions. No other administration has achieved near this level of gender parity at the State Department. In fact, the data shows that the numbers of women in leadership positions first skyrocketed during the administration of Bill Clinton – and then nearly doubled when Obama took office.
As the 67th Secretary of State, Clinton was the third woman to serve in this role. But the data shows that the bench for women in senior positions below the Secretary-level was actually quite small until she came along. Not all Secretaries of State have been as influential in shaping their departments. Clinton was given special latitude by President Obama to fill these positions as she chose. And her choice is a powerful example of policy-in-action and a precedent that implies Clinton will follow suit when it comes time to assemble her gender-balanced cabinet as President of the United States.
There is still much work to do. The appointments in this analysis were spread out across 37 of the 48 positions, which means that nearly one-in-four of these positions have never been held by a woman. I have no doubt that these positions - and others never held by a woman across the U.S. government - will be on Clinton's mind as she crosses the finish line on November 8.
Popular in the Community