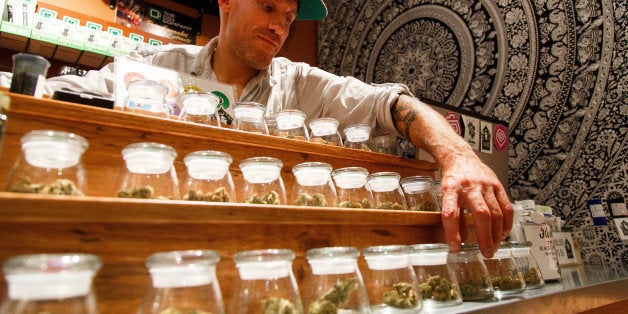 It looked like a line for a concert, young folks shifting their weight as they patiently waited outside of the New Parish, a popular music venue in Oakland. The appearance of the crowd led one to believe that an alternative rock band or other anti-establishment act was poised to appear. Tattoos were in full force, piercings adorned ears, noses and less common body parts, and hair colors evoked rainbows. But this wasn't a rock show, this was a work event, if your work happens to be in the cannabis industry.
These folks were waiting to get into the Budtender's Bash. Sponsored by Bloom Farms, the Bash is a an appreciation party for those who work in the cannabis industry. Now, I don't know if say, Walmart, throws parties for their employees, but I am fairly certain that the attendees at this event feel more empowered by and satisfied with their work then young people in almost any other field. Watching the faces of the industry, the young faces, the dark faces, the faces of those marginalized from most other big business opportunities, I am reminded of the benefits of cannabis legalization that have nothing to do with using cannabis. Namely, employment and social capital.
Much of the hoopla around the emerging cannabis industry is focused on tax revenue, with states and cities counting the cash (and without banking access, it's literally cash) that comes with the legal retail sale of cannabis. However, beyond just tax dollars, this industry has value, and it lies in opportunity, empowerment, and self-determination.
According to a 2011 study, 43 percent of young adults 18-29 are dissatisfied with their jobs. As a result, 77 percent of those surveyed said they would have to put off major life decisions due to their dissatisfaction with employment or inability to find it, including buying a home, paying off debt, and going back to school. The situation is more intense for young people of color. One in four African Americans and one in six Latinos under the age of 25 is unemployed. Low wage jobs commonly held by young people are increasingly being taken by the middle aged who themselves are being pushed out due to lack of jobs. In addition, the school to prison pipelinehas had a more deleterious effect on young people of color, setting the stage for a lifetime of unemployment and underemployment. Low job satisfaction, unemployment and few prospects for success have more than just financial implications for this population. They can tear at a person's self-worth and make self-destructive behaviors seem more appealing. But most of all, they can dull the brilliance that lives in so many of the young people relegated to fast food serving and cubicle living.
Enter the legal cannabis industry. Some estimate that the newly regulated industry will have provided 200,000 new jobs by 2015. These jobs include everything from construction on new facilities to retail, agriculture, laboratory testing, manufacturing positions, media work, and all of the people it takes to makes these businesses happen. And, unlike what is happening in the general work force, young people are getting these jobs, because they like the risk and they know the product. That's 200,000 people, who, given their demographic, would likely be unemployed or underemployed if it were not for the cannabis industry. That's 200,000 people who don't have to avoid big life decisions like buying a home or paying off loans because of job dissatisfaction and unemployment. But let's take it a step further.
The racial disparities in cannabis enforcement have been well documented. Throughout history, black and brown people have borne the brunt of the drug war. The collateral sanctionsassociated with a drug charge cut deep across a person's ability to succeed in life, by negating access to employment, housing and education opportunities. The fact that there is a legal industry displacing the illicit one means that we need to find a place in the new industry for those who were a part of the old one. This is especially true given the harsh penalties imposed upon people for doing the same thing that others are now hoping to get rich off of. Reparations anyone?
I call on the newly emerging legal cannabis industry to be mindful of the backs on which you stand, and to conduct employment searches that first dip into the pool of applicants who have a wealth of cannabis retail, manufacturing and cultivation experience and the criminal record to prove it. The emerging cannabis industry is much more than a vehicle for financial success, it is an opportunity to lift up and empower groups that have long been under-appreciated and dishonored in our society. From folks who have been discriminated against because of the color of their skin, to their ideas and lifestyle choices, for all who have been stigmatized, this industry welcomes you and wants you to succeed...and least many of us do.
There are cannabis companies who get it. Bloom Farms, the sponsor of the Budtender's Bashdonates a meal to a family in need for every purchase made. Denver Relief, one of the oldest stores in Colorado, has the Green Team, which promotes community wellness through volunteerism, and CBCB, one of the oldest dispensaries in Berkeley, offers free meals on holidays to those in their community who have no place else to go. Panacea, an Oregon company, donates 10 percent of their proceeds to social justice causes. How do we take these great intentions and expand them throughout the industry and into its culture? I am conducting a year-long qualitative study to answer the question: How do we create partnerships between cannabis businesses and community based non -profits that benefit those most impacted by the war on drugs? I believe that if we create a road map of philanthropy for this industry, the positive impact on society will truly be greater than the sum of the parts.
Popular in the Community