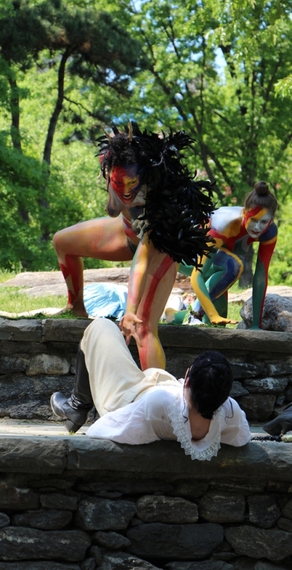 You may have heard about the "controversial" all-female nude rendition of Shakespeare's The Tempest that took place in Central Park last Thursday and Friday. The show was covered by several media outlets-- from NBC News to Jezebel, Salon, New York Newsday and ESPN, to name a few. It even became the number one trending topic on Facebook. But despite the media attention and extensive coverage of the uncovered cast members, there was one crucial aspect that failed to make its way into the media blitz: just who are these women who bared it all and gained internet fame overnight? Who are they aside from their naked thespian bodies that have garnered both an outpouring of enthusiasm and support as well as a barrage of hateful, ill-informed remarks?
For starters, the 13-person cast consisted mostly of members of the Outdoor Co-ed Topless Pulp fiction Appreciation Society. Don't let the serious name fool you--the group is simply a casual, body-positive circle of friends and strangers that gathers throughout New York City's parks and venues to enjoy the freedoms of topless equality, literature and soaking up the sunshine without the tan lines. In New York, it's legal for both women and men to be topless in public (full nudity is only legal as part of an art performance)--a simple, albeit still controversial subject, as female toplessness isn't yet "socially acceptable." The members of OCTPFAS seek to change social attitudes toward toplessness in public and censorship of women's breasts by normalizing the nipple. If you think this is controversial, remember for a moment that men fought and won a similar fight in the 1930's; transforming the topic of male toplessness from a heated debate to an everyday norm. Remember, too, that women's ankles used to be considered prurient not all that long ago.
The group's all-female production of The Tempest, was conceived, in part, to challege and modernize Shakespeare's original all-male plays, while also bringing to light the important double standard. The group's co-founder, Alethea Andrews, described the underlying theme as such:
We wanted to call attention to an issue that really is uniquely a women's issue: that women's bodies are automatically seen as sexual any time they are uncovered. This is not true of men's bodies in the same way--men can lie on a towel . . . in nothing but a swimsuit without people suggesting that he's engaging in a sexual display or "asking for it," but a woman who even takes her shirt off to reveal a sports bra is often accused of acting sexually.
Why, still, are topless men socially acceptable, while topless women considered salacious and pornographic? Why does society beg to see the naked female body, but when a woman takes her clothes off, she is considered lewd, classless, easy or merely an attention-seeker or sex object?
In the stripped down (pun intended) version of The Tempest in Central Park, the professionally trained actors and dancers were unabashed and confident in their nudity; letting the passion of the characters consume them and tuning out the constant click of the cameras in the audience. There was nothing sexual about it. Nothing dirty or crude. It was an artful mix of nudity, nature, freedom and artistic expressionism--so much so that the mere fact that the actors were nude faded into the background after a few minutes.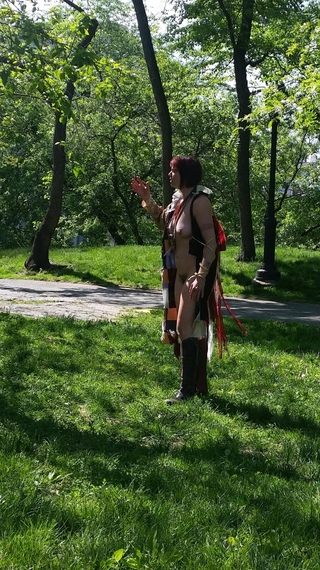 The castmembers were not perfectly-toned starlettes nor vulgar exhibitionists, but rather women of varied body types, ages, professions and personalities. They are teachers, filmmakers, journalists and comedians. They are formally-trained dancers, thespians and muscians. One performer in the show is a Ph.D. medical researcher affiliated with an Ivy League university. Another tracked wild orangutans in remote Malaysian Borneo and hiked the entirety of Washington state by way of the Pacific Coast Trail. Co-director Alice Mottola holds a degree in biology and currently works as a software engineer.
A second medical student and dancer in the play, shared her duel appreciation for both science and the arts. "I am very passionate about letting people know that you can be a scientist and an artist. That just because you chose one career doesn't mean you have to give up the other," she said.
Is it possible, now, for us to view these accomplished women as just that, as opposed to angry feminists, shameless exhibitionists, hippies or sex objects? Nudity in theater and art is no new phenomenon, mind you.
Memorizing and acting out over two hours worth of Shakespearean prose is no small feat for even the most seasoned actor. Doing it naked in front of a crowd of a few hundred strangers in a public park takes a specific level of professionalism, courage and confidence. Let's celebrate that, not criticize it.
As Shakespeare, himself wrote:
"O, wonder!
How many goodly creatures are there here!
How beauteous mankind is! O brave new world,
That has such people in't!"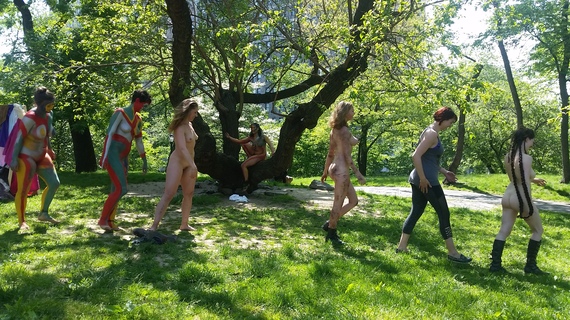 REAL LIFE. REAL NEWS. REAL VOICES.
Help us tell more of the stories that matter from voices that too often remain unheard.