While the Loire Valley (two hours south of Paris) is home to the best variety of French châteaux, there are also impressive palaces much closer to Paris. Two years ago, on my scouting trip, I learned so much about the châteaux near Paris and along the Loire Valley that I came home not with the expected one television script...but with two. Of course, one script was "The Châteaux of the Loire Valley." The other was "Side-Trips from Paris: Kings and Nobles Gone Wild" -- a show dedicated to Versailles, Vaux-le-Vicomte, and Fontainebleau.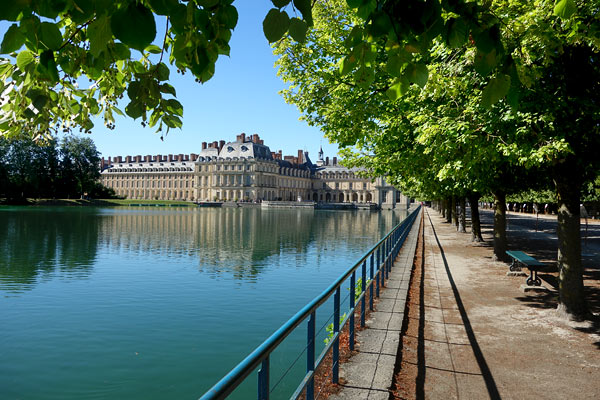 A fun way to get exercise is to run around a vast royal or noble estate and "scout" for a good camera angles. The challenge involves the light, which dictates what is useless, do-able, or wonderful. Scouting the backyard of the palace at Fontainebleau, we came up with this perfect place to film a bit where I talk directly to the camera. Below are the three "on cameras" I did at this palace: #76 (in front), #79 (inside), and #85 (in the back, where this photo was taken -- this was the close of the show). By the way, along with just visiting these lavish palaces, it was fun to work a little meaning into the scripts as, in #84. The wording is not final (since it's not "on camera," we can tinker with the language before I record it), but it sums up the message I'm hoping to share:
[76, on camera] Shifting from medieval piety back to royal excess, it's time for one last palace. In the 16th and 17th centuries, Paris' booming elite class made this area Europe's château heartland. Most of these lavish getaways began small -- as hunting lodges -- and then grew.
[79, on camera] It seems every king, queen, and emperor since has loved this palace. Louis XIII was born here, Louis XV married here, and after the anti-monarchy chaos of the French Revolution, Napoleon reigned as emperor right here.
[84, montage of people frolicking] All this royal, noble, and imperial excess and the resulting political upheaval is not necessarily a bad thing. I see it as the growing pains of democracy. Ponder these symbols of excess -- once so out of reach, and today the playground of the public. Why are today's French so hell-bent on defending their freedom? Perhaps it has something to do with their heritage of struggling under the thumb of abusive power.
[85, on camera] Whatever the case, when you travel here, it's clear: The powerful of France's past have left today's visitors with some amazing and thought-provoking sights. Thanks for joining us. I'm Rick Steves. Until next time, keep on travelin'.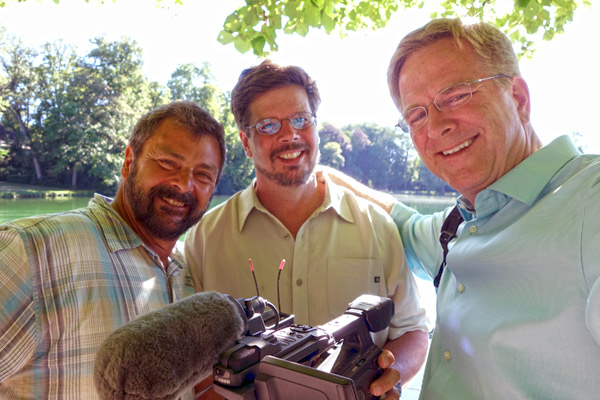 It takes six pretty intense days of scrambling to film a 30-minute episode. I grabbed this shot of our crew (me, photographer Peter Rummel, and producer Simon Griffith) at a happy moment when we had just shot the last bit to complete our first program. Next up: Châteaux of the Loire. Keep on travelin'.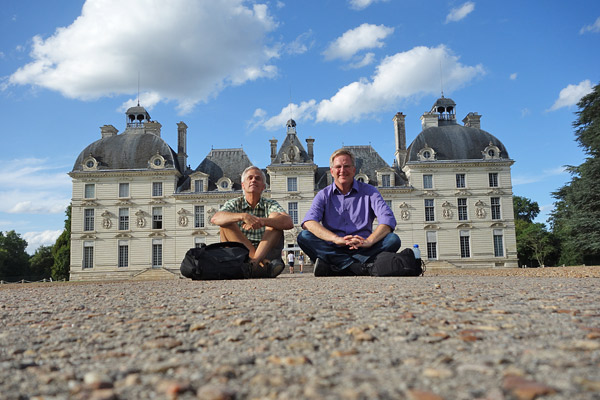 Steve Smith and I have been working together on our France guidebook for over 20 years. We wrote the first edition when Steve lived in an apartment in Paris and I slept on the street in the old VW Westfalia van we co-owned (back when eating and sleeping included lots of picnicking and camping). While Steve is the guiding force when it comes to France at ETBD, I try to join him for a week or two of research each year. This shot was taken just after the hunting dogs were fed at Château de Cheverny.