On June 14, 1885, a 19-year-old schoolteacher named Bernard J. Cigrand placed a 10-inch, 38-star flag in a bottle on his desk and assigned his students with the task of writing essays about the flag and its significance. Mr. Cigrand designed this assignment as a way to celebrate the adoption of the stars and stripes as the flag of the United States by Congress on June 14, 1777. The young teacher continued to work tirelessly to bring national recognition and observance of Flag Day. His efforts all paid off in 1916 when he was 50 years old and President Woodrow Wilson issued a proclamation that officially established June 14 as National Flag Day.
When I first encountered the story behind how National Flag Day came to be, I was immediately inspired by the passion of one young man. Cigrand identified something that was important to him and worked to teach others to appreciate the significance and history of this historic icon. I admire Cigrand for his dedication to teaching his students the importance of the American Flag.
Through my racing program partnership with the Young Marines youth organization, I have had the unique opportunity to meet the group of youth that make up this incredible program. Each Young Marine has a different story and background, but I have noticed that they are all working together towards a common goal -- living a life of leadership, integrity and self-discipline. Just like Cigrand and his dedication to raising awareness of the flag, the Young Marines share a similar passion for their dedication to promoting and living a healthy, drug-free lifestyle. I admire individuals who can identify what they are passionate about, set goals for themselves and work effortlessly to achieve them. I strive to use this same mentality in my personal life and racing career.
The week of June 14 is designated as "National Flag Week." During National Flag Week, our President will issue a proclamation urging U.S. citizens to fly the American flag for the duration this week. I encourage you all to participate and reflect on what the flag stands for. And next time you see a flag remember the passion and dedication from the story of Cigrand, the young school teacher. Behind this piece of cloth with 50 stars and 13 stripes, there is a long-lived history of a great country and individuals who are passionate about what they stand for. During National Flag Week, we recognize that the flag stands for life, liberty and the pursuit of happiness, but we also know that it stands for people with passion like the Young Marines striving to live better lives.
At my many race events, I host the Young Marines and we honor those who have committed so much so we can all do what we want to do. At my most recent race at Lucas Oil Raceway in Indianapolis, I hosted fellow 17-year old Young Marine Sergeant Major (YM/SgtMaj) McCall Behringer, National Young Marine of the Year recipient. Having my fellow peers at my races just further reminds me of the importance of what America stands for and those who have sacrificed for the rest of us.
Please join me on June 14 in recognizing National Flag Day and taking time to reflect on this great country.
I am proud to wear the American Flag down the side of my race suit throughout the racing season, so I can be constantly reminded of the values it represents. How do you represent the flag? Got a favorite t-shirt with a flag on it? Would love to hear from you!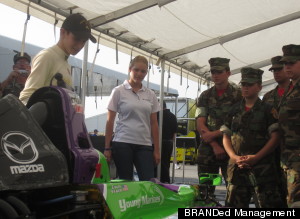 REAL LIFE. REAL NEWS. REAL VOICES.
Help us tell more of the stories that matter from voices that too often remain unheard.