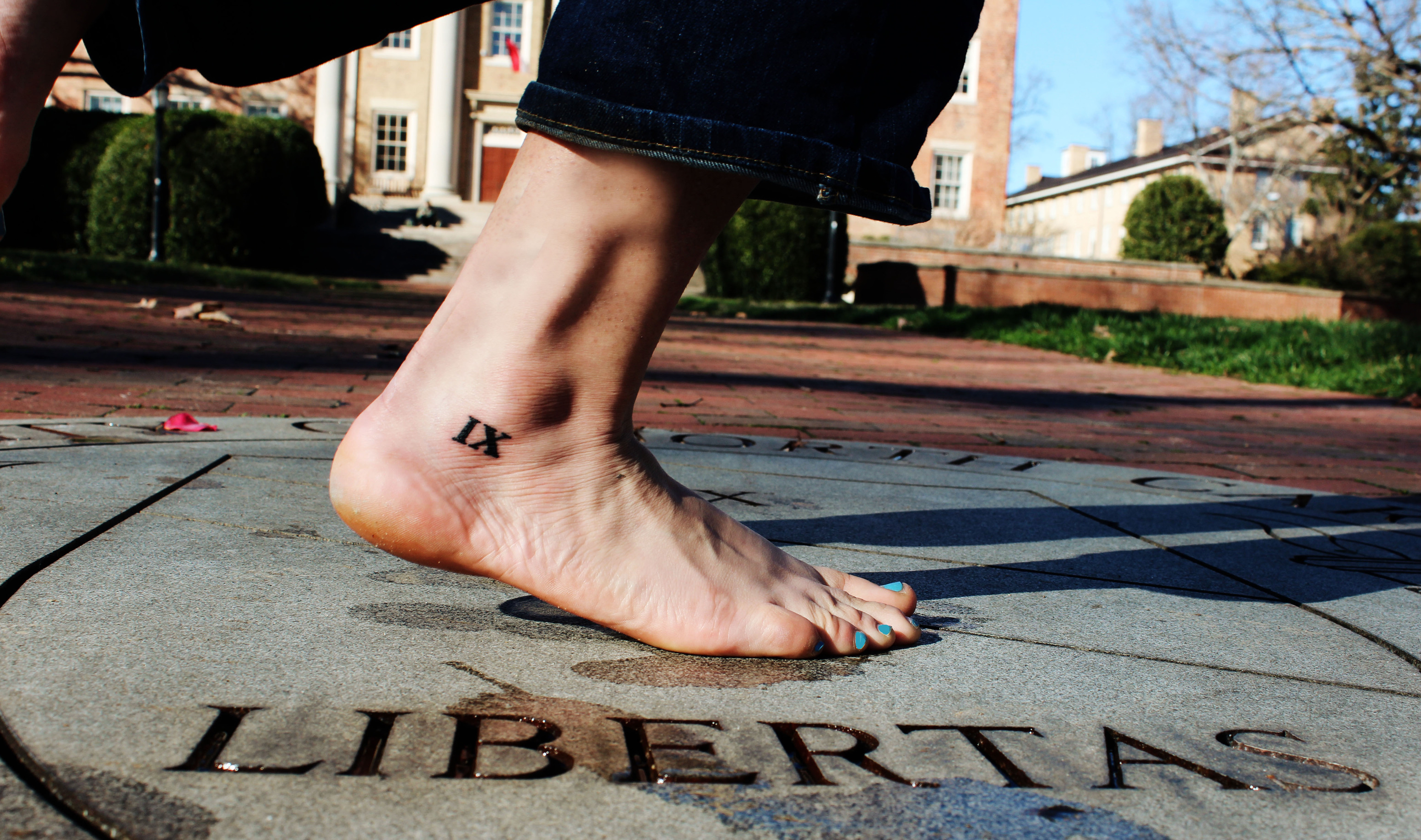 TRIGGER WARNING: This content deals with an account of sexual assault and rape and may be triggering to those affected by sexual violence

This year's Sexual Assault Awareness Month has taken a different turn on college campuses. Beyond a sea of teal ribbons, a movement of survivors and allies across the country is taking action against the pervasive culture of campus sexual assault, and for the first time, the shame and silence around rape is being broken.
But, while Title IX and the influx of federal complaints have been in the headlines, the deeper roots of the movement, and the scars of campus sexual assault are more than the allegations can encompass.
I'll never forget the sweat that fell down my cheeks as I gave my high school graduation speech. I was graduating summa cum laude, with over a 5.0 GPA, ACT scores around the 30s, and an acceptance to the University of North Carolina at Chapel Hill, a top tier "Public Ivy" that accepted only a handful of out of state students.
Three years ago, I tore the blue seal of the large envelope that held my acceptance letter to the University of North Carolina at Chapel Hill (UNC). I came from a tight-knit, Hispanic family that never had the opportunity to even consider college, but I was going to be the first one in my family to make it, and I loved everything about Carolina.
Most of my family didn't speak English, but I grew up listening to "Carolina in My Mind," and I knew it would be a place that would become my home. Carolina was challenging, and I was ready for the place that would change my way of thinking.
But, early into my college career, I realized that there were more challenges in college than those in the classroom.
The first few weeks of college, at 18 years old, 800 miles away from home, I found myself in a fraternity brother's room, pinned to a door, and given a drink that didn't taste right. Within minutes, my eyes shut, and the morning after, I woke up on my dorm floor, scratched and bruised, and with a note from a stranger that said "We found you by the road."
I was terrified, and passing classes that semester was almost impossible, but as a young as I was, I hoped that I would be able to forget with time.
My sophomore year, reality caught up with me.
My head was slammed hard against shiny white tile, the same color as the graduation robe that I wore the day I last walked by my high school. The white shone with his bright eyes, and the drops of my blood that dripped to a puddle. He held my wrist against the walls as his hands slipped with scarlet sweat, and his eyes followed my buttons as he ripped them off my jeans. My mouth couldn't say "no," my eyes were blinded by the tiny red dots on my contact lenses. His fingers slipped through my hair, and I felt his fingernails digging into my head, pulling me in closer to his unzipped black Levis.
I can still remember the tracks that I left as I ran past the Old Well -- wondering if my blood would stay on those bricks and ruin any pretty pictures of the campus landmarks, or taint the azaleas that campus visitors loved.
I woke up in a pool of blood that dripped over onto the cracks of the wooden floor. My head was pounding, but it was easy to accept that I must have just fallen on my way home. The Carolina light blue sheets were burgundy, and my pounding head gave me no recollection of the sight and smell that was consuming me. I felt dizzy, and the blood didn't stop in the shower. I had marks, and blisters that had no story. I wasn't drunk, but a part of me wished I was; that there was a good tale that would answer these questions.
I remembered his eyes;
I felt my throat close up;
I felt his lips on my neck;
I felt his teeth on my skin;
I realized what many fear most: I was raped
Should I report? What do I report? I don't have a name, I don't have any witnesses. Would the police make me take a lie-detector test? Would they think that I hurt myself?
I wanted to tell someone what happened, but when I reached out to friends, and began trying to put the pieces together, I quickly learned that it was "my fault."
Silence became my language.
Every night, my head felt as if it was slammed again, and I began to want to get away. I was keeping in a big secret, and it was eating me up inside. I "left" my body during classes, and on many days had to physically rush out -- dropping my books sometimes -- wondering how many could see that the girl who was once valedictorian could no longer read or write.
I went to Academic Advising to ask about dropping a class and told the advisor that I didn't need the course and was dealing with a difficult personal trauma.
"It's just a ten-page paper. You're just lazy, aren't you?"
"I'm going through a lot." (I was raped, please let me tell you.)
"It's March -- everyone is going through 'a lot.' If you can't handle Carolina, then say it."
Weeks later, I found myself staring at the boxes in the bathrooms, next to the shiny white tile that held a shelf of "Resources."

1. Alleged Incident
rape
2. Location of alleged incident(s)
Near UNC Campus
3. When alleged incident(s) occurred: 03/10/2012
4. Details:
Bruises.
Blood.
Blue eyes.
Brown Hair.
Levi Jeans.
Black Shirt.
...............

The tears blotched my ink as the pen dug holes in the paper.
The holes were in my story, and I could do nothing about it
Time would help me forget.
The spring semester finished, and I began my junior year ready to start anew.
Within the first few weeks, however, I quickly learned that I was not the only one keeping a secret.
I began hearing dozens of stories of students being raped on my campus, and I realized that no one else was listening. Memories of my first assault experience resurfaced, and hearing more a more stories became the routine.
But, my university could help, and there had to be a way to do something about it.
I looked for resources and learned that, after August 2012, UNC had changed their policy on sexual assault. When clicking several links, I discovered the "Prohibited Harassment and Sexual Misconduct Policy." It was over 40 pages long and made me shake just thinking of having to look at it. How could I have been expected to read this policy and understand it when , after I was raped, I was still trying to understand why I was bleeding?
There was no base system of support for survivors -- no five-step process to get them help. There was no base punishment for the guilty -- rapists could stay on campus if they just wrote an "apology" paper.
And with these observations, it became clear that this was a policy whose writing had not a single drop of sweat spent on survivors.
I and other students set up meetings with the Dean of Students Office, Equal Opportunity Office, University Counsel, and Student Affairs Office. The other students and I sat in several meetings, shared the concerns, real stories, and the truth of how each of our lives had changed.
Emails after emails were sent, and at the meetings, the discourse was the same.
But was just being "in compliance" with Title IX making UNC safer?
It has been almost a year since I was raped, and today, no physical scars or bruises are left on my body to prove what happened to me last March. But, I've realized that the deepest scars of sexual assault are not the bruises or the blood, but the torture of not being believed. A year later, I feel even less safe than I did the day that I ran home by myself in the middle of the night. I feel unsafe at UNC, because I have felt the screams trapped in my throat, and I have heard the stories of over 100 survivors, and continue to hear of more and more every day. I have heard the stories of survivors who reported, who asked for help, who went through the process, and who were told they were insane -- their stories are just like mine.
I have listened to, and relived these stories because no one else wants to believe it happens here.
Many wonder why I stay at Carolina and why I don't transfer to any other school, but the reality is, of the 10 colleges I applied to as a high school junior, each of them has done the same to survivors, each has let even serial rapists graduate unpunished.
The reality is that no school is safe.
No school is safe because their idea of Title IX is betraying us.
It's betraying us because, in spite of the numbers of those that come forward, even with stories of bloodshed, bruising, and shame, not a single person is believed, and not a single school will admit that rape is more than just "misconduct."
It's betraying us, because while I still love the Old Well, the quad, and those beautiful azaleas that surround me on a spring day on my campus, I can never walk my campus at night without remembering the blood I shed on those bricks, and the memories of being told that walking at night would "invite rape" again.
It's betraying us, because it is protecting our rapists.
It took me a long time to call it by its name, rape, but it's hard to forget what it was like to have someone inside me, who ignored my body's language, and permanently wounded my trust of others in just 15 minutes.
It's hard to say what could be worse than my rape -- worse than my words being stolen, than the drops of my blood and his semen trickling down my legs -- but a fellow survivor's words captured it perfectly:
What's worse than rape is betrayal.
Students are attending schools that betray them, campuses in which violence has become a part of the experience, and in which, despite popular belief, there is no punishment for rape, rather a punishment for coming forward.
Students are attending schools in which, even after 40 years of Title IX, a pervasive culture of discrimination to survivors -- one that accuses them of "intimidating" their perpetrators, and "ruining their lives" -- causes hundreds to never graduate, and many to not survive their college years.
Campus rape is not fictitious, and there are thousands of students -- your friends, your siblings, your partners -- who are in schools where a felony "can't happen" it if is within one's college years.
After years, months, and hours of writing stories, reliving nightmares, and speaking out, hundreds of others survivors across the country are proving that campus rape is rampant at every college, even with "Title IX Compliance."
While our stories may be sensationalized, and our actions may be vilified, only with our collective action can we reclaim Title IX and hold our universities accountable for deterring sexual violence.
When I filed a complaint against UNC, I never thought that anyone besides my friends and co-complainants Annie Clark, Melinda Manning, and Landen Gambill, and the survivors we knew, would ever understand why we had to take action.
As a first year, I escaped a sexual assault only a few weeks into my college career.
As a sophomore, I was raped by a person who I only thought wanted to dance.
As a junior, I was silenced and betrayed, and I never thought that I would write about my rape, or ever find a forum to make things better for other survivors.
Today, I am a week from being a senior, and this is the first time I write my story -- for the first time, I am not ashamed.
Today, students from across the country -- from Amherst, Swarthmore, and Yale, to Occidental, USC, and Dartmouth -- are fighting together to make our campuses safer. Together, each of our stories are proving that our universities and colleges can no longer just seek compliance, and from now on, we are changing the conversation.
We are more than headlines, because no longer are we survivors silent, and no longer will the truth of sexual violence be silenced.
More than anything, no longer will universities and colleges withhold the real Title IX.
Related
Popular in the Community