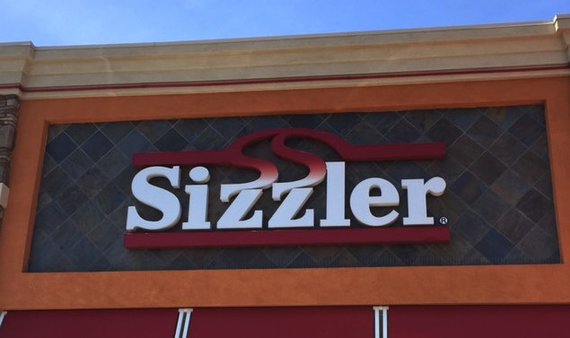 Sizzler restaurants are evolving.
A recent visit to the newly remodeled Sizzler in Moreno Valley, CA was more than a little bit shocking. Gone was the nice, but plain Sizzler of old, and in its place was a beautiful new facility that was closer in ambiance to a hip sports bar than to a casual, family restaurant. It's still family friendly, including special kid and senior menu items, but with the new design, it's not necessarily a quiet place to dine.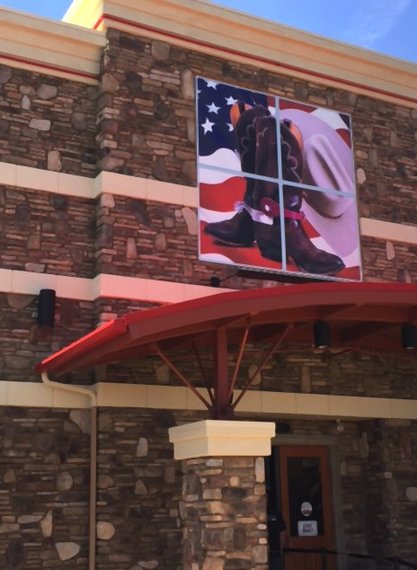 The core service is the same. Order from the menu as you walk in the door and pay at the register before being seated. The register area now boasts a cleaner, more upscale style.
If you've opted to do so, enjoy the salad bar and the hot buffet choices that accompany it, before your meal arrives. Or, as always, you can purchase just the salad bar experience. And if you feel the need to be fancy, choose your salad fixings and your favorite dressing then stop by the end of the salad bar to have your ingredients hand tossed and returned back to you completely integrated.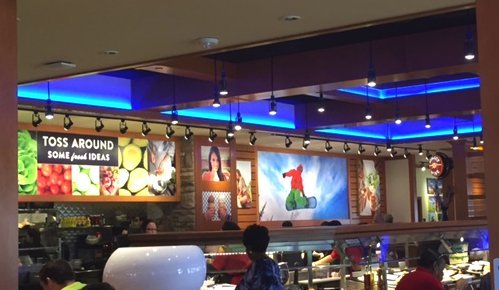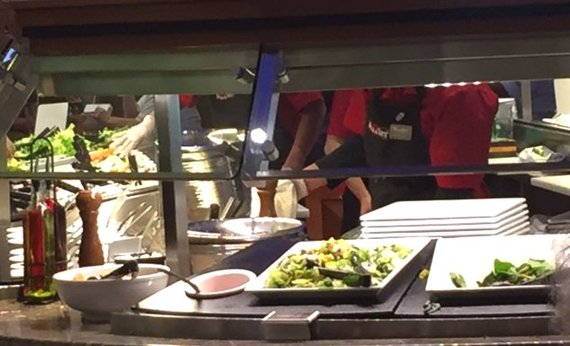 Don't expect servers to be dropping by your table with clean plates and soup bowls. That's a thing of the past. The salad bar is now on the honor system, providing dishes at the bar itself. There's no more waiting for a server to notice that you need a clean plate. Servers still deliver drinks to your table, and those drink options, at least in Moreno Valley, now include beer and wine.
The new layout includes typical booths and table seating, plus the new addition of some bar-height tables. Like so many restaurants these days, there are a number of TVs to distract you from whatever conversation you might initiate with your dining companions. I personally dislike finding TVs everywhere I go, but I know that many people enjoy gazing at them while dining.
The décor struck me as the most effective transformation. It's lovely. From the cool, blue lighting, to the glass vases and the wall art, the ambiance is modern, yet still manages to maintain that comfortable, welcoming feeling.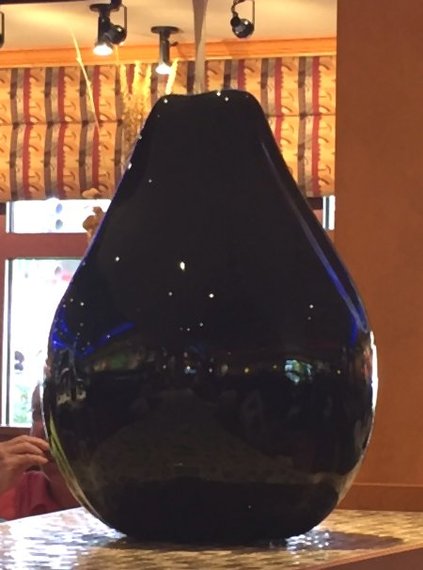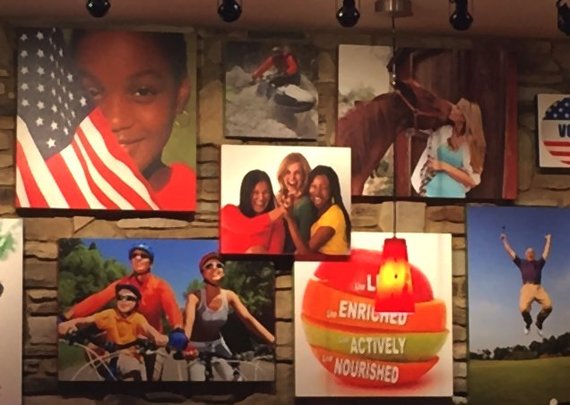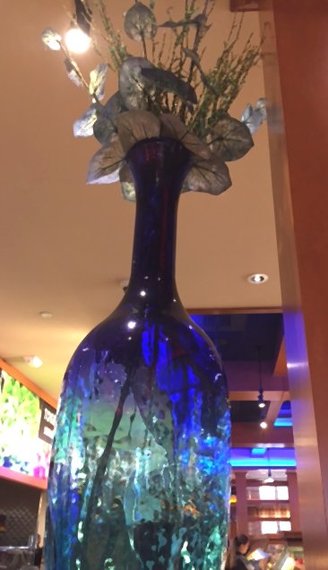 The salad bar is more hi-tech, which I didn't find necessarily as inviting. The containers are smaller, giving the illusion that there is less to choose from. That's not the case at all. It just feels that way. The hot foods that accompany the salad bar didn't change much, but on the day I was there, the pork carnitas, which have always been a Sizzler staple, were not present. In their place was a turkey fajita meat. I found that disappointing, even though the turkey fajita bites were tasty.
When I asked about the carnitas, I learned that on some days they are offered, and on other days the fajita meat is offered in that slot. But the manager offered to get me some of the pork if I wished. I had opted for the salad bar, but because I do not eat grains, the spaghetti, mac and cheese, breaded onion rings, tacos, and fried chicken wings, severely limited my choices of something hot to enjoy along with my salad. The manager's thoughtfulness mattered. He didn't know me from the man in the moon, and his actions showed that the establishment genuinely cares that its customers are happy.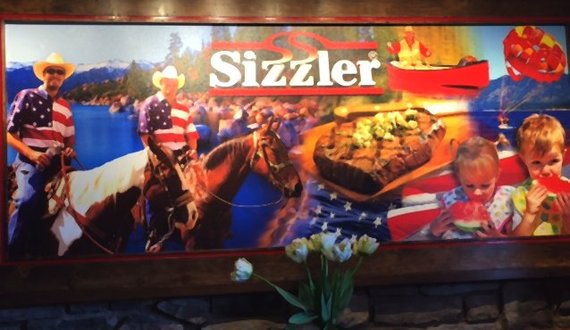 New on the menu are Certified Black Angus steaks, new salmon, seafood, and pork entrees, and a few other tweaked dishes. The food is good, which is the most important part for a restaurant, but like everyone, I wish some things were different. I wish that the salad bar hot foods included choices that were not breaded and fried, especially the chicken wings. Having grilled wings along with the very popular breaded and fried wings would make me very happy. I know that people love those fried wings, but in this day and age, healthier choices could likely bring in a whole new clientele.
This new style Sizzler is cropping up all over, and as more of the old Sizzlers convert to this new model, it's worth giving Sizzler another try. A lot of the Sizzlers have grown old and tired, and honestly, some are not worth patronizing at all. My husband and I ate at one in southern California that shall remain nameless, and it was just the other side of awful in every respect. So if you've also had such an experience, give the new Sizzlers at look and a taste. If they all excel as the Moreno Valley, CA one strives to do, Sizzler may once again be that iconic American restaurant that we can all enjoy.
Now, not every old Sizzler is worth ignoring. For example, there are two Sizzlers in Flagstaff, AZ. One is so bad that I literally had to spit the food out of my mouth, and the other one is so good that I couldn't stop talking about tasty and fresh everything was. The good one also happened to have both grilled and fried wings, so I know that it can be done.
It's important to remember that when it comes to restaurant chains, the facilities likely have individual owners or franchisees. Very few are actually "company stores". Because of that, the restaurants will only be as good as the management at the helm and the chefs in the kitchen. That's why Flagstaff can boast both the best and the worst the Sizzler brand has to offer. Old style or new, every Sizzler has to earn its repeat business.
Do I plan to go back to the Moreno Valley Sizzler? Yes, I do. And maybe one of these days, I will notice that this lovely new facility also has some lovely new grilled wings. And since that restaurant is relatively close to my neck of the woods, that would be a slam-dunk reason for me to go more often.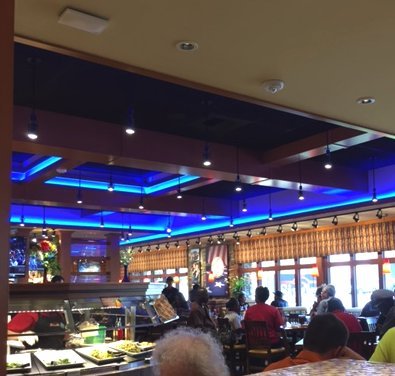 Find this Sizzler at:

Butterfield Valley Shopping Center
25035 Sunnymead Blvd.
Moreno Valley, CA 92553
951-242-8012
Related