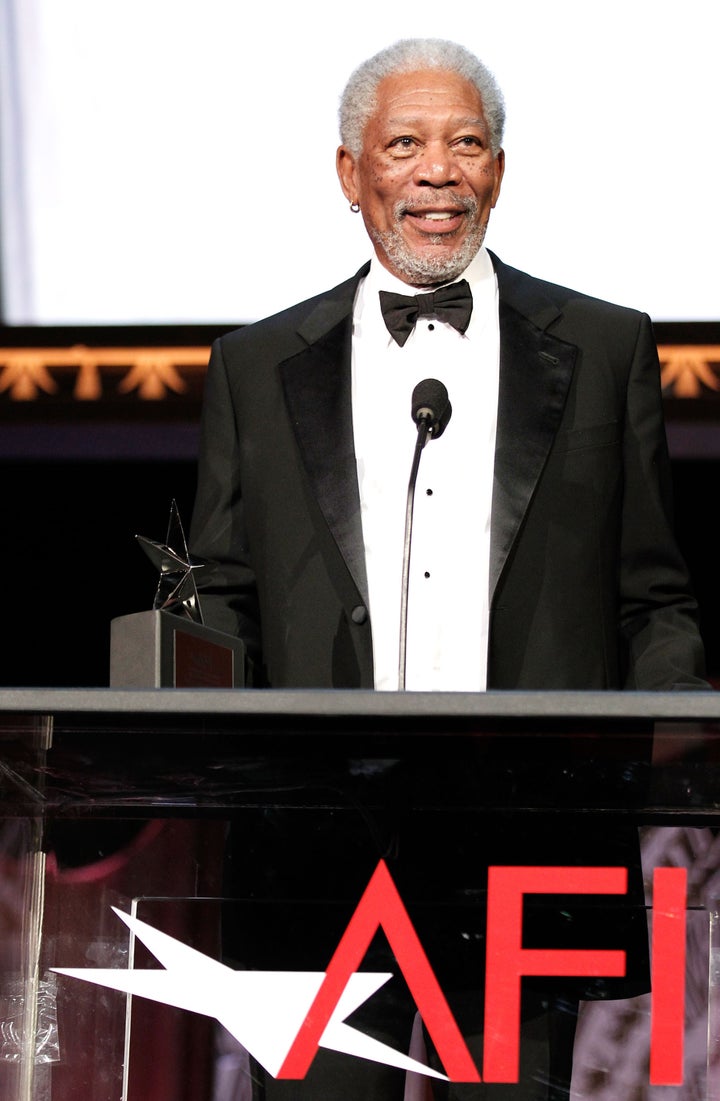 Hollywood is based on a star system, launching actors to leading men status and then hitching scripts and hopes to their tails. It's how movies get made and box offices won, the releases and cash counting so often refreshing with the rise of a new "next big thing."
Then, there are the fixed lights in the sky, more their own stellar systems, with legends and memories and all-time classics spinning in their orbit, their gravitational pull supporting the weight of generations of admirers.
In the Hollywood as outer space analogy (which seems oddly appropriate), Morgan Freeman is the red giant, the luminous giant star deep into its light-giving career. An Academy Award winner ("Million Dollar Baby") and five time nominee ("Street Smart," "Driving Miss Daisy," "The Shawshank Redemption," "Invictus"), he's proven one of the greatest actors of the modern era, tackling race, hatred, love and humor with a certain genteel grace that is inimitable.
Freeman was recently given a Lifetime Achievement Award from the American Film Institute to commemorate his unbelievable career, and despite the stature he holds in the film community, he said he was humbled by the honor.
"That is an extraordinary honor. That was one of the seminal moments of my entire life. It says that you've been somewhere and done something," Freeman told The Huffington Post.
"I think my favorite role is the role that sort of catapulted my movie career into being. The role of Leo Smalls in 'Street Smarts," he said of the 1987 film in which he played a tough pimp. "I particularly enjoyed that part."
Freeman also had great things to say about his three-time director, Clint Eastwood.
"I also greatly enjoyed making 'Invictus.' I greatly enjoyed working with Clint Eastwood in all three movies we were on, but 'Invictus' was outstandingly fun. He's great fun to work with, he's not a challenge at all. He just leaves it up to you."
Perhaps, though, Freeman didn't find Eastwood to be particularly challenging to work with because acting just comes naturally to him.
"I don't find acting difficult," Freeman said when asked which role was most difficult for him. "I can't tell you."
Quickly, though, one came to mind. It just wasn't a film.
"It wasn't in a movie. I did 'Othello' once. On stage. Dreadful," Freeman remembered. "In Dallas, Texas, in 1983. That was tough. I came on stage and someone in the back of the theater said, 'sing Purple Haze!' I looked exactly like Jimi Hendrix.
"The audience, this was a public theater, it's free theater. So the audience come, they're ready to have a good time, they're ready to welcome you. But you better have it right."
From that moment on, it's fair to say Freeman did just that.
The actor appears every Wednesday night at 10pm in the science discovery show "Through The Wormhole" on the Science Channel.
REAL LIFE. REAL NEWS. REAL VOICES.
Help us tell more of the stories that matter from voices that too often remain unheard.