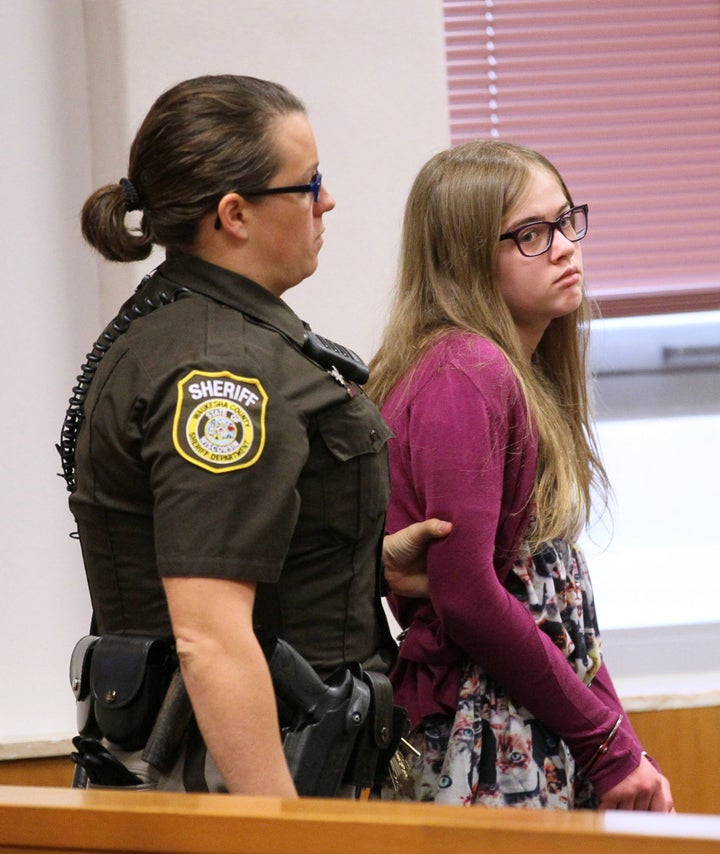 A Wisconsin teen accused of stabbing a classmate to win the favor of a fictional horror character named "Slender Man" has been ordered to receive 40 years of mental health treatment.
Morgan Geyser, 15, pleaded guilty in October to attempted first-degree murder in a plea deal with prosecutors to avoid serving time in prison. She was committed to a state mental health facility and has been receiving treatment. 
Waukesha County Circuit Judge Michael Bohren sentenced Geyser to the maximum penalty sought by prosecutors after a day of testimony from doctors who had evaluated the teen. Bohren explained his decision as a matter of "community protection." 
Geyser also addressed the court. "I just want to let [the victim] and her family know that I'm sorry," she said. "And I hope she's doing well."
The trial stemmed back to a 2014 attack in which Geyser and another girl, Anissa Weier, were accused of luring a classmate into a wooded area and stabbing her 19 times to appease Slender Man, a character that appears in crowd-sourced fiction. All three girls were 12 years old at the time of the incident.
The victim survived the attack and managed to crawl to the roadside, where a bicyclist found her. Authorities tracked down Weier and Geyser later that day. The girls reportedly told police that they were heading to the Chequamegon-Nicolet National Forest, where they'd live with the fictional creature and his servants in his mansion.
Both girls were tried as adults and were found to have mental health issues. Geyser was diagnosed with schizophrenia and oppositional defiant disorder after her arrest. Weier was diagnosed with a delusional disorder and a condition known as schizotypy.
Weier, 16, pleaded guilty in August to attempted second-degree intentional homicide, but said she should not be held accountable due to mental illness. Bohren, who also presided over her trial in December, ordered Weier to receive 25 years of mental health treatment.
REAL LIFE. REAL NEWS. REAL VOICES.
Help us tell more of the stories that matter from voices that too often remain unheard.