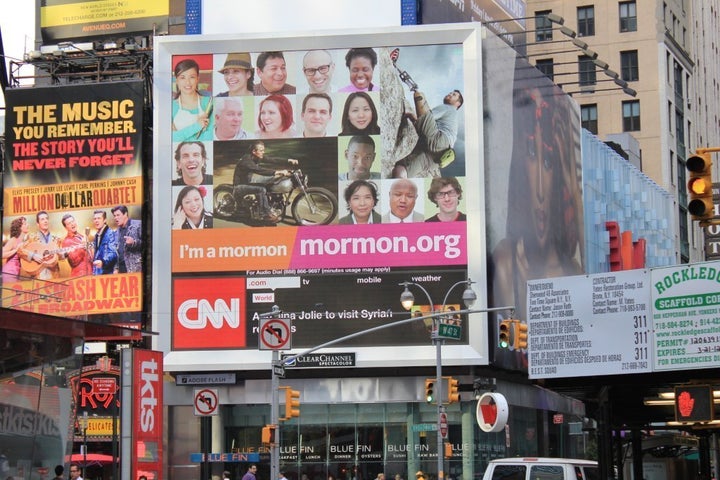 With two Mormons vying for the Republican presidential nomination and a hit musical about Mormon missionaries playing on Broadway, the Church of Jesus Christ of Latter-day Saints has launched a million-dollar advertising blitz in New York City, complete with two 40-foot billboards in Times Square.
The "I'm a Mormon" campaign, which showcases video and print portraits of young, diverse and energetic Mormons -- and steers clear of images of missionaries in white shirts and black pants or talk of theology -- includes hundreds of ads on top of taxis, in subway stations and at bus shelters around the city. The campaign tested in nine markets last summer and it is going to expand to two dozen this fall.
"There's a national conversation going on about Mormonism and we want to be a part of it," said Michael Purdy, a spokesman for the 14-million member church, which is growing at a rate of of about 333,000 members per year, according its own statistics.
The ads direct viewers to www.mormon.org, where they can specify age, gender and ethnic demographics or type key words to "discover Mormons who share your personal experience" from a database of 30,000 church members. Those members range from Sheryl Garner, a Haitian-American elementary school teacher who converted to Mormonism when she was 10, to David Baker, a church-loving gay San Franciscan in his 20s who works at Google and says his sexual orientation leaves him in a "precarious position" since the faith prohibits sex between two men.
The church has run ad campaigns before, but they were largely focused on clarifying church beliefs, not promoting everyday members. The latest online videos stress a "faith in Jesus Christ," but they do not get into theological details.
"Our research showed us that many people know very little, if anything, about members of the church," Purdy said. "By giving people a glimpse into the both ordinary and extraordinary aspects of the lives of our members, we hope they'll realize these are people with whom they have a lot in common."
A Pew Research Center survey released in June found that one in four respondents were less likely to support a presidential candidate who is a Mormon. During the last presidential election, in which Romney also ran, a Pew survey found that when asked to give a single-word to describe Mormonism, three of the top four words respondents gave were negative. "Polygamy" was No. 1, "cult" was No. 2 and "different" was No. 4. The No. 3 response was "family."
"[The ad campaign] looks designed to re-frame some of the possible stereotypes that people have about Mormons," said A. Larry Ross, a public relations veteran who represents dozens of churches and religious figures, including the Rev. Billy Graham. "From a communications perspective, it's very intelligent to go from a rather parochial message to one that focuses on people."
"But, putting my faith hat on, the campaign videos make the point that Mormons believe in Jesus Christ without addressing fundamental doctrinal differences that cannot be defined as parallel or complimentary to mainstream Christianity," said Ross, who identifies as an evangelical Christian.
The Mormon ads follow efforts by other minority religious groups, including Scientologists and Muslims, that have also launched ad campaigns in recent years.
"Religious institutions are becoming smarter in terms of their marketing and branding and are not just using it to drive people to the pews, but using it to manage reputations," said Mara Einstein, an Associate Professor of Media Studies at City University of New York Queens College and author of "Brands of Faith: Marketing Religion in a Commercial Age." "Here, [Mormons] are really trying to drive home the point that they are Christians and are 'one of you.'"
The effort may be working.
Walking through Times Square this week, Rachel Hanson, 20, who was in New York on vacation from South Dakota, came to a pause as she saw one of the billboards that showed an Asian woman surfing, a rock climber with a prosthetic limb and a black man singing in a recording studio.
"You don't usually see this," Hanson said of images of Mormonism. "We see the guys in the black pants and white shirts sometimes around the neighborhood, but haven't really thought much about them. I'd check out the site."
"It's kind of neat," said Dowd Timmerman, 35, of Augusta, Ga., who was staying at a nearby hotel and said the ad was one of the first he noticed in the crowded square. "I guess anybody can be a Mormon."
Related
Popular in the Community