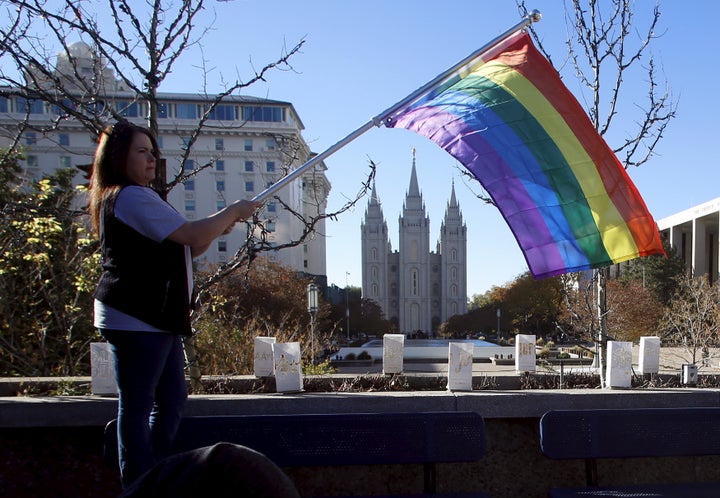 Mormon leaders have a message for lesbian and gay members of their religious community: You're welcomed in The Church of Jesus Christ of Latter-day Saints ― just don't fall in love and out of line.
On Tuesday, the church announced that it had updated a web page meant to serve as a resource for gay and lesbian Mormons, their families, and allies. Unlike an older version of the page that has been online since 2012, the new website is part of lds.org, which signals to Mormons that it is church-sanctioned.
The website also adopts a softer tone, emphasizing the idea you can be Mormon and gay, that God loves all his children, and that Mormons should also show love to their lesbian, gay, and bi-sexual friends and family.
And LGBTQ Mormons who are unable to commit to a lifetime of celibacy or marry partners of the opposite sex don't have many options if they want to remain members of the church.
There's also no indication that the church is changing the controversial policy it adopted on same-sex marriage just last year. According to the policy, Mormons in same-sex marriages are considered apostates and can be subjected to disciplinary hearings that could lead to their excommunication. Their children won't be able to join the LDS church until they pledge not to support their parents' relationship and move away from home.
Kathy Carlston, a married lesbian from Springville, Utah, is a member of the LDS church, but no longer attends meetings. She told The Huffington Post that one of the major shortcomings of the site is its lack of a clear and direct warning against reparative therapy, which she said is still "commonly sought after" in the LDS world. Although a few of her LGBTQ Mormon friends seem heartened by the website, the vast majority say the site feels something like "salt in an unhealed wound."
"They've expressed that the positive changes are minimal and is not enough to outweigh the harmful messages that remain on the site," Carlston said.
The site includes videos of Mormons like Josh Searle, a Mormon from Idaho who "faced church discipline" after coming out as gay. He spoke about how he is pursuing a celibate life just to stay in the church, even though he admits it's "difficult."
What's missing is stories of LGBTQ Mormons who aren't able to make that commitment, and who have left the community altogether.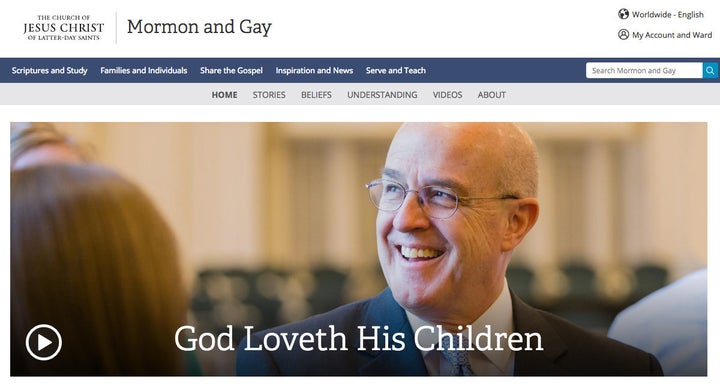 The LDS leaders involved with the relaunch also purposefully chose not to discuss the stories of transgender Mormons.
In its response to the updated website, Affirmation, a group that supports LGBTQ Mormons and their allies, said that the relaunched page could be encouraging to gay and lesbian Mormons who want to stay members of the church. Although the absence of other stories seemed "conspicuous," the organization's Board of Directors praised the update as a positive step.
"While the absence of stories from those who have left the Church — who comprise the vast majority of LGBTQ+ Mormons—is conspicuous and unfortunate, we welcome the positive development of an improved website, expansion of resources, and emphasis on exercising love through family acceptance, outreach, and listening," Affirmation's Board of Directors said in a statement. "We hope for similar work to be done to deepen the LDS community's understanding of transgender people and experience."
"We welcome the positive development of an improved website, expansion of resources, and emphasis on exercising love through family acceptance, outreach, and listening."
Peter Harrison is a 22-year-old gay Mormon who serves as the Utah organizer for the advocacy group Mormons for Equality. He told The Huffington Post that the site left a lot of tough questions unanswered ― such as how members can support lesbian and gay children if they decide to get married.
Harrison isn't sure if these resources would have been helpful to him in the past, mostly because they still push very orthodox positions on same-sex relationships.
"When I came out I had to quickly learn to disconnect my own self worth/happiness being tied directly to the LDS Church and so that has been helpful going forward," Harrison told HuffPost. "I think it might help some LGBT Mormons reconcile their sexuality and faith but really only a small percentage since the reality is still pretty bleak, you remain fully active and either stay celibate or enter into a mixed-orientation marriage which often ends in divorce."
Among the Mama Dragons, a network of Mormon mothers who are fiercely protective of their LGBTQ children, reaction was mixed. Some who had experienced disbelief from local leaders and members that the content of the old site was truly church-approved were glad that the update was firmly branded as part of the main site. They were particularly heartened by the tips for parents offered on the site, which encouraged parents to love and maintain close relationships to their children.
Neca Allgood, the Mama Dragons' president-elect for 2017, told The Huffington Post that some mothers in her group felt "skeptical and exhausted by the emotional whiplash of the church behaving in hostile ways to LGB people, followed by messages like those in the website that claim to love and welcome them."
Diane Oviatt, a founding Mama Dragon from California, said that she's sure her son Ross would be "absolutely horrified" if he looked at this website. While she's remained active in the church, her son hasn't returned to his faith community for almost 10 years ― even though the church's local leaders in the Bay Area loved and accepted him as a gay Mormon.
"When you go to church and sit through regular lessons that tell you to find your eternal companion, get married in the temple, LGBT people will feel there is no place for them," Oviatt told The Huffington Post. "Even in the best of circumstances, it's not safe for our kids."
"When you go to church and sit through regular lessons that tell you to find your eternal companion, get married in the temple, LGBT people will feel there is no place for them."
As a result of her personal experiences, Oviatt said she isn't sure she'd direct people to the updated site. She finds the absence of stories of people who have left the church to be extremely damaging, because it tells people like her son that it's "more important to stay in the church, even if you're miserable, than it is to live an authentic, happy life."
Before You Go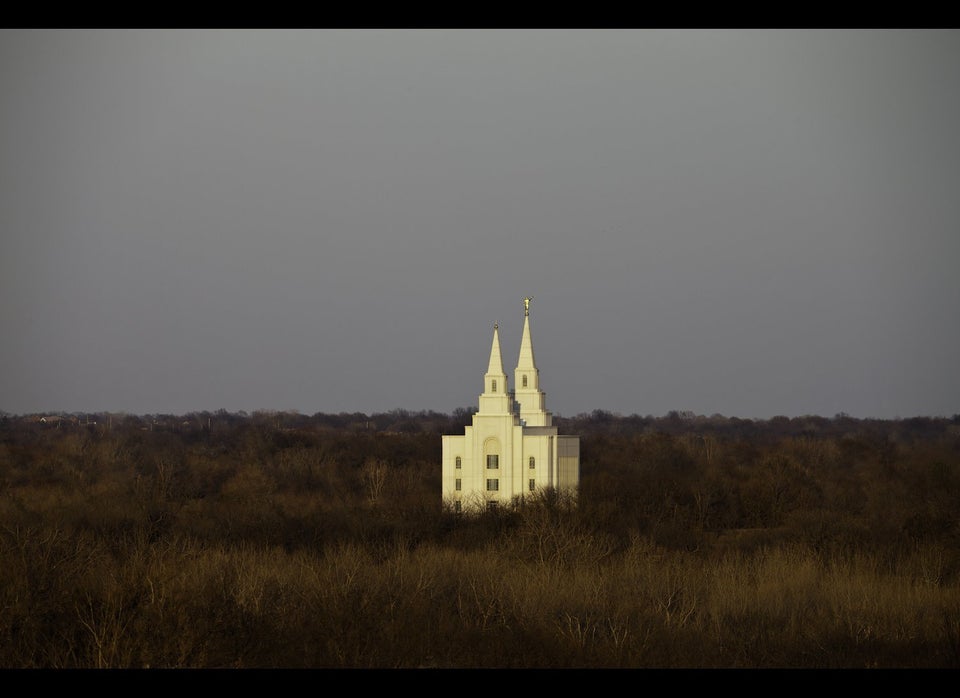 Inside a Church of Jesus Christ of Latter-day Saints Temple
Popular in the Community