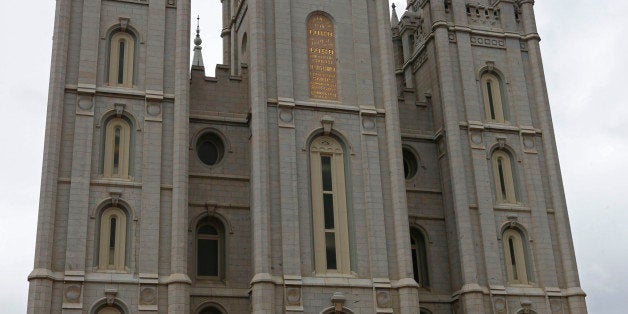 In one of my very first columns for The Huffington Post on November 20, 2008, I wrote about how the Church of Jesus Christ of Latter-day Saints (Mormon Church) had caused a gigantic fission among its members because of all it did to support and pass California's Proposition 8. Prop 8's victory two weeks earlier had instantly ended gay marriage in the nation's largest state. My column, "Mormon Power Grab: It's Tearing Families Apart" caused quite a stir.
The Mormon Church's own pollster, Gary Lawrence told the Washington Post after Prop 8 passed, "We're upside down on our image." That was true for outsiders, but we've heard that it was far worse within the Church itself.
Insiders have indicated that over the last seven years the Mormon Church may have lost up to 1 million members because of all it did to end gay marriage. These formerly loyal Church members decided to side with their lesbian, gay, bisexual and transgender (LGBT) family members and friends instead of their Church. Because of the way the Mormon Church works, you're either with them 100 percent on everything or you're out. If you are LGB or T and act on it, then you will be excommunicated, your name will be removed from Church records and you're no longer a member.
A Proclamation to the World
The Mormon Church just "celebrated" the 20th anniversary of its hateful "The Family: A Proclamation to the World." The proclamation was read by then Church President Gordon B. Hinckley at the General Relief Society Meeting on September 23, 1995 in Salt Lake City, Utah. That marks the day that the Mormon Church declared its war on gay marriage. The Church told its members to frame their parchment copy of the Proclamation and hang in a prominent place in their home. Most Mormon families did just that.
It's no coincidence, that also in 1995, the Mormon Church began its fight against gay marriage in Hawaii. They made elaborate plans to stop it in the very first state where it was being considered. When the freedom to marry finally came to a vote in Hawaii three years later, it passed handily. After its 1998 victory, the Mormon Church continued its stealth campaign to stop gay marriage from happening all over the United States.
In Hawaii, the Mormon Church directly contributed $400,000 and raised far more from its members and friends. The Church then moved on to the next 30 state battles. It employed lobbyist, political consultants, and lawyers. It even created front groups to hide its involvement. The Church spent millions of dollars and mobilized its members for the next 13 years until Proposition 8 passed, its final political victory in 2008. That's when it got caught as the powerhouse that ran and funded nearly all the successful anti-gay marriage campaigns across the county.

Church President Announces Fight to Pass Prop 8
On June 20, 2008, just three days after same-sex marriage became legal in California, the new President of the Mormon Church, Thomas S. Monson, had a letter from him read to all Mormons during their Sunday Church service. In it he said to do all you can to pass Proposition 8, "Give of your time and your means." The Wall Street Journal reported on September 20, 2008 that Church members were told, "Their souls would be in jeopardy" if they did not donate money.
Over the next 4 1/2 months Church leaders went on to ding their members for over $30 million, 77 percent of the total money raised to pass Prop 8. With a narrow victory, it was clear that Prop 8 would not have passed in California had the Mormon Church not pulled out all the stops. The Mormon Church had single-handedly taken away gay marriage from millions of lesbian and gay Californians.
Mormon Church Lied About All it did to Pass Prop 8
Besides running and funding the Yes on 8 campaign, our research showed that the Mormon Church had; conducted massive phone banks from Utah and Idaho, bused in thousands of Church members, sent campaign mailers to millions of voters, had 25,000 Church members walking door-to-door over nine weekends throughout the state, ran a speakers bureau, distributed hundreds of thousands of lawn signs along with campaign literature, had 100,000 Church members working on election day, created several slick "Yes on Prop 8" web sites, produced at least nine commercials, created four video broadcasts and conducted at two satellite simulcasts over five Western states. It claimed it did all this for only $2078 which it reported as an "in-kind" contribution to the Yes on 8 committee. This of course was an impossibility.
I filed a 72 page sworn complaint against the Mormon Church with the California Fair Political Practices Commission (FPPC) which launched an unprecedented investigation of the Church. The FPPC prosecuted the Church, and after an 18 month investigation, found the Mormon Church guilty on 13 counts of election fraud. The Church plead guilty and paid a fine.
In February 2009 I went to Salt Lake City to meet with a man who had contacted me a few weeks earlier and said that he had some Mormon documents he wanted me to have. We met and he turned over hundreds of secret Mormon documents that detailed exactly how the Mormon Church carried on its assault against gay marriage all across the county for the past 13 years. With these papers it was easy to put the pieces of the puzzle together. We published the first batch of these official Mormon Church documents on our website Mormongate.com The Mormon Church said it could neither confirm nor deny the authenticity of the documents. In other words, they were authentic. Others revealing documents were posted with Mother Jones and Frontiers Magazine.
These documents proved that the Mormon Church's 1995 declaration of war against gay marriage and the LGBT community was a deliberate and well executed plan over a long period of time. It was also crystal clear that it had partnered with the Catholic Church in its fight. It also showed the extremes that the Mormon Church went through to avoid getting caught including setting up its last front group, the crooked National Organization for Marriage (NOM) in 2007 to help qualify and pass Prop 8.
The Mormon Church may have won some battles as it ran roughshod all across the country, but it sure lost the war along with so many members. So while it celebrates the 20th anniversary of its hateful "The Family: A Proclamation to the World," let's hope it learned from its mistakes and finally opens up the Mormon Church to everyone.
Popular in the Community