Peter Harrison was rushing to class Tuesday morning when he noticed a flurry of activity on his Facebook feed.
As a gay Mormon from Logan, Utah, Harrison couldn't help but share their enthusiasm. But he took the announcement with a grain of salt.
"I try to be an optimist," the 20-year-old Utah State University student told The Huffington Post. "But I'm careful about prematurely celebrating this day."
The problem is that although the church is coming out in favor of protecting LGBT people from discrimination in housing, employment and public accommodation in hotels, restaurants and transportation, it still very much wants the right to be exempt from following those rules.
Elder Jeffrey R. Holland, a member of the Quorum of the Twelve Apostles, the second-highest leadership body in the church, said that religious communities, church-owned institutions and individual objectors should be able to act on their sincerely held religious beliefs.
"For example, a Latter-day Saint physician who objects to performing abortions or artificial insemination for a lesbian couple should not be forced against his or her conscience to do so, especially when others are readily available to perform that function," Holland said during a press conference in Salt Lake City, Utah.
Harrison said the strong religious freedom rhetoric is making him doubtful of whether the church really is wholeheartedly welcoming LGBT people into the fold.
"They're saying, 'We want you to have rights, but we want to be able to discriminate when we can, because we don't personally believe it,'" Harrison said.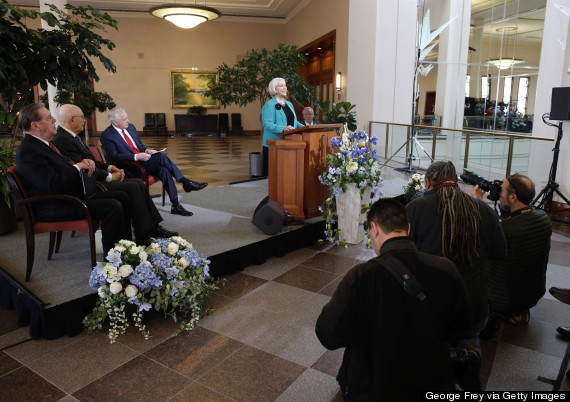 Neill Marriott, the second counselor of the Young Women General Presidency, makes an announcement at an LDS news conference about religious freedom and nondiscrimination. Marriott's organization promotes the growth and development of young women in the church.
The LDS church has waded into the debate on LGBT rights in the past. In 2008, The New York Times credited the church for playing an "extraordinary role" in helping pass Proposition 8, a measure that banned same-sex marriage in California. (Court rulings later allowed same-sex marriage in the state to resume.) In 2009, the church came out in favor of a non-discrimination measure that protected LGBT people in Salt Lake City.
To an outsider, it may seem like a shift in positions. But the key difference between those two policy decisions was marriage. While same-sex attraction isn't condemned by the church, acting on those feelings through marriage is understood to be a sin. Gay Mormons are expected to remain celibate, or marry someone of the opposite sex.
Kathy Carlston, vice president of the Mormon LGBT advocacy group Affirmation, said that Tuesday's announcement made sense in terms of the church's trajectory over the past few years.
"I suppose it's an evolving process, but it also has been pretty steady in terms of the church trying to do what's best for its members," Carlston told HuffPost. "I personally believe that any sort of reaching out to our community does help heal a lot of the pain LGBT Mormons experience."
Kendall Wilcox, co-founder of Mormons Building Bridges, which works to encourage LGBT people to participate in the life of the church, said he doesn't expect any change in church doctrine on homosexuality any time soon. He also said he found Tuesday's announcement to be in line with the church's principles of "fairness, love and hospitality."
"We've known the church was capable of making this statement for quite a while," Wilcox told HuffPost. "I think this will lead many more faithful members of the church to come forward and participate in their local legislative process, because now they have this approval from the church."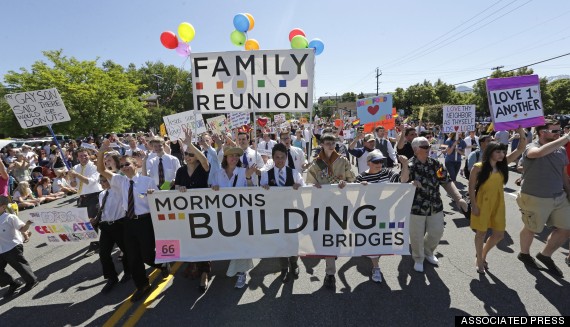 In this June 2, 2013, file photo, members of Mormons Building Bridges march during the Utah Pride Parade in Salt Lake City.
But speaking up hasn't always been met with approval within the church body. John Dehlin, a prominent Mormon podcaster, is facing excommunication for supporting same-sex marriage and speaking out on other hot-button topics.
In an email with HuffPost, Dehlin said that one quote from Tuesday's conference was especially hard for him to swallow.
Elder Dallin Oaks, another member of the church's Quorum of the Twelve Apostles, drew a comparison between the discrimination faced by religious people and the discrimination faced by LGBT people.
Accusations of bigotry toward people simply because they are motivated by their religious faith and conscience have a chilling effect on freedom of speech and public debate. When religious people are publicly intimidated, retaliated against, forced from employment or made to suffer personal loss because they have raised their voice in the public square, donated to a cause or participated in an election, our democracy is the loser. Such tactics are every bit as wrong as denying access to employment, housing or public services because of race or gender.
Dehlin said that it felt odd to hear the church present itself as a "victim of persecution." He said he knows LDS individuals who have been intimidated by their local church leaders for publicly supporting same-sex marriage, and that he himself has been told he cannot remain a member in good standing if he continues with his public support.
In his email, Dehlin said church leaders have restricted members from supporting both LGBT rights and the ordination of women:
Oaks' words ring somewhat hollow to me in this context ... Given today's celebration of LDS/LGBT "progress," it is my hope that the LDS Church will make it clear if public support for same-sex marriage and/or Ordain Women by LDS Church members are grounds for church discipline (informal or formal). It is also my hope that the LDS Church will cease to discriminate against and punish its members who support same-sex marriage and/or Ordain Women, which they often do (ironically) as matters of religious conscience (i.e., religious freedom?).
The back-and-forth between church leadership and dissenters on the topic of LGBT rights is personal for Harrison, the college student in Utah. While his family has been supportive, he worries about what will happen when he graduates from school and enters a world where a landlord or an employer could turn him out for being gay.
"Utah is home for me, but how can I have a life when people in my state and my religion are allowed to discriminate based on sexual orientation, for housing or for a job?" he said. "These are basic human rights."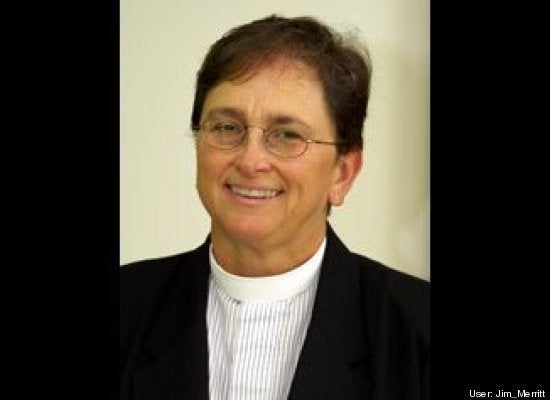 Most Inspiring LGBT Religious Leaders
Popular in the Community