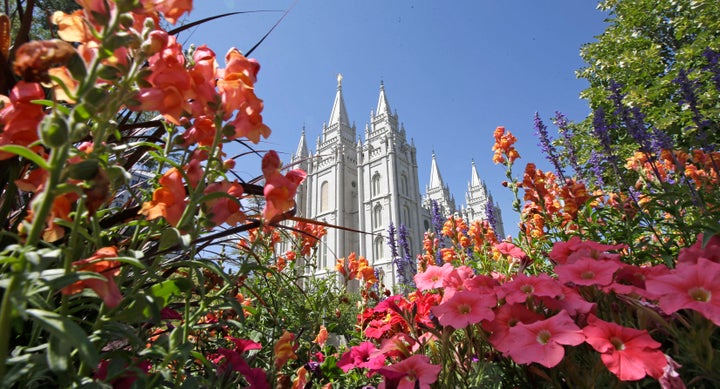 The church's First Presidency, its top governing body, announced Thursday that while it still considers same-sex marriage to be a "serious transgression," queer church members in these relationships will not automatically be treated as apostates, or individuals who in the church's eyes have turned away from the principles of the gospel.
"Instead, the immoral conduct in heterosexual or homosexual relationships will be treated in the same way," the First Presidency said in its statement.
In addition, the children of parents who identify as lesbian, gay, bisexual or transgender can be blessed and baptized in the church as long as their parents understand that the kids will be taught to follow the church's doctrines.
The changes were announced by church leader Dallin H. Oaks as the denomination gathered for its general conference this weekend. The church said the reversal came after an "extended period of counseling" with top leaders and "fervent, united prayer" to understand God's will. Effective immediately, the new policy will soon appear in the church's official handbook, a manual for church leaders.
Oaks characterized Thursday's changes as "very positive policies" that he hopes will help "affected families."
However, the policy update has had a mixed reception among LGBTQ church members and their allies. Many pointed out that the faith's doctrine still dictates that same-sex marriages are a sin. The only way for lesbian and gay members to align themselves with church teachings is to remain celibate for their entire lives or to marry partners of the opposite sex ― essentially committing themselves to mixed-orientation marriages.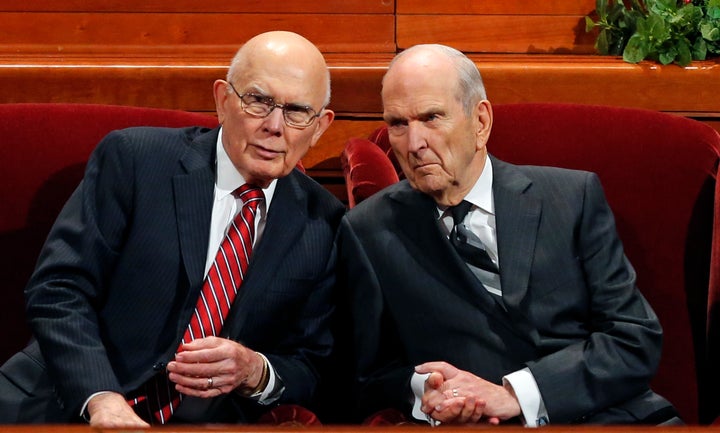 Others said the announcement didn't properly acknowledge the immense pain and damage that resulted from the policy since it was first adopted in November 2015. The First Presidency had previously characterized the policy as a "revelation," which carries special weight in Mormon theology as a mandate that comes straight from God.
The 2015 policy dictated that children of same-sex couples would only be allowed to join the church when they turned 18 ― with the condition that they move out of their parents' homes, disavow their parents' relationship, and get permission from church leadership. The 2015 policy also labeled members in same-sex marriages as apostates, which meant they would be forced to go through disciplinary hearings that could lead to excommunication. 
The policy was fiercely criticized by LGBTQ people who had grown up in the church. Affirmation, a support group for LGBTQ Mormons, said Thursday that the policy has caused extensive damage to families over the past few years. The group claims same-sex couples have been actively sought out, brought before church disciplinary councils, and excommunicated for apostasy. It said the policy has sparked "intense custody battles" between divorced, mixed-orientation parents, fueled by the straight parent's desire for their child to be a member of the church. The policy also stigmatized children of same-sex couples and fractured families that felt forced to choose between supporting queer loved ones or obeying church leaders, the group said.
"Affirmation acknowledges the steps today as positive, but recognizes there is still much work to be done to make the chapels of the church and the homes of families within the church safe and welcoming spaces for LGBTQ persons," the group said in a statement.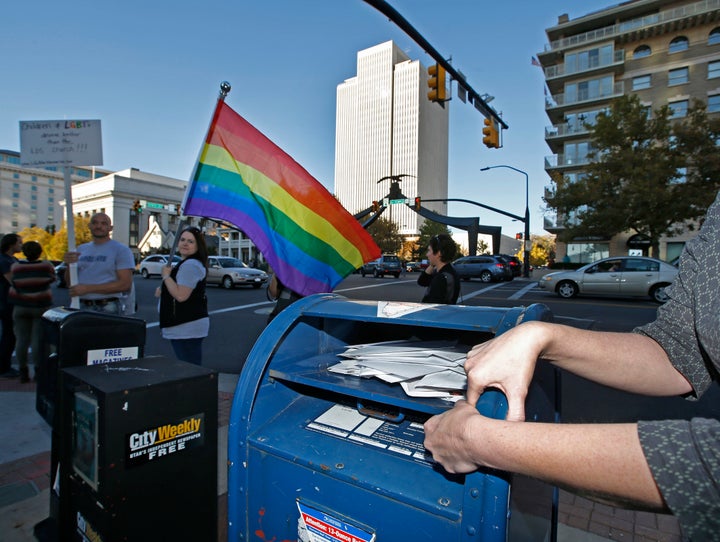 The Mama Dragons, a group of mothers who have emerged as advocates for their queer children, said that it mourns with individuals and families who were hurt by this "policy of exclusion."
"While we hope the elimination of this policy will be beneficial for many going forward and lead to a church that is eventually more inclusive, we continue to sit with those individuals who are most affected by the adoption and enforcement of this policy," the group said in a statement.
Diane Oviatt, one of the founders of Mama Dragons, told HuffPost that the changes feel like "gaslighting."
"Removing the apostate label is well and good but ultimately rings hollow in the face of their insistence on branding gay marriage a sin," Oviatt said.
Oviatt said that her son left the church when he came out in 2007. She and her husband left after the 2015 policy was announced. She believes the church will be toxic to the LGBTQ community until it fully embraces marriage equality.
"This change today does not at all entice me back in to Mormonism," Oviatt said. "I see it as a public relations move as the church continues to bleed members who believe in equality and social justice."
A church spokesman, Eric Hawkins, declined to immediately comment on criticisms from LGBTQ advocates.
Peter Harrison, a gay 24-year-old activist in Portland, Oregon, who grew up in the faith, told HuffPost via email that he wishes the church would formally apologize for the pain the policy has caused and admit that it was wrong to implement it in the first place. He said the changes have also left him with many unanswered questions.
It's unclear how the policy changes will impact transgender church members, he said, especially since many of the activities people participate in at church are segregated by gender. Harrison also wondered how lower levels of church leadership will interpret the directive to treat "immoral conduct" in heterosexual and queer relationships the same way.
"It raises the questions, what is defined as immoral? Are married same-sex couples then allowed to hold hands? Can they kiss? Is this treated differently if they are unmarried vs legally married?" Harrison asked. "There are a lot of nuances left unresolved in the practicality of how this [applies]."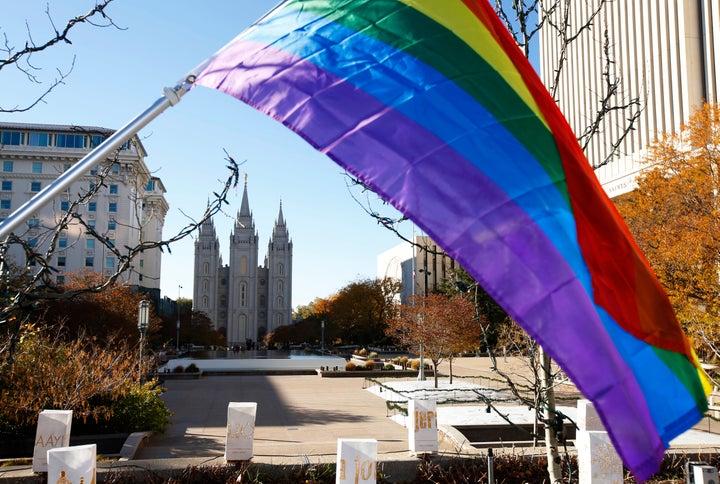 As a whole, Mormons are less likely than Americans in general to support marriage equality. The Public Religion Research Institute found that in 2017, just 40% of Mormons support same-sex marriage, compared to 53% who are opposed. On the other hand, 61% of Americans told PRRI that gay and lesbian couples should be able to marry legally, while only about 30% were opposed.
Nevertheless, the religious group's views have been shifting. Between 2013 and 2017, church members' opposition to marriage equality dropped 15 percentage points, according to PRRI. 
Jana Riess, author of The Next Mormons: How Millennials Are Changing the LDS Church, told HuffPost that her research for the 2016 Next Mormons Survey indicates that this shift could be driven by younger Mormons. The nationally representative study of four generations of current and former Mormons found that 40% of millennial respondents supported legalizing same-sex marriage, but only 20% of the baby-boom and silent-generation respondents agreed.
The survey also asked respondents for their thoughts on the November 2015 policy. About 58% of participants from the boomer and silent generations "strongly agreed" that married same-sex Mormons should be labeled apostates. Only 40% of millennials "strongly agreed." In addition, about 44% of the boomer and silent-generations respondents "strongly agreed" with barring children of same-sex couples from being baptized or blessed, while 32% of millennials said the same.
"Millennial Mormons are still not as progressive on LGBT issues as their peers who are not Mormon, but they are noticeably more progressive than older Mormons," Riess told HuffPost.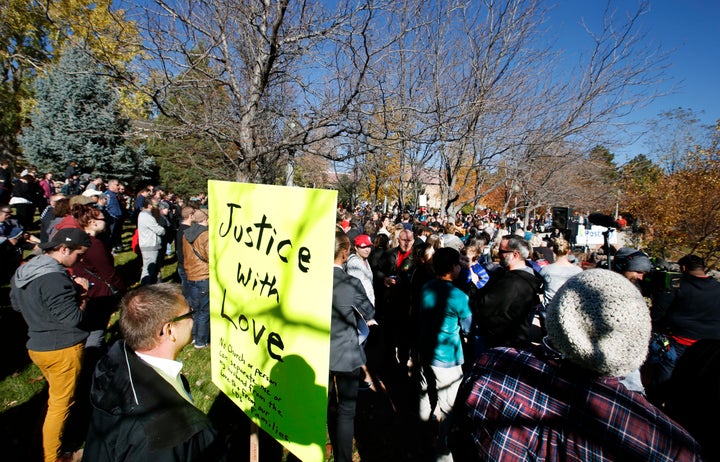 Harrison said it was striking that it was Oaks, who has been criticized for his anti-LGBTQ remarks in the past, who delivered the announcement about the changes. 
"He is one of the most well known anti-LGBT LDS leaders, he has caused so much of this hate and contention through his anti-LGBT topics at LDS General Conference," Harrison said. "To have him deliver this news in this context feels very much like LDS LGBT members are being gaslighted."
Still, Harrison said he remains hopeful that queer Mormons will one day be treated as equals in their church.
"There have been major steps forward and major steps backwards in the last 10 years and hope keeps me steady through all this," Harrison said. "God already loves us this way, and we are waiting for the day when the LDS Church leadership and all policies and doctrine ... align with this view."
This article has been updated to include interviews with LGBTQ advocates and additional context.
Calling all HuffPost superfans!
Sign up for membership to become a founding member and help shape HuffPost's next chapter