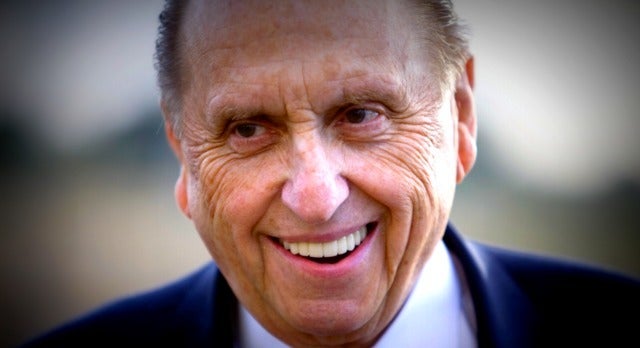 Who is the kindest mortal person you and I have never met? It's possible that during this life experience we are sharing, the answer could be Thomas S. Monson. Almost immediately after his passing, social media was sending love:
If you are not familiar with Thomas S. Monson, you might enjoy the book "To The Rescue" by Heidi Swinton. It describes him well. Maybe the one word that describes him best is "service". He lived to lift, encourage, and serve "the one". He was forever trying to be wherever he felt God needed him. He sought out the lonely, the downtrodden, and the forgotten. He often did this while also leading in a church that was growing at an exponential rate.
There is this scripture in the bible that says: "Pure religion and undefiled before God and the Father is this, To visit the fatherless and widows in their affliction, and to keep himself unspotted from the world." (James 1:27 KJV)
This G rated man was without question someone who tried to live "unspotted from the world", and no one I have ever heard of lived the admonition to visit widows and other afflicted souls more than LDS church President Thomas S. Monson.
President Monson was called to be an LDS bishop at the remarkably young age of 22. In his ward there were 85 widows. He visited them individually and often. He was a busy young husband and father with a career and a large ward to oversee. But he went to the elderly widows, and to so many others. As his daughter Ann Monson Gibb has stated:
"No matter what their trial or sorrow may be, (my father) extends his hand. He lifts them, steadies them and supports them as they apply their own faith and trust in their Savior, Jesus Christ."
President Monson himself has said: "There are many out there who plead and pray for help. There are those who are discouraged, those who are beset by poor health and challenges of life which leave them in despair. I've always believed in the truth of the words, 'God's sweetest blessings always go by hands that serve him here below.' Let us have ready hands, clean hands, and willing hands, that we may participate in providing what our Heavenly Father would have others receive from Him."
President Monson was also funny, light hearted, and courageous. I love his narration here in this reenactment of a scene from his youth:
Millions of people believe that President Monson was a true prophet of God. A prophet is a particular servant, chosen for a particular historic time, like Moses or Abraham, etc. We tend to frame these sorts of men in dramatic, Cecil B. DeMille ways, but in reality they were likely just humble servants, trying (despite opposition) to do the next right thing.
1997, when he was about to turn 70, the Church News asked President Monson how he would like to be remembered. He humbly responded that he would like to be remembered by the phrase: "I tried my best."
You certainly did try your best President Monson. Thank-you so much for inspiring so many of us to try to do the same.
REAL LIFE. REAL NEWS. REAL VOICES.
Help us tell more of the stories that matter from voices that too often remain unheard.
This post was published on the now-closed HuffPost Contributor platform. Contributors control their own work and posted freely to our site. If you need to flag this entry as abusive,
send us an email
.