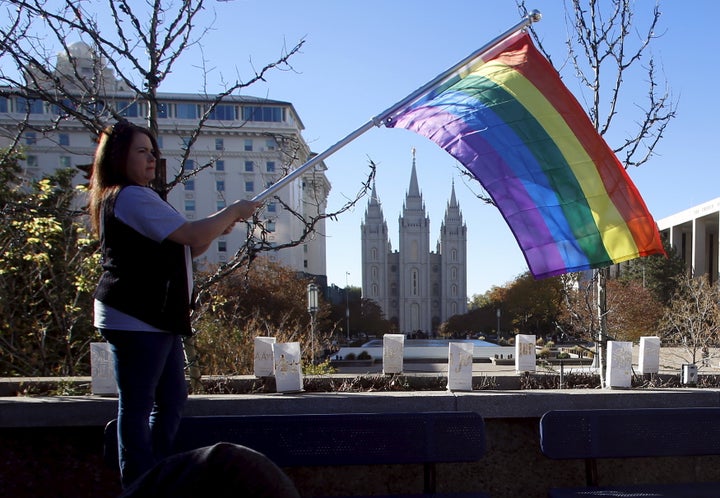 (RNS) Paul Sautter-Walker knows what it's like to turn away from the Church of Jesus Christ of Latter-day Saints. He has walked that path before.
Two decades ago he left because he felt the church rejected him when he came out as gay. Now, at 37, with a husband and four children, he wonders if his return to the church of his youth was ill-fated to begin with.
The church's recent policy regarding same-sex marriage greatly impacts the Sautter-Walker family. The policy states that any Mormon in a same-sex marriage is considered to be in apostasy, and any children who live primarily in a home with same-sex parents are not eligible for baptism.
Three of Paul and husband Ric's four children have already been baptized into the LDS church. But their youngest, Morgan, turns 8 next year and was preparing for his baptism at a church near their home in East Greenbush, N.Y., a suburb of Albany.
Under the new policy, Morgan won't be allowed to partake in the rite until he turns 18, and even then, he'd have to disavow his fathers.
"This tears our family apart," said Ric, 47.
The new policy means Paul, a lawyer, and Ric, a stay-at-home dad, could be excommunicated, too. The couple have been together for 19 years. They celebrated a commitment ceremony in 1999 and were legally married on Jan. 9.
Hundreds of active and inactive Mormons have tendered their resignations in recent weeks in protest over last month's policy, and more resignations are likely.
"We don't want to see anyone leave the church, especially people who have been struggling with any aspect of their life," said church spokesman Eric Hawkins. "The church exists to build people and help them heal, and there isn't one of us who doesn't need help at some point in our lives. We hope that recent guidance from church leaders and the additional commentary will help provide understanding and context to some who may be considering resigning their membership."
But Paul has been down this road before. In fact, his dilemma is saturated with a heavy sense of deja vu.
When Paul came out to his parents at age 17, they directed him to a therapist who recommended electric shock aversion therapy.
For almost six weeks, Paul said, he was hooked up to electrodes and shown pictures of people in pornographic settings. He was jolted by electricity every time homosexual men aroused him and every time a heterosexual couple did not.
After this experience, Paul quit going to church and severed all ties with his family. He met Ric in 1997 through a mutual friend, and the two have been a couple since. All four of their children were adopted through the foster care system.
Ten years ago, when Paul and Ric's eldest daughter, Alex, was 3, the couple decided to return to the LDS church.
"We thought we'd really like to be able to raise them with some sense of religious understanding or some sense of spiritual knowledge," said Paul.
Plus, he added: "It's cultural for us; it's part of our identity." Paul can trace his Mormon ancestors back to a foster child adopted by Joseph Smith.
As their family grew, Paul and Ric took their children to church on Sundays, first in Arizona and then in upstate New York, where they now live.
Over time, they felt the LDS church was shifting its views on LGBT acceptance. Paul also started repairing the relationship with his parents.
Then came the "riptide," as they called it. In April, Mormon leaders spoke about defending traditional families against the threat of "counterfeit and alternative lifestyles." Ric said he did not appreciate being called a "counterfeit" family.
Then came the new handbook policy against same-sex marriage.
Mitch Mayne, an openly gay Mormon who has dedicated himself to welcoming LGBT people back to the Mormon church, said the disappointment is profound.
"I sit and think about the hundreds of LGBT people that I've met with across the country and told 'Yes, it's safe, you can go back to church and bring your partner.' I think, 'My gosh, I invited these people back to church and now they're probably going to be excommunicated.'"
Mayne said that while he has spoken to many LGBT people who feel deeply hurt and continuously betrayed by the LDS church, these feelings are not limited to people in the LGBT community.
"These are not faceless, nameless statistics we are calling apostates now," said Mayne. "These are friends, family, neighbors."
Ric and Paul, like many other LGBT Mormons, are struggling with what to do next.
The Sautter-Walkers have filled out their resignation forms but have not decided whether to mail them.
Paul said he'd prefer to resign rather than to be excommunicated. Ric, however, said he'd prefer excommunication.
"I want them to look me square in the eye with all of the hatred they can muster and excommunicate me," he said. "Here I am — a good, upstanding individual — and they want to kick me out the door."
But if asked to appear in front of the disciplinary council, the two have agreed they will likely send in their resignations to avoid dragging their children through that experience.
Regardless of whether they resign or are excommunicated, Ric said he is doubtful the family would return to the church, unless the church's leadership underwent a complete overhaul.
"You can only be kicked down so many times before you get up and go in a different direction."
Mayne said that Mormons feeling wounded by the new policy can seek support via the Mormon Mental Health Association, which provides a list of therapists across the U.S. where Mormons can seek treatment.
But he didn't sugarcoat the dilemma for these families.
"Being gay and being Mormon is very much like being in an abusive relationship," said Mayne. "If you think about it, what the First Presidency has said to LGBT people and to their children is very much in line to what the abusive spouses say to the one being abused. That sentence is, 'I hit you because I love you.'"
He said he understands why people who feel like they've been betrayed one too many times may never return to the LDS church once they leave.
"This isn't an audience we get a lot of second chances with, nor should we," Mayne said. "We may have alienated a portion of what could be really amazing Latter-day Saints."
(Lorena O'Neil is a contributor to RNS.)
Copyright 2015 Religion News Service. All rights reserved. No part of this transmission may be reproduced without written permission.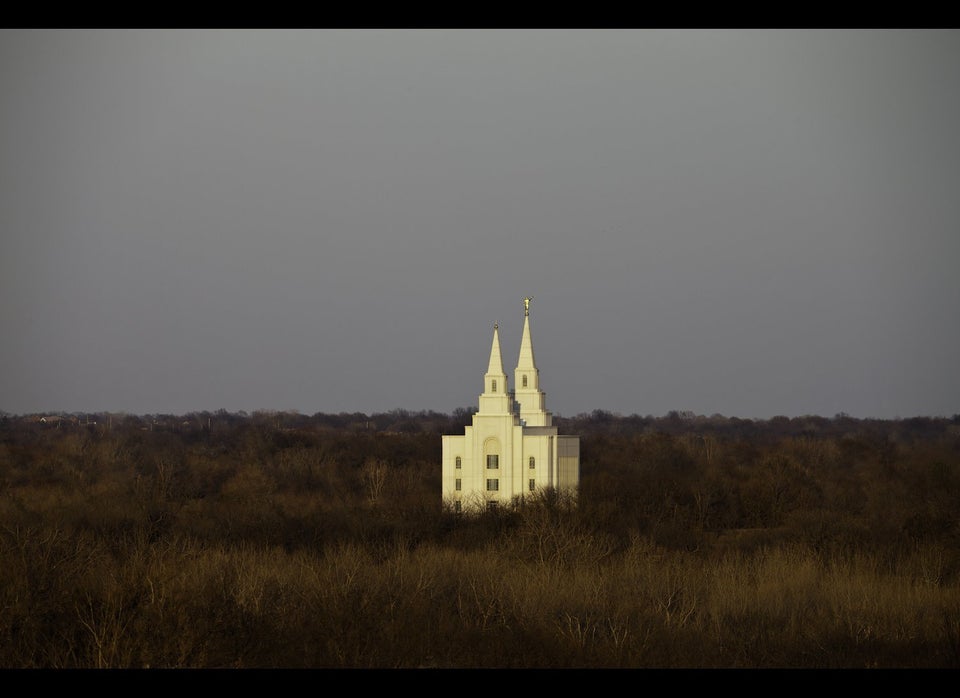 Inside a Church of Jesus Christ of Latter-day Saints Temple
Support HuffPost
Every Voice Matters
Popular in the Community