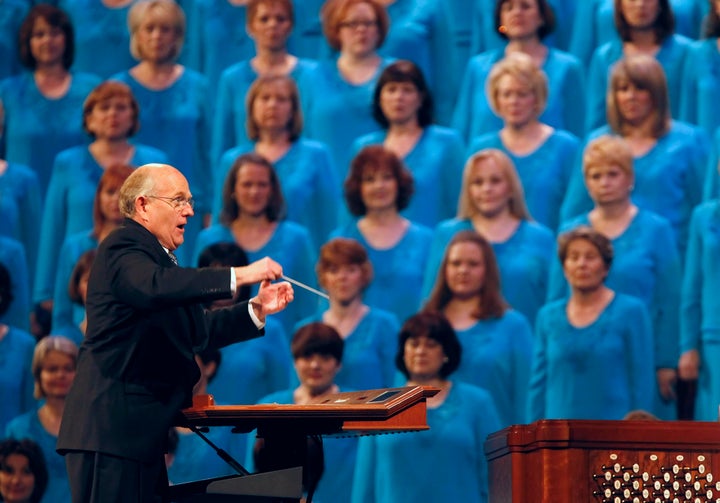 A member of the Mormon Tabernacle Choir has resigned in protest over the group's upcoming performance at /www.huffingtonpost.com/news/donald-trump/"}}">Donald Trump's inauguration, saying she could "never look [herself] in the mirror again" if she sang for the president-elect ― a man she likens to Adolf Hitler.
In a letter sent to the choir and later posted on Facebook, Jan Chamberlin explained that she has "spent several sleepless nights and days in turmoil and agony," reflecting, praying and searching her soul.
"I've tried to tell myself that it will be alright and that I can continue in good conscience before God and man," she wrote. "But it's no use. I simply cannot continue with the recent turn of events. I could never look myself in the mirror again with self respect."
By performing at the Jan. 20 ceremony, Chamberlin said, the choir will create the impression that it's "endorsing tyranny and facism [sic]." 
Chamberlin went on to compare the incoming president to the leader of Nazi Germany.
"History is repeating itself; the same tactics are being used by Hitler (identify a problem, finding a scapegoat target to blame, and stirring up people with a combination of fanaticism, false promises, and fear, and gathering the funding)," she wrote. 
"I only know I could never 'throw roses to Hitler.' And I certainly could never sing for him."
Chamberlin concluded her lengthy letter thus: "My heart is shattered and broken ... but my conscience is clear. And THAT, really is all that matters."
Todd Starnes of Fox News blasted Chamberlin's post on Friday, noting that choir members' participation in the inauguration is strictly voluntary and describing her Hitler comparison as "not only intellectually dishonest ― it's downright repulsive."
Trump's transition team has struggled to find performers for his inauguration. The Rockettes are scheduled to perform, but one member of the famed dance company has also spoken out. She told Marie Claire, "This is making our show, our job, our name, branded as right-wing. An extreme right-wing."
Calling all HuffPost superfans!
Sign up for membership to become a founding member and help shape HuffPost's next chapter
BEFORE YOU GO
PHOTO GALLERY
Donald Trump Win Sparks Protests Nationwide