Co-author Hannah Grace O'Connell is a senior at Hamilton College, double majoring in Sociology and Religious Studies.
It's mid July in Palmyra, New York, a hot day threatening afternoon thunderstorms, almost two centuries since Joseph Smith received visions near here that would lead to the creation of the Church of Jesus Christ of Latter-day Saints (LDS). We've come to town, two professors and two students from Hamilton College, to explore and document the original sacred spaces of Mormonism as a joint visual art/religious studies project, an exploration of the modern religious landscape of what was once called the "burned over district."
The little town of Palmyra is not your typical tourist terminus. Situated on the Erie Canal, a bit east of Rochester, it is pleasant but average in most ways, on most days. But every July for the past 76 years, tens of thousands of people have descended on the area for the Hill Cumorah Pageant, a grand gala with over 600 performers who act out the ancient stories found in the Book of Mormon. The vast stage climbs halfway up the hill, on the very site that Smith is said to have found the golden plates that became the revelation at the heart of the LDS Church.
In the early 1800s, a young Joseph Smith found himself surrounded by competing Christian churches and ideologies; now, four mainline Protestant churches square off at a literal crossroads of faiths downtown. In its early years, the original believers of the Mormon persuasion here found themselves confronted by controversy, persecuted, and pushed west. After that there was no real Mormon presence until a century later, when missionaries returned to upstate New York. Currently there is a meetinghouse and a relatively small temple in the area. But this is no Provo, or even Boise.
Walking down Palmyra's Main Street today, past history and old conflicts don't feel that past. As we made our way toward Grandin Print Shop, where the first five thousand copies of the Book of Mormon were published, we are confronted by a slew of contention that was probably not unlike that experienced by Smith and his followers. The Hill Cumorah festival gathers Mormons from around the country and around the world, but it also attracts anti-Mormons, anti-anti-Mormons, and a host of pamphlet bearers who wait outside the historic site to continue the debate.
Inside the air-conditioned sanctuary of the print shop, shepherded along with hosts of holiday going families, we visit the preserved museum that the shop has become since the LDS church bought it in the 1990s. Missionaries, the college-aged LDS members spending two years in the sacred sites of Palmyra, enthusiastically guide us through the mechanisms of nineteenth century printing, occasionally with a dash of evangelizing prayer. Moroni 10:3, the most oft-quoted verse we've heard from the Book of Mormon, is quickly being writ to memory. Outside the protestors, professing well-meaning concern, stand ready to counter-evangelize LDS members away from the Mormon sacred scriptures. They are a diverse bunch, unaffiliated with any larger anti-LDS organization and spending their days downtown out of personal concern for the print shop faithful. They range from a local evangelical pastor to a former LDS member, the latter now proclaiming to be not only against the LDS church, but also against the protestors who are against the LDS church, and against all organized churches for that matter.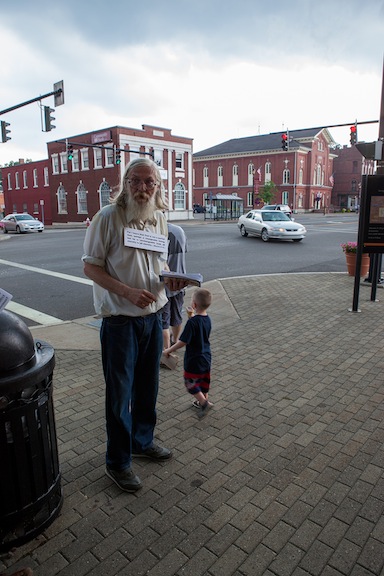 Photo by Robert Knight

We meet more protestors surrounding the Hill Cumorah Pageant that night, perched outside the enclosure of the grounds a couple miles from town. They sit in tents on the fringes, blocked from pageant-goers by the informative and cautionary signs that read "Not LDS Literature." There's something of a DMZ between the "official" festival grounds and the space set aside for the protestors, and very few, save us, travel in this in-between space.
Unlike the locals we met in downtown Palmyra earlier, these people have traveled to Cumorah from all over the country. Their tents bear website names on them such as AskWhyWeLeft.com. They are former Mormons and concerned family members, Christians who want their former brothers and sisters, whether biological or in Christ (another tent reads "Mormons & Christians used to agree") to stop, take some pamphlets, learn more about the LDS church and then seriously consider leaving it. They belong to the Christian Research and Council group, an organization with strong outreach at Hill Cumorah, whose website asks for volunteers to "easily rescue many before they fall into Mormonism!" They're concerned about the uneducated LDS member, but even more so for the causal pageant-goer, who comes to see a play and leaves wowed enough to consider conversion. It feels like this story of distrust and competing ideologies has played out in Palmyra before.
"Protestor" almost feels too strong a word, perhaps because the group is isolated from the bulk of activity. The exception is one definite dissenter with a bullhorn shouting anti-Mormon speeches that are heatedly angry and contain far too many puns (remove the middle "m" from Mormon). But it's doubtful that anyone can hear this inside, where music swells in preparation for a roaring, epic recreation of the Book of Mormon.
Inside the enclosure, we are greeted with hello after friendly hello from performers in patterned and vaguely Biblical costumes. Talking to pageant goers and pageant performers, we meet LDS members from all over the country, coming to Cumorah for the first time or the tenth time. Mormonism, once banished far from New York, has returned en masse to celebrate its roots. In such an enthusiastic extravaganza, the debate about Mormonism that we have seen today feels remote.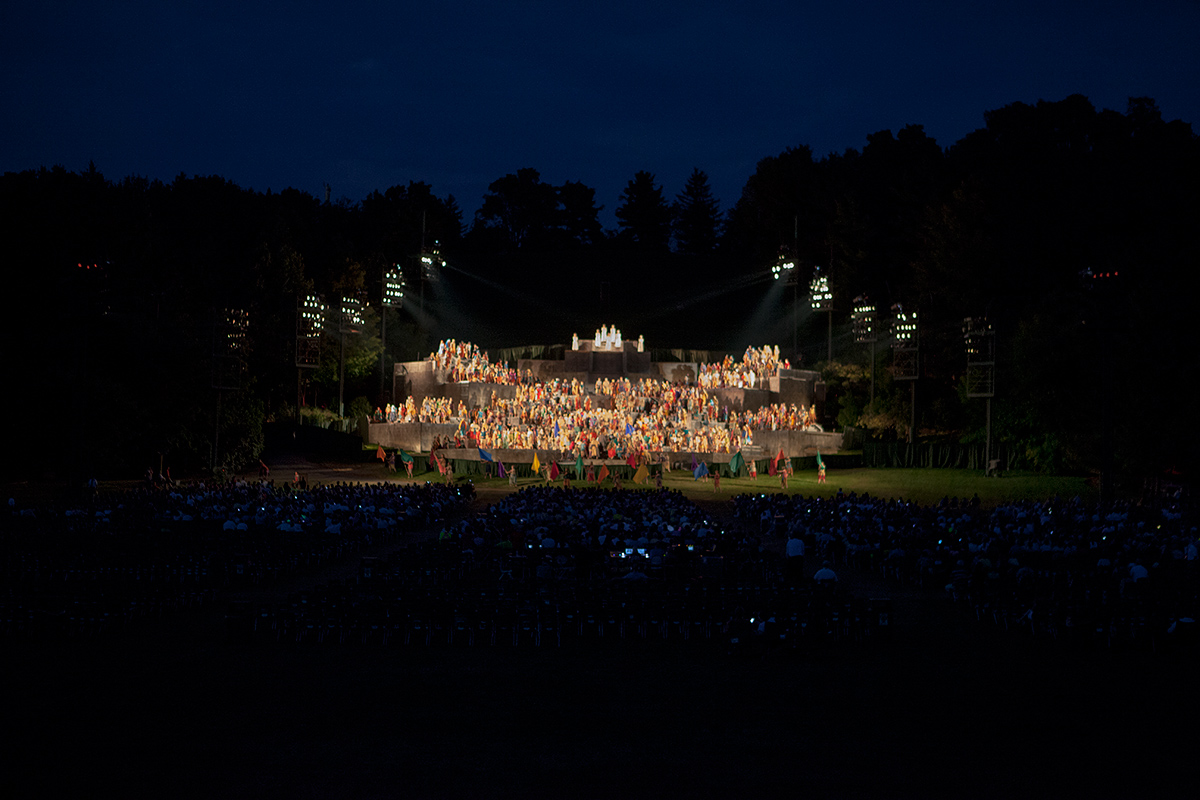 Photo by Robert Knight
In the end we're left with a clash of opinions and stories. The debate surrounding religion that pushed Joseph Smith to seek for his own truth has proven to be equally prevalent and contentious at the Palmyra of today as it was close to two centuries ago. In all this hullabaloo, where else to go but to the very places where Joseph Smith found clarity and revelation? We head to the Sacred Grove at dawn, the site of Smith's first visions, and then on to the top of Hill Cumorah itself. In the early morning, there's no sign of anyone in the pageant space below. No Mormons. No anti-Mormons. We are left with the silence of Hill Cumorah, waiting for another day of pageantry in the midst of debate.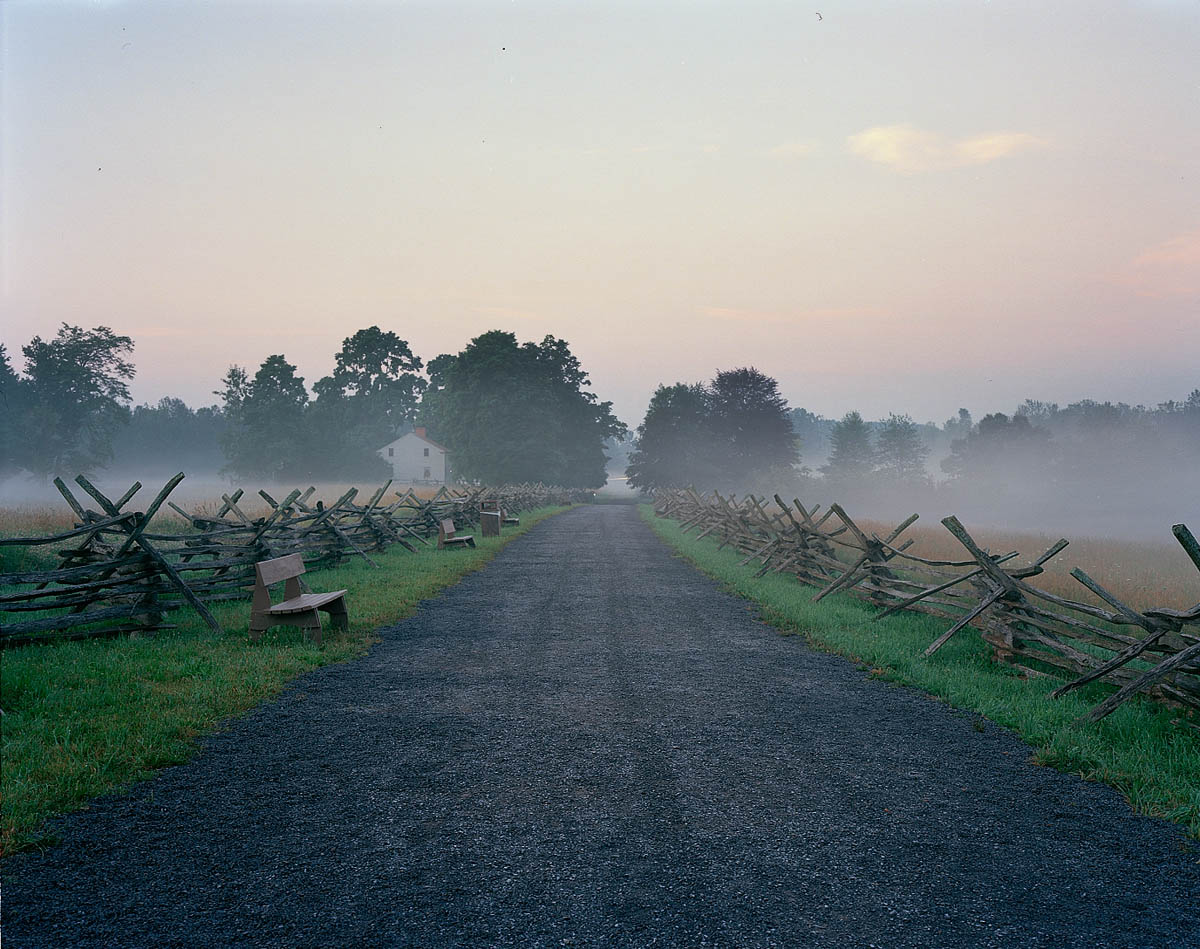 Photo by Robert Knight
REAL LIFE. REAL NEWS. REAL VOICES.
Help us tell more of the stories that matter from voices that too often remain unheard.