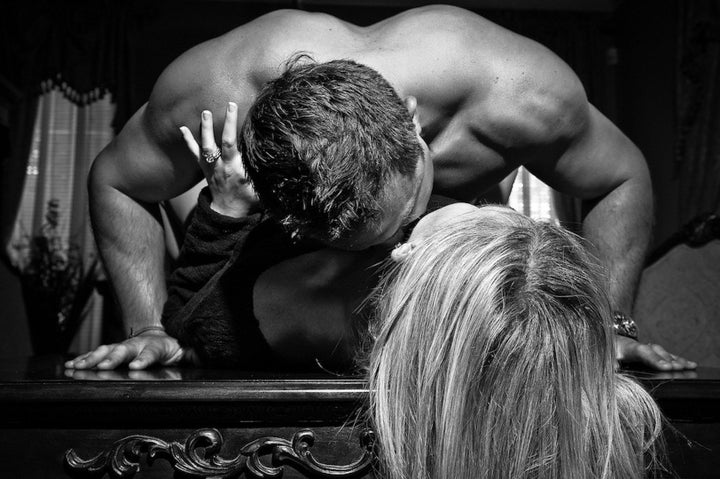 Photos are a huge part of every wedding. They capture the moments, big and small, that couples will relive for years to come.
If the media frenzy surrounding a new type of wedding photo session is to be believed, the morning after the wedding can also be preserved for eternity.
In recent weeks, outlets from ABC News to the New York Daily News to The Week to Jezebel reported on the birth of a sexy new wedding trend called "morning after" photography, which apparently captures a bride and groom's first morning together as husband and wife, posed together in provocative states of undress.
"More and more brides and grooms are... [inviting a] cameraperson ... [into] ... their honeymoon suite to shoot them in all manner of undress," wrote Lexi Nisita on Refinery29, one of the first to report on the trend.
Indeed, the only person Huffington Post Weddings could find who seems to actually be offering sexy "morning after" photos as a service is New Jersey-based photographer Michelle Jonné -- coincidentally, the same photographer whose images appear in every story about the the trend.
Turns out a few details were omitted from reports on the trend. When Huffington Post Weddings contacted Jonné, she explained that the sexy shoot was not an actual "morning after" session but a first "test" for the concept. What's more, the couple in the photos did not wed the night before the shoot, but were photographed about one month after their nuptials. Jonné says her photos were inspired by Armani's sexy underwear ads featuring David and Victoria Beckham; she charges $650 for one hour of photography and post-session retouching (Jonné says she has since shot a "morning after" session for a couple who wed in October 2011 and approached her after they saw the media coverage. She says she has "about 10 other couples booked" for future "morning after" sessions).
Of her "morning after" shoots, Jonné told Huffington Post Weddings: "The trend is starting now... I don't think the trend was there [before]."
Susan Sabo, a Long Beach-based photographer, says she has been doing "morning after" shoots for the last three years. The big difference between hers and Jonné's: Sabo's sessions are decidedly G-rated. Couples may be pictured jumping on the bed, but they are fully clothed, and shot the day after the wedding at an extremely un-sexy hour -- usually between 6:30 and 7 in the morning. "I admit I was a little mystified when I heard about this 'new' fab [sic] in wedding photography as I'd been doing it for years," Sabo told Huffington Post Weddings in an email.
Ann Arbor photographer Melissa Squires began shooting "morning after" sessions two years ago. Even though she is quoted in many of the media reports about the "new" trend, the vibe of her sessions is similar to Sabo's -- less sexy, more Sunday-afternoon-reading-the-paper-at-home (unlike Sabo, she shoots couples in the weeks or months following their weddings, not the day after). "They're more about togetherness and less of the raunch," she told Huffington Post Weddings.
So the concept of "morning after" shoots is nothing new -- it's the sexy part that is. But Jonné seems to be the only photographer offering this service. So does one person equal a trend? We don't think so.
Click through the slideshow below to see photos of Jonné's first "morning after" client, Inna Shamis, and her husband.