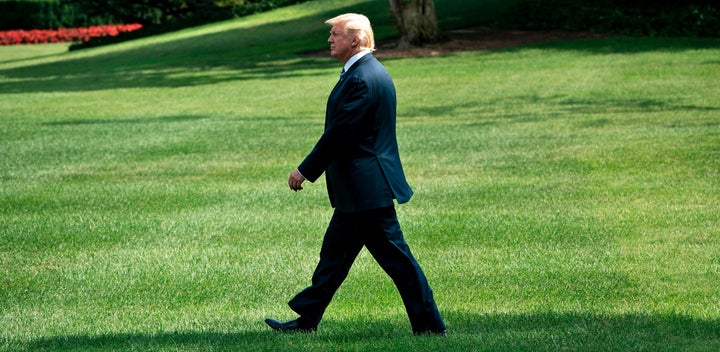 Kate Sheppard here, filling in for Lauren Weber. Your regular morning email host will be back next week! 
TOP STORIES
THE RUSSIA PROBE IS HEATING UP Special counsel Robert Mueller has impaneled a grand jury as part of his investigation into possible collusion between President Donald Trump's campaign and Russia in the 2016 election. He's also hired several high-powered lawyers, including a former Justice Department attorney who specialized in corruption and bribery cases. [HuffPost]
AND IF YOU'RE CONFUSED ABOUT WHAT THE HECK IS GOING ON WITH THAT PROBE We broke it down for you. [HuffPost]
TRUMP'S PHONE TRANSCRIPTS LEAKED The Washington Post obtained transcripts of a call between President Trump and Mexican President Enrique Peña Nieto from January, in which Trumps begs his Mexican counterpart to stop telling the press he won't pay for a border wall: "They are going to say, "who is going to pay for the wall, Mr. President?" to both of us, and we should both say, 'we will work it out.' It will work out in the formula somehow." [HuffPost]
SECRET SERVICE, OUT The Secret Service has vacated its command post inside Trump Tower amid a dispute with President Trump's company about the lease terms for the space, the Washington Post reported Thursday night. [WaPo]
RECESS IS HERE Senators left town for August recess on Thursday, joining House colleagues who had already shipped out. But Republicans are heading out for the month-long break with a potential government shutdown and debt ceiling crisis looming, and with no clear path forward on health care. [HuffPost]
WEST VIRGINIA'S DEMOCRATIC GOVERNOR BECOMES A REPUBLICAN Gov. Jim Justice, who was elected as a Democrat last year, announced that he's joining the Republican Party during a rally with Trump on Thursday evening. [HuffPost]
AND NOW DEMOCRATS HOLD POWER IN FEWER STATES THAN EVER There are only six states with a Democratic governor and legislature now, while Republicans hold 26. Eighteen states have split control. [WaPo]
WHAT'S BREWING
INSIDE DEMOCRATS' BID TO FLIP THE HOUSE Rep. Ben Ray Luján (D-N.M.) and the Democratic Congressional Campaign Committee are busy grooming the next generation of Democratic House candidates. But in his quest to take the House majority, he's probably going to make a lot of people unhappy. [HuffPost]
THE GULF DEAD ZONE IS NOW THE SIZE OF NEW JERSEY Scientists say the "dead zone" ― an area where pollution causes oxygen depletion and renders it uninhabitable for sea life ― in the Gulf of Mexico is bigger than ever before, at 8,776 square miles. [NPR]
WOMEN STATE PATROL OFFICERS FILE SUIT IN NEBRASKA A federal lawsuit alleges that women applying to join the Nebraska State Patrol were required to undergo vaginal and rectal exams ― which their male counterparts generally were not. A criminal investigation is also underway. [HuffPost]
CLIMATE CHANGE COMES TO THE SOUTH And it's making it difficult for people who work outside to do their jobs. [NYT]
R. KELLY BACKLASH IN GEORGIA His planned tour stop in Fulton County, Georgia is meeting opposition from the county attorney, following allegations of sexual and other misconduct on the part of the R&B singer. Four other tour stops have already been canceled for unstated reasons. [NPR]
BEFORE YOU GO
REAL LIFE. REAL NEWS. REAL VOICES.
Help us tell more of the stories that matter from voices that too often remain unheard.