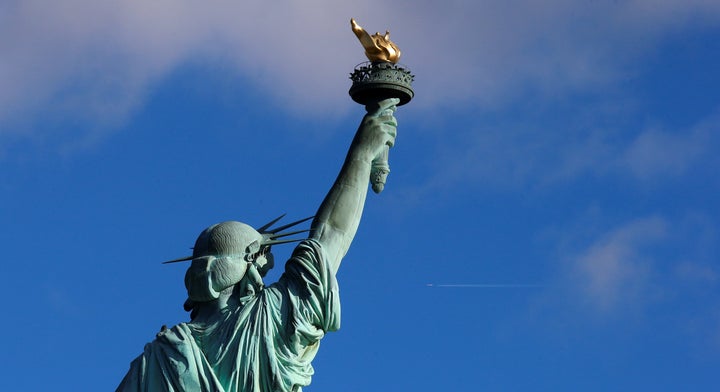 Kate Sheppard here, filling in for Lauren Weber for a few days. Your regular morning email host will be back next week! 
TOP STORIES
TRUMP BACKS BILL TO DRAMATICALLY SLASH IMMIGRATION President Donald Trump said he supports a Senate bill that would slash the number of legal immigrants in half ― including a dramatic cut to the number of refugees the U.S. accepts each year. [HuffPost]
GIVE ME YOUR... OH, NEVER MIND  White House aide Stephen Miller argued Wednesday that "The New Colossus" ― the famous poem inscribed on the base of the Statue of Liberty ― has no relevance to how the U.S. has typically thought about immigration because it was added after the statue was erected. [HuffPost]
BORDER PATROL TOLD NOT TO TALK TO MEMBERS, LAWYERS, PRESS Documents obtained through a Freedom of Information Act request show that high-level Homeland Security officials directed their staff at airports around the country not to talk to congressional representatives, or lawyers, or the press in the hours following the implementation of Trump administration's travel ban. [Daily Beast]
WHAT WE KNOW ABOUT JOHN KELLY Trump's new White House chief of staff has a reputation for being level-headed and mature ― but also someone who will implement his boss's desires without much pushback. [HuffPost]
A REAL CHANGE OF HEART Scientists announced Wednesday that they have successfully edited the DNA of human embryos to correct a mutation that causes a potentially fatal heart condition, the first time gene editing has been done in the U.S. [WaPo]
THE HBO HACK IS STARTING TO SOUND LIKE A BIG DEAL The FBI has reportedly been brought in, and experts are saying it could be even bigger than the 2014 Sony Pictures hack. [HuffPost]
WHAT'S BREWING
WHEN 'DUDE, WHERE'S MY CAR?' GETS A LITTLE TOO REAL Wells Fargo is in trouble for signing nearly half a million customers up for auto insurance they didn't need, and then in some cases repossessing those cars for non-payment. [NPR]
A FLORIDA DMV IS TURNING AWAY LEGAL IMMIGRANTS The office says they have too many customers and their parking lot is too full, so they can no longer help people who aren't U.S. citizens. [HuffPost]
MASSACHUSETTS MAY FINALLY GET A WIND FARM The developer behind the country's first offshore wind farm in Rhode Island wants to build a 144-megawatt installation off the coast of the Bay State. [HuffPost]
DEMOCRATS GO HARD ON TRADE Senate Democrats introduced a new slate of trade policy proposals on Wednesday that they're calling "A Better Deal." [HuffPost]
ENVIRONMENTAL OFFICIAL DROPS TRUTH BOMBS ON HER WAY OUT THE DOOR "Today the environmental field is suffering from the temporary triumph of myth over truth," wrote Elizabeth Southerland, the (now former) director of science and technology in the EPA's Office of Water. "The truth is there is NO war on coal, there is NO economic crisis caused by environmental protection, and climate change IS caused by man's activities." [HuffPost]
THE PACIFIC NORTHWEST IS BLAZING Temperatures in Seattle and Portland could pass 100 degrees and hit historic highs on Thursday. [WaPo]
BEFORE YOU GO
REAL LIFE. REAL NEWS. REAL VOICES.
Help us tell more of the stories that matter from voices that too often remain unheard.