 In Davos, we see firsthand that the sunny and the snowy can coexist. The same holds true for bullish and bearish signals in the global economy this year.
But despite the risks and uncertainty, it seems positive sentiment is modestly winning out at the World Economic Forum in 2013. In a recent Bloomberg interview with Tom Keene and me, even Nouriel 'Dr. Doom' Roubini conceded that the outlook is "less worse" than last year.
So why has Davos decided to look on the bright side? I'd sum it up as follows:
There's a sense that the world economy has turned the corner, and after four years, the financial crisis is finally behind us. Not only are people much more attuned to the new environment of risks, but also, there is a sense that the downsides are nearing their limits. Sure, the eurozone is suffering through record unemployment and a bleak economic environment--but defaults or a eurozone breakup didn't pan out. A double-dip recession in the U.S. never materialized. The threats are still disparate and uncertain, of course, but it feels like the cataclysmic possibilities are off the table for the time being.
The bottom line: In Europe, the politics are improving, while the economics remain bad. In the U.S., the economics are improving, while the politics are as ugly as ever. But for now, people are more focused on the positive half of each story. That has implications, both good and bad.
Everybody getting more bullish this #Davos.More ish than bull, but still a welcome change.

— ian bremmer (@ianbremmer) January 24, 2013
Here at Davos, the CEOs are buying into the U.S. story. They see that Europe will continue muddling and growth will be slow at best for a good long time. But their U.S. business is picking up as the North American economy turns the corner.

There is a darker picture here, however. These CEOs, preoccupied chiefly with growth, aren't paying enough attention to higher unemployment. By fetishizing growth, they are overlooking growing inequality between rich and poor. The NGOs are talking about it, as does Klaus Schwab (the founder of the World Economic Forum), and many thought leaders. But the core Davos constituents just haven't bought in enough.
Japan is getting a lot of attention at Davos, and in a similar way: it's a mixed story, but folks are fixated on the positive angle. It helps that the bar has been set so low, but Japan finally has a strong government, and pretty much everybody thinks it's going to last. Whether Shinzo Abe's administration will usher in economic growth is an open question--as is whether it will avoid greater conflict with China-- but it's a clearer voice from Japan, it's pro-business, and it may even lead to some meaningful reform (after upper house elections this summer).
Here's more of my take on the sentiment in Davos this year, and the way the U.S. is perceived:
Davos Buzz -- The Optimistic Edition
*My buddy, Tewodros Ashenafi , exemplifies perennial Davos optimism. He's a fantastically entrepreneurial fellow and the CEO of SouthWest Energy-- the first oil and gas company in Ethiopia, which he started in 2005. He's incredibly upbeat, always looking to find a way to build, try something new, and hire. I'm a huge fan of the guy. He keeps asking me to go to Ethiopia so he can introduce me to the government and key players. I'll have to take him up on it.
*So given all the hype after Cameron's speech in London on Britain's status in the EU (see my previous post for more color on 'The Dark Knight of Davos'), how did his keynote at Davos go? One interesting piece to note was Cameron's discussion of a potential Trans-Atlantic free trade agreement. This idea of crafting what some have dubbed 'an economic NATO' has always been little more than a speck on the horizon. But this year we could see some real progress, as U.S. and European interests are particularly aligned on it. Said Cameron, "The EU and the U.S. together, we actually make up a third of all global trade. A deal between us could add over 50 billion pounds to the EU economy alone."
*The optimism certainly isn't coming from Russia. Yesterday in his keynote speech, Russian Prime Minister Dmitri Medvedev tried to dispel fears of a frostier economic outlook for his country. He dismissed warnings that better governance is needed, asserting that Russia is an "open country" and a good place for investment.
*Davos was swarming with Ukrainian and Azeri leaders yesterday. They travel in clumps--and their security tends to be seriously aggressive. It seems they're not quite used to the whole "Davos is a safe bubble" thing. It certainly adds James Bond flair to the whole Davos experience; that's a positive, I suppose.
*The ever-gloomy Nouriel cracks a smile. The most tell-tale sign that the outlook at Davos is rosier this year.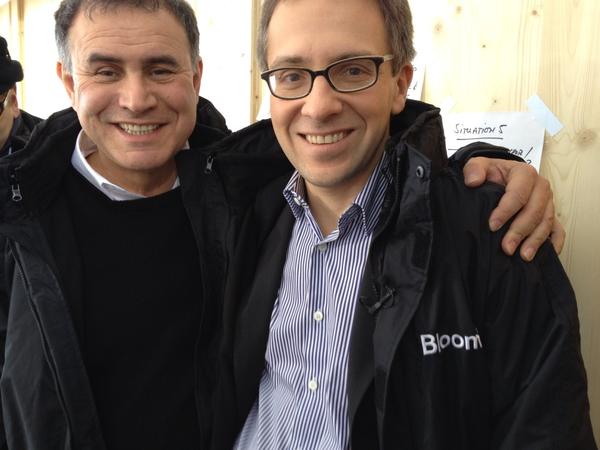 Ian Bremmer is writing a Davos Diary exclusively for Huffington Post, and will update it frequently throughout the summit.
Related
Popular in the Community