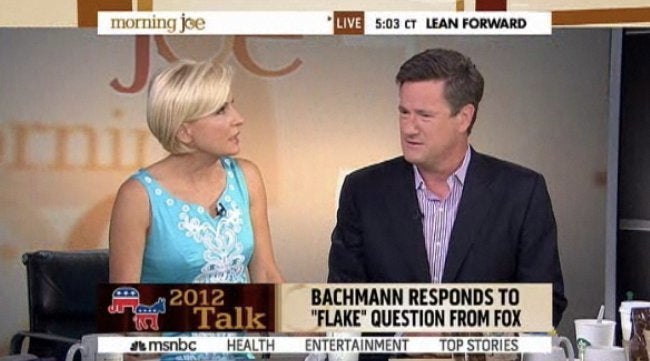 Joe Scarborough and Mika Brzezinski argued about Chris Wallace's instantly infamous "flake" question to Michele Bachmann.
On Sunday's "Fox News Sunday," Wallace asked Bachmann, "are you a flake?" She called the question "insulting."
The question--which Wallace has apologized for asking--seemed to get on Scarborough's nerves.
"I think somebody looked like a flake in that interview, but it didn't look like Michele Bachmann," he said on Monday's "Morning Joe," adding, "I thought it was a silly question."
"Why is that a silly question?" Brzezinski cut in. "'Are you a flake?' Seriously?" Scarborough responded.
"What was he getting at?" Brzezinski asked. "I think he was getting at the fact that some people think she's a flake," Scarborough said.
"Thank you," Brzezinski said.
"So you think that's proper?" Scarborough asked her. "...I think that's a safer question to ask of conservatives, because look at not only how Republican candidates have been treated throughout the year, but how Republican presidents have been treated."
WATCH: