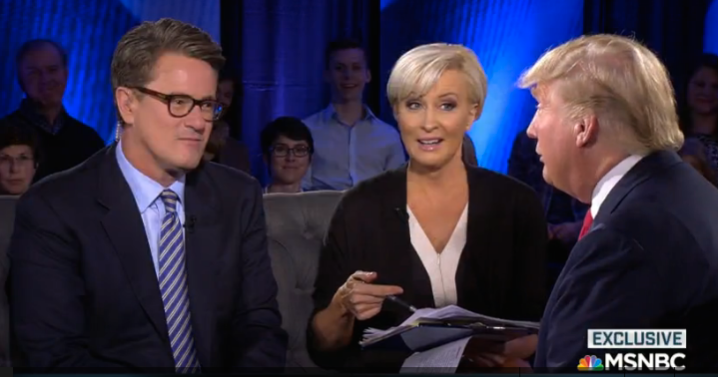 NEW YORK -- "Morning Joe" co-host Mika Brzezinski rejected any suggestion Monday that she allowed Republican front-runner Donald Trump to dictate questions at last week's MSNBC town hall.
"I am absolutely 100 percent certain that I did not connect with Donald Trump on any level about the questions I'd be asking him," Brzezinski told The Huffington Post on Monday.
Actor and comedian Harry Shearer ran a roughly seven-minute clip Sunday on his podcast featuring un-aired banter between Trump, Brzezinski and "Morning Joe" co-host Joe Scarborough in between town hall segments.
Some thought Brzezinski was possibly responding to Trump on the audio when she says she was actually responding to her producer (an account Shearer backed up on Twitter).
"You don't want me to do the ones with deportation?" Brzezinski is heard asking on the audio. Scarborough is heard saying they have to go to more questions and Trump interjects, "That's right, nothing too hard, Mika." She says, "OK."
Brzezinski said she had a couple of questions prepared on mass deportation, but that there was pressure from the control room to go next to audience questions. Though it appears Trump responded to her, Brzezinski said she was only speaking and responding at that point to her producer.
"I guess I relented to my producer, which usually is a mistake in my opinion," she said jokingly. "Whenever I go rogue, I do better."
The moment in question came up at 23:30 during Shearer's program, with the clip of the banter starting around 21 minutes in.
After playing the snippet, Shearer joked, "You can cut the adversarial tension there with a knife -- a butter knife."
The banter is certainly friendly. Brzezinski described Trump's decision to bring two men onstage who removed a protester at a rally as "a wow moment." Trump said their coverage of the incident on the show that morning made him look "almost as a legendary figure." Scarborough asked the candidate if he's had time to golf lately.
And when Brzezinski thanks Trump for participating in the MSNBC primetime event, which was hastily planned to compete with a CNN Republican town hall, he replies, "You get great ratings and a raise. Me, I get nothing."
"Just make us all look good," Trump added.
Brzezinski said the off-camera chat with Trump was similar to those the hosts have with other candidates and noted that the three were onstage in front of an audience the entire time.
"If it was some secret thing," she said, "you think we'd be talking about it on microphones in front of 200 people?"
Popular in the Community