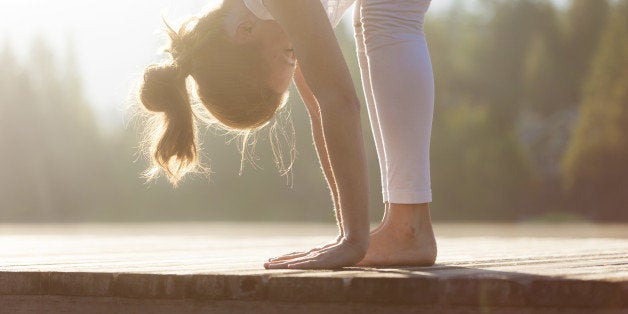 For some months I have returned to a meditation practice, a bum shoulder keeping me from yoga. My teacher's words murmuring to me, "Bring yoga into your life in whatever way you can," I creep downstairs in the dark, huddled into a purple fleece robe, slippers on my feet, and take my place in the overstuffed living room chair. "Focus on the breath," I tell myself. "Be curious. In and out. Do not grow attached." I have found it helpful to return to the ritual I did not know I had forsaken until one day I realized it had dropped from the contours of my life. Was it before we moved to Ohio? Before the birth of our third child?
There was a time I had a robust yoga practice, but that era feels long ago. My yoga studio was on the corner of 86th and York, in Manhattan, around the corner from my home and the school where I taught for 20 years. And classes seemed to fit magically into my schedule. A 4:45 Vinyasa class that had me walking through the door of my apartment at 6:00 p.m. just before our babysitter had to go home; an 8:00 a.m. weekend class that had me back at home before my young daughters were more than semi-conscious in front of our 12-inch TV.
In those days, I had a headstand; my body felt free and light and biddable, and, for a brief time, I was free of judgment, fully absorbed in the joy of the mat, the smooth forgiving floor, the breath. I changed. I relished letting go, following the ritual. Begin with Ohm. Sun salutations. Downward dog. Knees, chest and chin. Warrior One. Triangle. Tree Pose. Eagle. Pigeon. Bridge, plough, shoulder stand, half wheel. Finally, once I was strong enough: head stand. And, at the end, always gorgeous shavasana.
After 9/11, I took refuge at the studio. I remember now, 13 years later, our calm young instructor saying then, "All you have to do is be here now. Just breathe." Just breathe. For an hour, the familiarity of the practice reassured me. It was predictable. On the mat, tears streaked down my temples into my hair. For the tragedy, of course. For all the uncertainty I felt. For fear of what would happen to us all. And then, I would wiggle my toes and fingers, roll to my right side, and curl up to a seated position, chanting Ohm again, my voice blending with the resonance of this group of strangers. All the years that I took class there, I never knew many names of the other women who practiced with me. There was a calm anonymity and rhythm. Faces grew familiar, but there was no pressure, no scene to maintain, no Lulu Lemon so long ago. I would step back into the stream of my life, equipped to manage.
It was in yoga class that I suspected I might be pregnant with my late-life "bonus" baby. In headstand, the world began to spin. Inversions can stir up all kinds of things, I knew, but this felt a little dangerous. Carefully, I came down, and during shavasana, instead of floating, I made a plan to stop at the drugstore on the way home. A blue line, instantly. I took some prenatal classes, but that was the beginning of the end of that chapter, the end of our New York life. In Cleveland, months later -- new baby, new city, new job -- I did not find a new yoga home. I was distracted, overwhelmed, But then, Marni came to teach us at my school. It was a self-serving act. "Let's have yoga after school," I suggested, "on Wednesdays, for faculty and staff." Maybe that way I could manage at least one class a week. There were no scheduled meetings in the middle of the week.
So on Wednesdays, for several years at 4:00 p.m., I felt I had come home again -- the setting not a lovely studio, but either a room in the school's basement that smelled a bit like feet or the dance studio, replete with music blaring from the girls' basketball practice below, but the feeling was familiar, comforting. And then I screwed up my shoulder and, after that, my knee, and soon staying away had become the habit instead of rolling out my mat. Two, three years? How could this have happened? How did I let go of what I loved?
This fall, Marni stopped by my office one Wednesday afternoon, took a Hershey's Kiss from the jar I keep filled for my Laurel girls, and looked at me closely, gently. Instead of scolding me for staying away, she reminded me to do what I can do. To do what I can do.
So I began to meditate again. Quietly, without telling anyone in particular. In the winter morning dark, I come downstairs. I settle myself in the living room chair. And there, I breathe. In. Out. Watching the breath, turning my focus inward. Two? Three? Ten minutes? Each day is different. I try not to judge, to forgive myself on the mornings when it's hard to quiet my mind.
Next, I go to the kitchen and feed our three small dogs, so delighted every morning to see me. And I wash out the cats' bowls -- only two of them -- and carry the black cat from the cellar door to the counter on which his food waits. He is afraid of the dogs, though his brave grey brother has no such trepidation.
Once the menagerie is fed, I write. Next, I empty the dishwasher, start the coffee and spend a few minutes looking out the kitchen window, seeing light begin in the Eastern sky. Recently, I've been watering the paper white narcissus bulbs, taking root in pebbles, stretching upward, their fragrance delicate, full of promise. This quiet kitchen time with the day stretched before me is a kind of listening. The joining yoga invites. I like the ritual, the practice. I am not stretching as I once did on the mat, but slowly, I am coming back. Soon, I will find my Warrior One again.