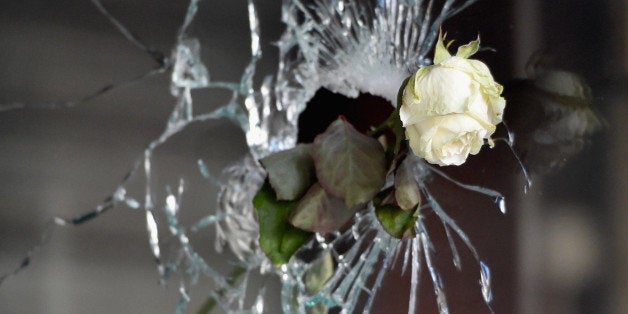 During this time of national mourning, the deceased are constantly in our thoughts...
Two days in. Time itself cried yesterday. For the first time in days, the sky had darkened and a chill blew through the air. The day unfolded with the nightmare of the night before and the dullness of being awake in its midst.
It was a day to call friends and loved ones, to get a little lost in all of the action, to look at pictures of a Paris whose streets were empty but filled with flowers and candles adorned windows.
A day to analyze hypotheses in an attempt to make sense of the folly that has befallen us, the way it has in Sousse, Baghdad, Damascus, Beirut or Tel Aviv.
Images flooding the Internet of buildings all over the world lit up in blue, white and red made us feel less alone. The sight of newspapers worldwide, HuffPost editions in so many countries in Europe, Asia and America sharing our pain and celebrating France warmed our hearts.
We methodically began retweeting calls from families searching for loved ones who had disappeared. A pit would land in our stomachs upon seeing the same photo announcing that person's death.
So many beautiful faces. You all see how beautiful and young these night owls were, and how their friends were crying? Young people who were so wrong to go out for a drink, so wrong to enjoy music, perhaps wrong to simply love. In January, they went after those representing liberty and an unfamiliarity with Islam. Friday night, they sought to quash life itself -- sports, music, conviviality among friends in a restaurant. These young people breathed life. Down with life, insouciance, happiness. The commandos might as well could have cried "viva la muerte," the way Franco's army did in the war with Spain.
The pale sun hanging overhead on Sunday invites us to slowly emerge from our terror. Acts of solidarity seen the world over -- people in Trafalgar Square singing the Marseillaise, Madonna singing "La Vie en Rose" in Stockholm with help from the audience, the grave faces of political figures across the globe -- encourage us to regain our step, listen to some music, or maybe reread Cimetière Marin by Paul Valéry: after the temptation to die, which exists in the first few metaphysical phases, this temptation morphs into a desire to live. "The wind blows, one must attempt to live."
This post first appeared on HuffPost France. It has been translated into English.
Support HuffPost
The Stakes Have Never Been Higher
Related
Popular in the Community