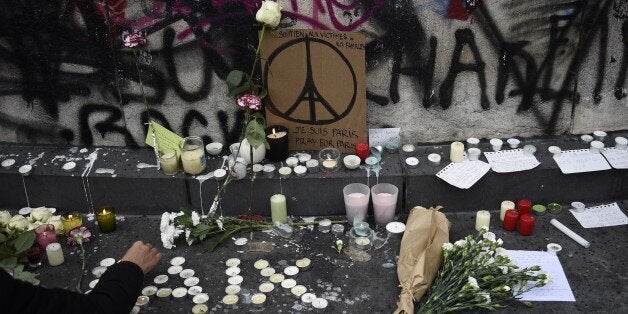 Thoughts are rumbling, confusing, clouding, personal, collective.
-- Being sure that no child or friend was in the throes of the attack, and reassuring friends that are calling from everywhere, given how unified the planet is, given how information no longer has borders or delay.
-- To wake up in a war-stricken Paris. My generation lived this, a child, the Algerian War when Michel Debré, Prime Minister, called on Parisians to get before the OAS parachutists "by foot, on horseback, by car" in 1961, when we called it the "generals' push." Overnight, Hollande, was calmer, but more somber and shocked, than we've ever seen him.
-- Endlessly looking at pictures that don't mean anything, all the while, the distress, the chaos, the horror of all of these attacked people like animals after a day of hunting, and listening to witnesses with croaky voices, who were at the cafe or at the Bataclan, and who narrowly escaped death, a massacre.
-- We ask ourselves questions on this form of terrorism that is yet again reaching new heights: no prophet to avenge, no police, journalists, military personnel, or Jews to kill, just blindly raining bullets on young people and not-so-young people who were merely seeking insouciance, music, happiness on a mild November night. So this is incomprehensible, except that it has terrified the French people, prevented France from destroying its destructors, but reinforced its unity, which was already in full force in the short time that has elapsed since Charlie.
-- Waiting for answers from the investigation of course, but unable to shake the notion that this is a situation in which lost children became killers, and realizing that we're dealing with a well-organized military commando. He operated methodically, shooting people to the ground in the cruelest of ways, knowing the areas well, the Bataclan and the tendencies of the crowd to squeeze into the République/Oberkampf bars on a Friday night.
-- Banding together, pointing a finger at those who are indecently profiting from the attacks -- the National Front, of course, but not only them. Laurent Wauquiez, for example, has without hesitation -- to the dismay of the law -- even suggested opening detention centers for people categorized as "S" (those under high surveillance), even though emergency state law that was enacted during the Algerian War bans the creation of any sort of internment center!
-- Not giving an inch on security, but remaining within the letter of the law, at the risk of moving outside of -- what a joy for the terrorists! -- the sphere of democracy.
-- Imagining, with a hint of optimism, that maybe all of the negative after-effects from January that anesthetized certain neighborhoods, or caused students to observe a minute of silence for those dead at Charlie and Hypercacher, will be erased. That maybe, just as when we emerged from war and so many of the French remained confused, France will unite. Who can really "comprehend" such barbaric acts? Who could possibly detach themselves from the solidarity of our nation out of national indignation? Who can say once again, like some have said before, that "they were asking for it?" A drop of hope glistens in a pool of blood.
This post first appeared on HuffPost France. It has been translated into English.
Related
Popular in the Community