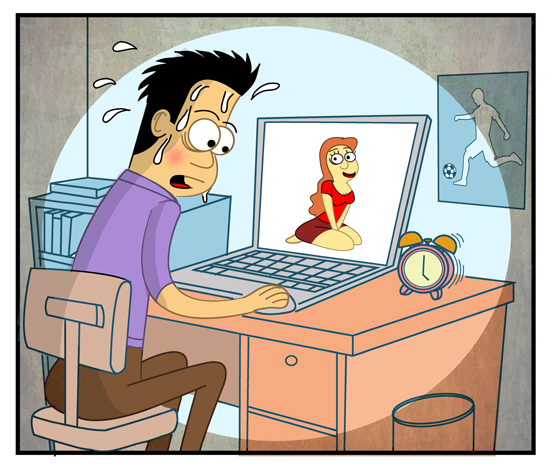 At Sparkology, we have the privilege of sitting at the intersection of interpersonal relationships and technology, bouncing between attending weddings and running A/B tests on email click-through rates. This time, inspired by MailChimp's popular newsletter optimization charts, we have examined about 45,000 initial messages among our members.
So: When are you most likely to get a reply when sending that initial message on a dating site?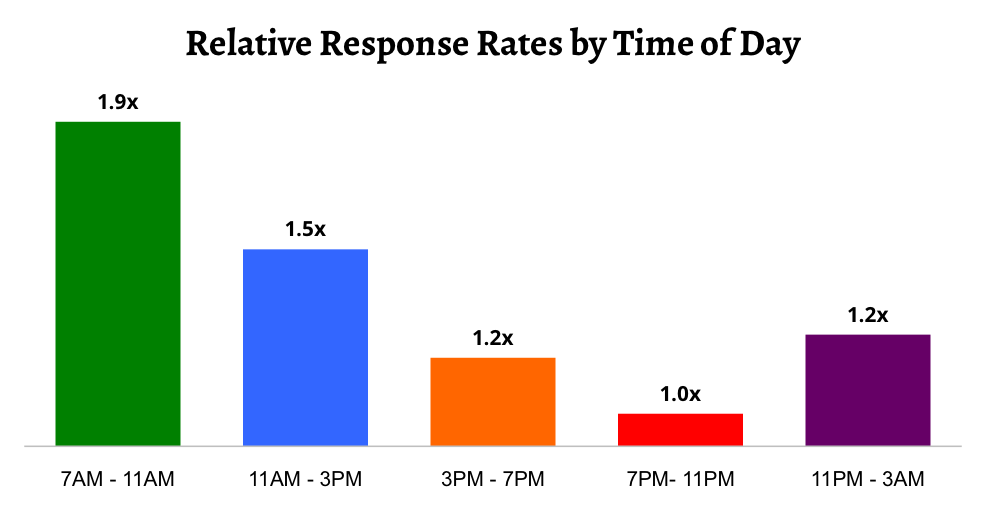 It doesn't take a data scientist to see the trend here. Initial messages sent between 7 a.m. and 11 a.m. are nearly twice as likely to get a response as those sent in the evening. Why the trend?
Sparkology is specifically geared toward young professionals, and what better way to avoid redlining a contract or spreading transaction comparables than flirting? Is office procrastination the new aphrodisiac?
Perhaps we yearn for online socializing when we are loneliest. Professionals in New York often spend evenings out and about, whether checking out the latest foodie hot spots or attending happy hours or going on dates. There isn't much desire to meet someone new when you're already out in a social environment. Plus, you might not want to remove yourself from a social situation to concentrate on writing a proper response.
Perhaps most strikingly, there's an arbitrage with regards to the competitiveness of the "market." It turns out that, when looking purely at messaging volumes over these same time periods, the chart effectively reverses!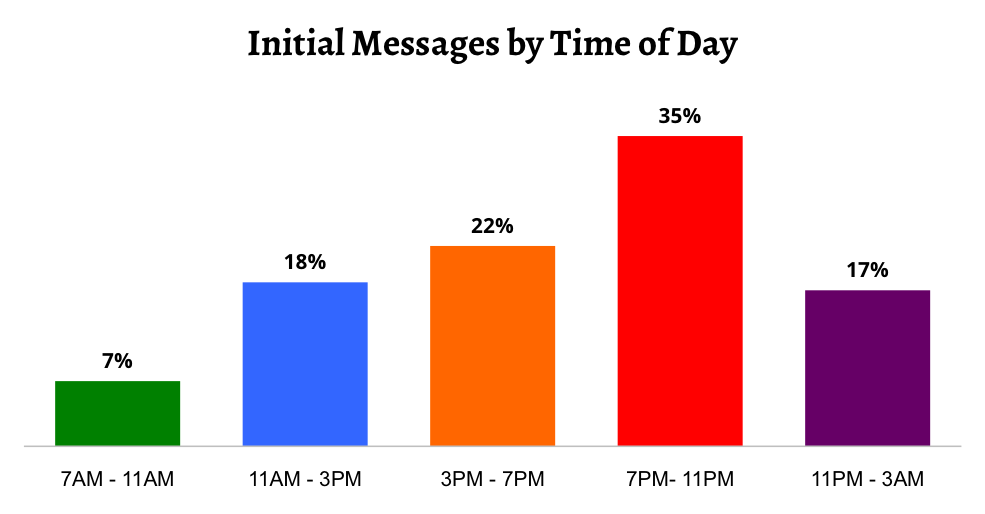 In effect, those who message in the evening are all competing against each other. Whereas the early birds sneak in and get the recipients undivided attention
I believe online dating has the promise and potential of creating an efficient place for well-intentioned singles to meet each other. The secondary benefit, though, is that we have really compelling (and often quirky) data from which we can empower our members to be more successful. So the next time you've had a few cocktails and see a really attractive candidate pop up on your dating app, fight the temptation and click "Send" the following morning!
Happy dating, my friends.
(Illustration commissioned by Sparkology from Alifstyle)
Calling all HuffPost superfans!
Sign up for membership to become a founding member and help shape HuffPost's next chapter